Quick Tips On How To Make Money With ClickBank To Earn Tons Of Cash
On this page, You'll find tips on how to make money with ClickBank affiliate marketing.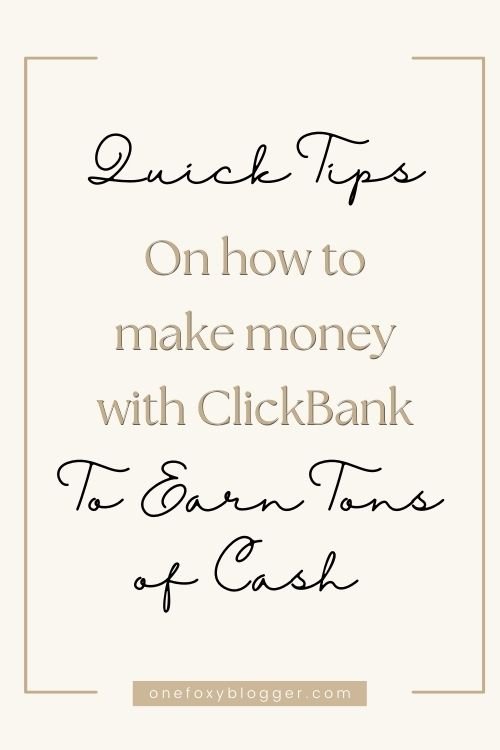 Many bloggers overlook ClickBank's opportunities when trying to find ways to earn money online.
New to ClickBank?
Clickbank is a global marketplace where entrepreneurs can sell their digital products. Some of you may have heard about Clickbank but shy away from the platform because rumors say they sell plenty of crap products.
Now, this is partly true. Sure there are some low-quality products people sell on Clickbank. However, I have also found some outstanding products that sell well. The truth of the matter is, you need to know how to pick the right product.
So let me show you how to make money with ClickBank step by step.
Is Clickbank legit?
Frequently, affiliates wonder if they can trust Clickbank as an affiliate program. Do they sell products that are genuinely beneficial for your readers?
Because promoting a junk product is likely going to discredit your online reputation as a business. And it will surely not help you to gain your customer's trust.
Now, of course, you have to single out the products that are worthwhile and legitimate.
So before you decide to promote a product from the Clickbank marketplace, you will have to do some research. I suggest checking the advertiser's sale page for the following:
Do they have a valid email address?
Claims like: seen on Oprah, The New York Times, etc. Is there a link to the existing article or video or only an untrackable icon?
Deceptive claims like earnings of $200.000 yearly without breaking a sweat. Sounds too good to be true? Watch out, then it usually is.
Do the images of people in the product review look like stock photos. You can easily verify this by right-clicking the image and doing a google search.
Trustworthy sellers (vendors) have a discoverable online reputation.
The good part is Clickbank offers customers a 100% money-back guarantee within a specific time frame.
📢 Read also: 50 Great Call to Action Phrases That Are Sure To Convert
Pros and cons of ClickBank affiliate marketing
Let me explain the good and the bad of this affiliate program.
Click bank offers one of the highest commissions per sale. Commonly you can earn between 75 to even 100% per sale.
Most of the programs on ClickBank you can promote without the need for approval.
There is a large variety of products in every possible niche from which you can choose.
For beginning affiliate marketers, ClickBank is an easy platform for making money.
They have been in the affiliate marketing business since 1998 and are still strong after all those years, with over 100.000 active affiliates promoting their products.
Intense competition for the best-performing programs
For an account that has been inactive for some time, they will charge you a small amount.
Visiting the ClickBank affiliate area, you get the impression of a very outdated website. At least it has not changed since I became a member in January 2010. Funny enough, other areas look more up-to-date.
ClickBank hosts a considerable amount of worthless, inferior products. Unfortunately, they appear to have no problem hosting scam websites with fake emails and phone numbers that ruin their reputation.
What ClickBank products sell best?
Here is a list of bestselling products to promote.
Okinawatonic – in Health & Fitness
Diabetes freedom – in Health & Fitness
Trump 2020 coin – in Selfhelp/Survival
Numerologist – in Spirituality, New Age & Alternative Beliefs
The lost book of remedies – in Health & Fitness
Ted's Woodworking Plans – in Home & Garden
His Secret Obsession – in Self-Help: Marriage & Relationships
Backpain Breakthrough – in Health & Fitness: Remedies
Custom Keto Diet – in Health & Fitness : Diets & Weight Loss
Best ways to make money with ClickBank
To start earning with ClickBank, you do not necessarily have to have your own website. Many successful ClickBank affiliate marketers use email marketing or paid advertising to send people to a landing page that directs them to their offer.
Another way is to leverage Social media to promote products. In my experience, using Facebook ads to promote affiliate offers is the most effective way to do it. Remember that Facebook does not allow affiliates to link directly to the ClickBank offer. You need to create a landing page or so-called squeeze page. From this page, people can click through to the product offer. Or, what many marketers do, is let people submit their email before they can view the offer. You can use the email list that you created to send follow-up emails or other offers you like to promote.
If you want to know how to make money with ClickBank without a website, check out the following Successful affiliate marketers on YouTube.
However, this post aims to show you how to make money with ClickBank blogging.
How to find ClickBank products that sell?
Let's start by uncovering money-making opportunities on ClickBank. I listed a few ideas to help you locate the best products:
Is the product of value for my readers?
You should always ask yourself: Is this a product your readers would be interested in buying? If the product you try to sell is not in line with your target audience, you will not be very successful. For instance, trying to sell a supplement to fight toenail fungus on a travel blog will not result in many sales.
Get a sample of the product first.
Contact the vendor and explain that you like to promote their product, and it would help if they could send a free sample. If the vendor declines, you may consider purchasing the product, that is, if it is not too expensive. Doing so allows you to check the product's quality and if it is helpful to your readers.
Verify customer feedback.
Search on the internet for the product you plan to sell. What experience do customers have after ordering the product, and how is the vendor's customer service. You can find honest reviews about companies on ConsumerAffairs.com or TrustPilot.com. Thorough research is in place to prevent readers from getting back to you, claiming you promoted a shitty product.
Find successful vendors.
Examine the Gravity score to find products that do well for other affiliates.
"Gravity" is a ClickBank-invented term for how well products perform statistically. This score is an estimate, with a higher number meaning more sales.
Find products offering recurring payments.
Some products on ClickBank sell for an initial price, and then the customer is charged monthly. This rebill option lets you earn additional commissions from the same buyer until the customer decides to cancel. When selling a ClickBank product, it's better to be transparent and explain that there will be more than one payment. Many people do not pay attention when they pay with PayPal and are unaware that they sign up for recurring payments. They get upset when they find what they believe to be an unauthorized transaction on their PayPal account.
How to search the ClickBank marketplace?
If you want to make money with Clickbank, you will need to find a profitable product. To do so, you can search the enormous library of digital products known as the marketplace. You can begin by exploring the available categories or clicking the "Find Products" button to narrow down your search.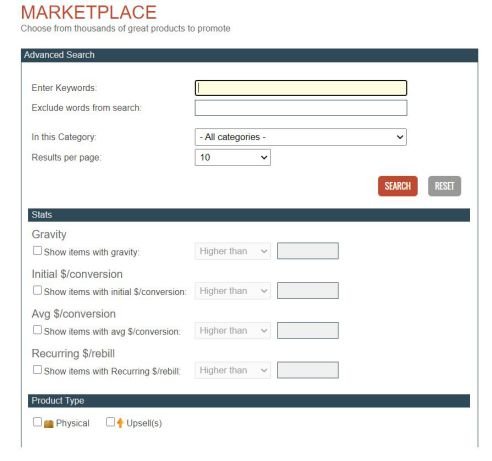 Enter a keyword and choose a category
Set Gravity to higher than 30
Set the Initial Conversion to higher than 30
The Average Sale Conversion to more than 20
Leave Recurring/ rebill blank for the moment (it is nice to have but not a must)
There are several more options, but you may not find any products that meet all the criteria if you narrow the search too much. However, I would tick the box for the affiliates tool page. This is a dedicated affiliates page with promotional tools. Some vendors may request you to sign up before accessing this page.
Product metrics explained.
The Initial $/ sale – is the amount the products sell for on the vendor's page.
Avg %/sale – is the percentage that you make from initial sales and rebills
The Avg $/sale – is the average commission you get from each sale (includes initial sales, rebills, and upsells)
Recurring $/Rebill – is the commission the affiliate earns from membership payments and subscriptions
Recommendations on how to make money with ClickBank
A respectable vendor will have a dedicated affiliate page for their publishers. To check if a vendor has such a page, you must look for a tiny toolbox icon. This page usually includes some of the following to help you sell the product:
Tools To Help You Make Money With ClickBank
Text link referrals:
This means you are briefly mentioning the product's name within the content. For example, in a blog post, you describe your personal experience with the product. The links Clickbank provides are named "hoplinks."
Banner ads:
The seller has created banners for you to download and add to your blog. However, this is the least effective method. The banner ads provide you with an easy and cheap way of featuring the product. As in the present era, people are accustomed to ads on the internet, so most are ignored and useless. The best way to use banner ads is to use them together with other means of promotion.
Full-length reviews of the products:
Some vendors provide full-length reviews of the product. Such an article has content that highlights your experience and views about that product. Be cautious. Posting these articles on your blog may be considered duplicate content, as others are likely posting the same piece. It would be best if you rewrote the article in your own words.
AdFree lead magnets:
Lead magnets are promotional tools that you can give as a freebie to potential customers in exchange for signing up to your email list. This will also add more value to your recommendation of the product. Some vendors have a free ebook you can download and offer to your readers. Within the ebook, there are affiliate links you can update with your tracking ID. You get a commission when one of your readers downloads the bonus ebook and buys the product through one of these links. When the customer is not ready to buy yet, they have subscribed to your list, so you can send follow-up emails.
Email swipes:
The better vendors on Clickbank will supply their affiliates with email swipes. These are a set of emails that you can send to a list of subscribers at a set frequency. These emails are tested to make people click to learn more about the product. You can make these links lead to your web page where you pre-sell the product or to the vendor's page.
Add a link to the "Recommend resource" page:
A "recommended resource" page lists the resources you will recommend to your visitors. Your readers can find a list of products your brand has approved on this page.
Traffic sources for ClickBank affiliate marketing
You can create traffic in various ways:
Through paid marketing
Paid marketing is just similar to pay-per-click and banner ads. This is expensive yet highly effective.
On Social Media
Advertise on established Social Media platforms like Facebook, Instagram, and Pinterest. Choose the Social Media platform your target audience is most active on and use the advertising options they provide.
How to earn with ClickBank from a blog:
You can market your product through your website if you are lucky to have a blog with good traffic. On the other hand, when you start a blog, gaining an audience can take a lot of time. 
Promotion to your newsletter list:
Building an email list is crucial if you want to kill with affiliate marketing. It is proven to be the most reliable and effective method when used correctly.
ClickBank – How to get paid?
With ClickBank, you can get paid by check, direct deposit, wire transfer, or Payoneer. You can update the payment method when needed and set the payment threshold you prefer.
On a final note
In the beginning, the complex world of marketing may seem incredibly challenging. You need to master lots of skills and marketing tricks before getting the essence of being a successful Clickbank affiliate marketer.
On the positive side, there is no need for a huge budget to start promoting ClickBank products, and implementing the tips on this page is a perfect starting point. Keep in mind that whatever you try to sell, you deliver value to your readers.
We have come to the end of this guide. You now know the basics of how to make money with ClickBank affiliate marketing. Let's do this. This is where your ClickBank success story starts.