Discover the best canva font pairings -100 winning combinations
Designing with fonts is probably one of the most fun parts of Canva. But have you ever felt stuck trying to figure out which fonts go well together?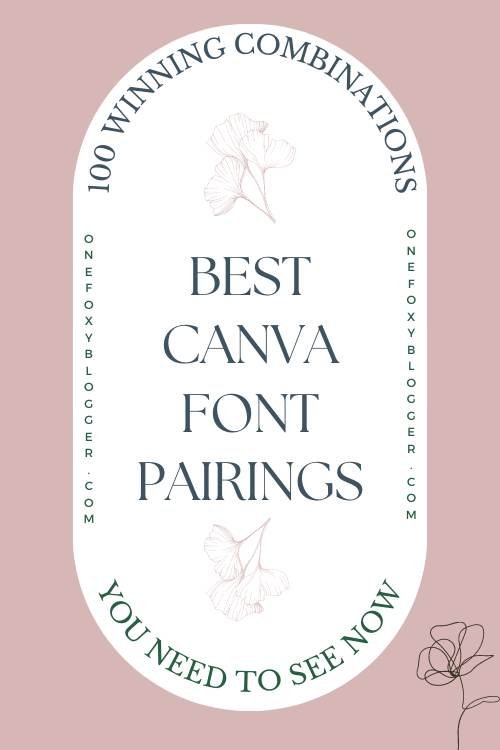 Well, have no fear! We've compiled a list of the 100 best Canva font pairings guaranteed to speed up your design process.
So whether you're looking for a creative title font or just need body text inspiration, we've got you covered. In this post, I'll share with you some of the best Canva font pairings that I frequently use.
Understanding Font Pairings
For designs to be visually cohesive, it is essential to understand font pairings. An effective font pairing is achieved by placing harmonious fonts together that please the eye and communicate your message.
Consider the following to find fonts that pair well:
After carefully considering these factors, narrow down your choices by looking at various fonts and seeing which ones stand out to you. Once you have a shortlist of fonts, you can then begin trying to pair them together. Just to make things a little easier for you, I have listed possible font combinations for each style, such as classic, elegant, playful, bold, etc.
Read also:
Do you need Canva Pro to use the best Canva font pairings?
Absolutely not. All the font pairings on this page are free fonts from the library. It is true that Canva Pro offers some gorgeous fonts, but if you're using Canva's free version, you'll find plenty of free options.
Now, let's dive into our 100 best Canva font pairings.
1# Classic Font Combinations
The combination of serifs and sans serifs is a timeless style that offers elegance to every design. A serif font has a more traditional and sophisticated feel, while sans-serif fonts bring a modern and clean aesthetic.
Combining these two font styles allows you to create balanced and harmonious designs.
Here are the 10 best Canva font pairings for classic serif and sans-serif fonts: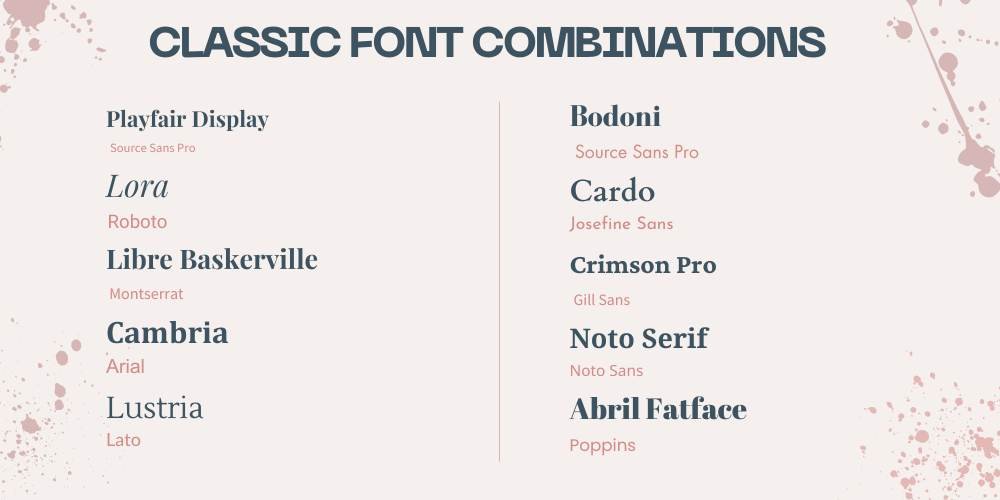 Playfair Display + Source Sans Pro
Noto Serif + Noto Sans
Lustria + Lato
Libre Baskerville + Montserrat
Bodoni + Futura
Crimson Pro + Gill Sans
Cardo + Josephine Sans
Cambria + Arial
Lora + Robotto
Abril Fatface + Poppins
Add a graceful touch to invitations, announcements, and posters with more than 5,400 serif fonts to download!
2# Elegant and Sophisticated Pairings
If you want to add a touch of refinement, consider pairing script fonts with serif or sans-serif fonts. This combination adds an elegant and sophisticated element to your designs, perfect for wedding invitations, formal events, or luxury branding projects.
These are some of the best Canva font pairings that are elegant and sophisticated:
Ovo + Muli Extra Light
Lovely May + Montserrat
Prata + Lato Hairline
Kage Thin + Open Sauce Light
Aleo Light + Arimo
Julius Sans One + Barlow Condensed Thin
Maharlika + Anonymous Pro
Nixie One + Abhaya Libre Regular
CMU Serif + Livvic Thin
Roxborough CF + Inter Thin
3#Christmas font pairings
Want to spice up your designs this holiday season? You can accomplish that by using the Christmas font pairings I selected for you. Be sure to choose fonts that reflect the festive feel of the season.
Start with a fancy script font for titles and headings and a clean serif or sans-serif font for the body. This will create a nice balance between elegance and readability. Script fonts with those beautiful curls and loops work really well for cards, invitations, or headlines, but the secondary font is excellent for longer passages or captions. Your designs can quickly become festive and eye-catching by nailing the right Christmas font pairing!
Have a look through the slide show to find the best Canva font pairing for the Holiday Season.
Tan Pearl + Assistant Regular
Berkshire Swash + Glacial Indifference
Moonlight + Grand Hotel
Bariska + Amsterdam Four
Luthier + Quattrocento
Art Nuvo + Breathing
Nickainley + Arima Madurai Extra Bold
Pinyon Script + TT Ricordi Nobili
Marykate + Amatic SC
White Star + Montserrat Classic
4# Playful and Creative Pairings
Mixing script and display fonts can add a sense of playfulness and a lighthearted vibe to your designs. Combining handwritten or script fonts with bold, decorative, or display fonts adds a touch of whimsy and personality. When a project needs to evoke joy, creativity, or lightheartedness, this pairing is perfect. You can use these pairings for kid logos, party planners, and fun Instagram posts.
Check out these 10 Canva font combinations that are playful and creative:
Sunday + Canda Tawa Cute
Le Petit Cochon + Brightwall
More Sugar + One Little Font
Lazydog + Hibernate
Genty + Genty Sans
Balabeloo + More Sugar Thin
Sweet Apricot + Glacial Indifference
Scripter + Better Saturday
Atma Bold + Handy Casual
Laries Script + Vintage goods
5# Minimalist and Clean Pairings
Sometimes, less is more. Consider using minimalist fonts if want a minimalistic and clean aesthetic. These fonts typically have simple, clean lines and a modern appeal. When minimalist fonts are paired with ample white space, you can achieve a sleek, sophisticated look that is perfect for contemporary designs.
Here are several of the best Canva font pairings that work well for minimalist and clean designs: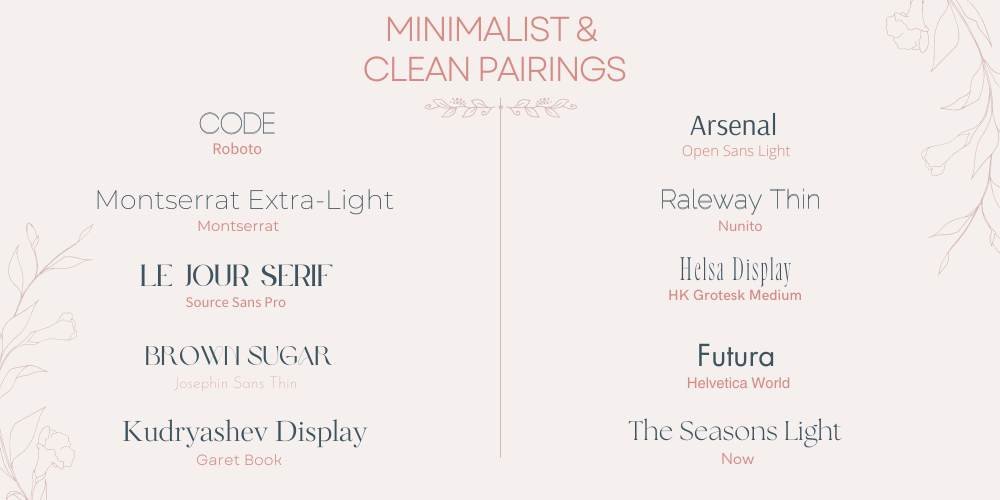 Code + Roboto (Regular)
Montserrat (Extra-Light) + Montserrat (Regular)
Le Jour Serif + Source Sans Pro (Regular)
Brown Sugar + Josephin Sans Thin
Helsa Display + HK Grotesk Medium
The Seasons Light + Now
Kudryashev Display + Garet Book
Raleway Thin + Nunito
Arsenal + Open Sans Light
Futura + Helvetica World
6# Harmonious Font combinations for Branding
Font pairings are essential in expressing your brand's identity. You'll want fonts that align with your brand's personality and values to create a consistent brand identity. A font must resonate with your target audience, no matter what your brand is, whether it is elegant, bold, playful, or professional. They should create a harmonious visual identity when used for headings, subheadings, body text, and other brand elements.
Here are 10 harmonious Canva font pairings that work well for branding:
Migra (ExtraBold) + Roboto Mono (Regular) + Playfair Display (regular)
Lato (Regular) + Ovo (Regular) + Martel (Regular)
Bitter (regular) + Cormorant SC (Medium) + Source Sans Pro (Regular)
Droid Serif (regular) + Noto Sans (Regular)+ Fira Sans (Light)
Poppins Medium + Signika (Regular) + Open Sans (Regular)
Merriweather Sans (Italic) + Libre Franklin (Italic) + Lora (Regular)
Playfair Display (Regular) + Fira Sans Medium + Catamaran (Light)
Arimo (Regular) + Pinyon Script (Regular) + Overpass (Regular)
Nunito Sans (Bold) + Crimson Pro + Tenor Sans (Regular)
Montserrat (Semi-Bold) + Lora (Italic) + Lustria (Regular)
7# Best Canva font pairings for wedding invitations
Font combinations offering a mix of elegance, modernity, and classic charm would work well for wedding invitations. Feel free to play around with different pairings until you find the perfect combination that fits your design vision.
Here are the 10 best Canva font pairings I love to use for creating wedding invitations:
Cormorant Garamond + Pinyon Script
Le Jour Script + Cinzel
Aniyah + Caladea
Brittany + Aileron Regular
Great Vibes + Josephine Sans Regular
Blastine + Quicksand
Billion Miracles + Catchy Mager
Beautifully Delicious Script + Be Vietnam Thin
Amsterdam One + Ovo
Callem + Cormorant SC Medium
8# Canva font combinations for a poster
Your poster fonts should not only be aesthetically pleasing to the eye, but also legible and cohesive. As I love to make the life of my readers easier, check out this list of creative Canva font pairings for your posters that you can use.
Montserrat (Bold) + Playfair Display (Regular)
League Spartan + Roboto
Bebas Neue + Moontime
HK Grotesk Medium + Roboto
DM Sans (Bold)+ Montserrat Semi-Bold
Agrandir Black + Open Sans Light
Anton + Muli Regular
Libre Baskerville + Montserrat
Granaina + Roboto Mono Regular
TAN Headline + Canva Sans
9# Halloween font pairings on canvas
It is easy to create a mysterious, scary design with Canva's wide selection of spooky fonts. Need a font combination for your Halloween Social Posts, T-shirt designs, or Party Posters and Invitations?
Here are some of the best Canva font combinations I found to spice up your Halloween designs:
Freckle Face + Yannone Kaffeesatz Regul
Vampiro One (Regular) + Lotus Eater Sans
UnifrakturMaguntia + TAN Pearl
Jeepers + Bernoru SemiCondensed
Lacquer + Poppins Medium
TT Alientz Serif + Open Sauce SemiBold
Mons + Sweet Dreams
Charu Chandan Blood Drip + Bobby Jones Condensed
Obra Letra + Antic
Pony Club + Six Caps
Spooky Scary Fonts For Canva Creative Market
Canva has some of the best font pairings for Halloween. However, the fonts available on Canva aren't the only ones you can use. I strongly recommend looking at Creative Market for some spooky fonts for your Halloween and horror designs. A couple of my favorites are:
10# Best Canva fonts for a book cover
You can ruin a good cover with bad typography. Your subconscious mind indeed draws a quick conclusion about a book's typography in a matter of seconds.
You don't need fancy or exotic fonts in the book itself. Reading them is hard work. However, they can take your book cover to the next level. When designing book covers, some fonts are better than others. Different fonts can evoke different emotions. An important aspect of a book cover design is selecting the correct font. A design can be greatly affected by it. Consider other books in your genre for inspiration.
Here are the 10 best Canva font pairings that work well for book covers:
Playlist Script + CMU Serif
Perandory Condensed +
Noto Serif Display ExtraC + Sloop Script Pro
Six Caps + Crimson Pro
Voga + Fira Sans Light
Cinzel Decorative + Reborn
Catchy Mager + Montserrat Semi Blod
Rustic Printed Stamp + Rustic Printed
Kingred Modern + Poppins
Feeling Passionate + Abril Fatface
Font Pairings for Different Design Purposes
The purpose of your design also influences the font pairings you choose. Web design is all about readability. Positive user experiences can be achieved by selecting legible font combinations that are easy to read on screens.
In contrast, print materials offer more flexibility in font choices, allowing you to experiment with different styles and pairings. The fonts used in social media graphics are usually eye-catching and easy to digest, so they grab your attention as you scroll.
Exploring Canva's Font Library
For designers, Canva is an excellent resource as it offers an extensive font library. Whether you're looking for elegant serifs, playful scripts, or modern sans-serifs, Canva has what you want.
To search the Canva font library, simply type in the name of the font you are looking for in the search bar. If you are not sure of the font's name., you can also browse through the fonts by scrolling through the library.
Practical Tips for Font Pairing
Although there are no strict rules when it comes to font pairing, there are some practical tips to help you. First, make sure your font combination is readable in all sizes. Test different pairings across different devices and mediums to see how they work.
Typography is crucial in arousing certain emotions, and how fonts work together is essential in reaching this harmony. You can achieve a polished and professional look by considering contrast, balance, and visual hierarchy.
Using the same font in different styles is the easiest and most effective way to pair fonts. There are different versions of classic fonts, including Bold and Italic, as well as some more complex ones with Condensed and Semi Condensed versions. It is even possible to find serif and sans serif versions of the same font, which is relatively rare. Experiment with one font first; you may find that it is all you need for your design!
Last but not least, find inspiration from design resources, including typography books, websites, and design communities.
💙 Find unique fonts designed by Creators around the world
💙
Conclusion:
To pick the best Canva font pairings, you must consider aesthetics, readability, and your overall message. Whatever your design goals are, there's a font for you in Canva's extensive font library.
It's fun experimenting with different pairings but keeping visual hierarchy and contrast in mind. Create a professional look by limiting fonts and maintaining consistency.
Using the right font combinations will make your Canva designs memorable, engaging your audience and delivering your message effectively. Get creative, explore the world of typography, and get creative with Canva font pairings. I hope you have fun designing!