How To Create An Ebook In Canva In 7 Easy Steps
Curious about learning how to create an ebook in Canva?
Whether you are an aspiring author who wants to self-publish or an online entrepreneur who wishes to market their business through eBooks, this is an excellent format for you to consider.
How to create an ebook in Canva for free?
Contrary to popular belief, creating an eBook doesn't require a writer or graphic designer. It's really simple to create dynamic, visually appealing eBooks with Canva. You can create a professional-looking eBook that is guaranteed to catch the interest of your readers. If you know how to use it, Canva makes ebook design a piece of cake.
We recommend you read our post on How to use Canva to make amazing designs for your blog first if you are unfamiliar with the Canva app.
Here's a quick guide on how to create an ebook in Canva that looks amazing.
This is how to create an ebook in Canva [step by step]
Start by signing into your Canva account. You can create a free account here if you don't have one already! A free account will allow you to create an ebook; there is no need for a Canva Pro account. A Pro account will just give you access to significantly more templates, images, and illustrations.
1. Start with a blank A4 document.
Typically, people use either US Letter or A4. There is very little difference between the two. Search using the search bar and choose the correct document from the list that appears.
Alternatively, type 'ebook' into the search bar and enter.
2. Find design inspiration in the templates library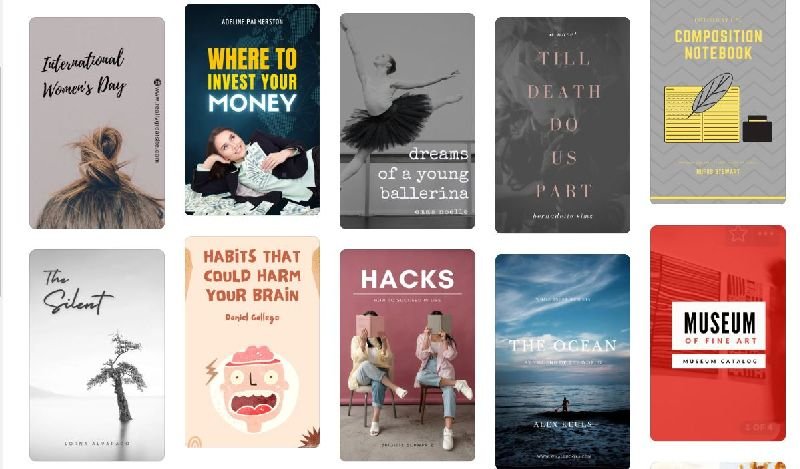 On the sidebar, click the Templates tab to find an ebook template. Since not all templates will be for ebooks, you must refine your search. Type "ebook" to search for them within the templates library.
Alternatively, you can use an ebook template you bought or downloaded for free. The following methods allow you to import PDFs into Canva quickly. One way is to click the Create a Design button on the homepage and select "Import file." However, the other way is much quicker, just to drag and drop your PDF ebook onto the Canva homepage.
Download your free Ebook template
You will need a template with multiple pages, which allows you to pick out the pages you need as you create your eBook.
When you have a free account with Canva, you can use the filter icon to find only free templates.
We will use this free eBook template for this tutorial with eleven pages.
Select apply all pages. You can remove the ones you don't want later.
Now we can start to edit the front page.
3. Design an attractive and attention-grabbing ebook cover with Canva
Your eBook's front page gives your customers their first glimpse of your ebook and its contents.
How to use Canva to create an ebook cover?
Even if the template has excellent pages for your ebook, it might be good to change the cover if it appears too plain. When you type "ebook covers" in the search box, you can find more suitable Canva ebook cover templates.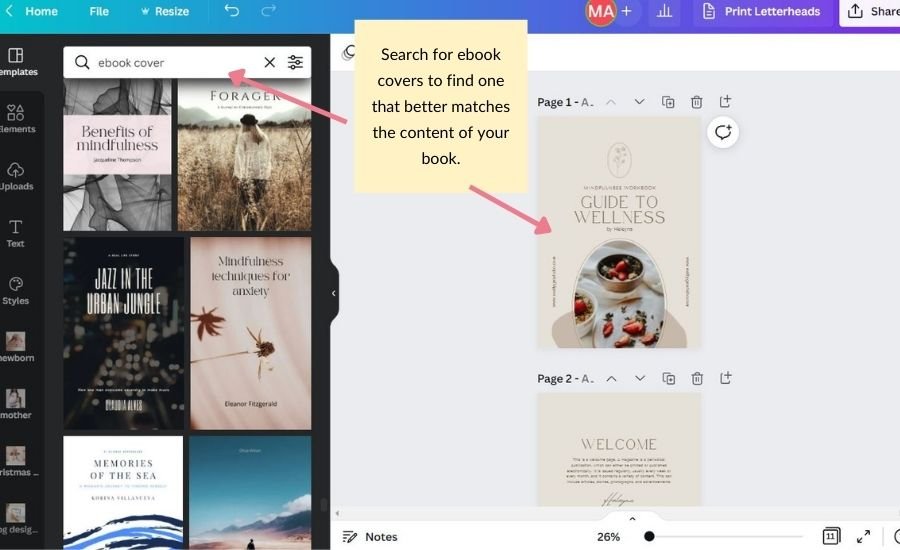 Get creative with Canva's many features to design the perfect ebook cover. Play around with fonts, color combinations, and millions of free, paid stock images. There should be an image or graphic, a title and subtitle, and the author's name on the cover.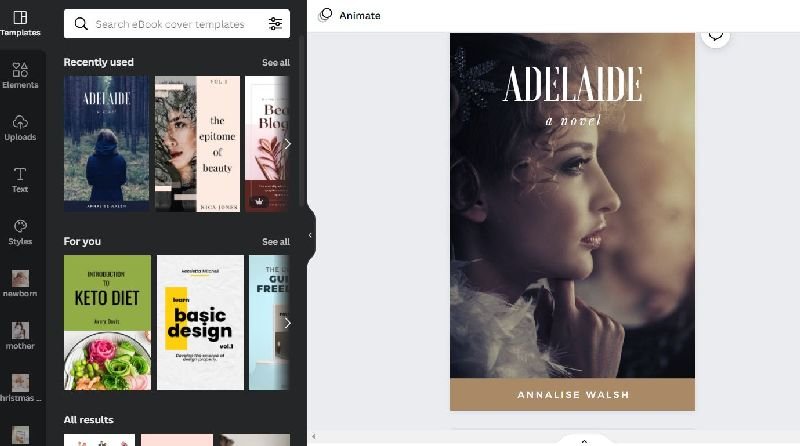 4. Start editing the template
Now you have two options. First, you can customize the design, and when it's ready, you add the content. Or, if you prefer, you may add pages one by one, adding your content one page at a time.
You can add your unique touch by changing everything from the text to the color and images. In addition, you can also use the photos and elements provided in the template. Be careful, though; not all images are free. If you still want to use a certain image, you will need to pay for it. You can also upload your own pictures to make the design yours rather than using Canva's stock images.
It's also essential to stick to a design style that avoids it looking like it's a collection of random elements thrown together. The layout of each page can be different, but you will get a more consistent look if you stick to the same colors, fonts, and design elements on all pages.
If your business has your brand colors, use those. In addition, you can use a color scheme specific to the project.
💕 Related reading: How to create an ebook and sell it on Amazon?
5. Add more pages to your Canva ebook
You can create an ebook with Canva that has up to 100 pages. It is possible to increase the pages of your ebook template in the following ways:
Choose a single template page from the library on the left.
At the top of each page, you see a plus icon. If you click, it will add a new blank page.
You must click the duplicate icon if you want a similar page.
As with the cover page, you can insert pages from other templates.
Depending on the length of your ebook, you may want to include a Table of Contents. Many templates already come with one, but you can easily create one if that's not the case. Insert a blank page after the cover page. Then, select a template with a table of contents, and use that particular page for your contents page. Customize it to match your design.
6. Put the finishing touches to the ebook
Before you download your book, you must ensure that the headings and body text are the same on all the pages. In other words, font size or type may differ if you have used a template from another ebook. So, you may want to update these text boxes. 
Changing text within the document is very easy with Canva.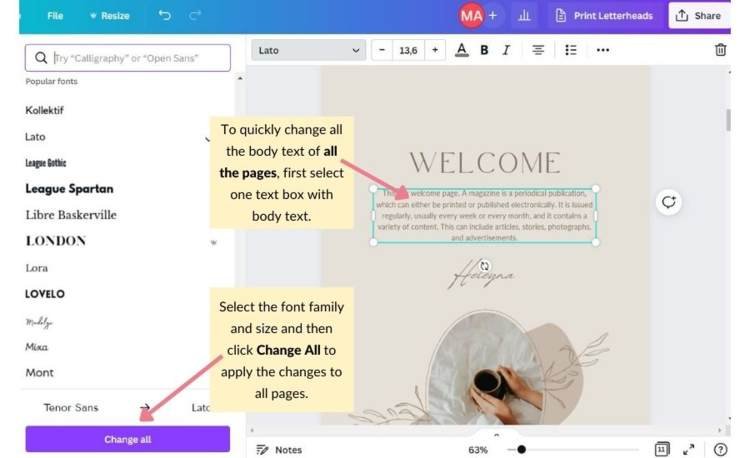 Select a textbox with body text > select the type of font and size you want > click the blue button "Change All."
And there you go; Canva applies these changes throughout the ebook document.
7. How to save and download your ebook from Canva?
As an eBook, it's best to download the file in PDF format. Readers can open it and read it on any device that supports PDFs.
Click on the Download Icon (This has lately changed, and you can now find it under the share button)
Then, you must choose a file type: either PDF Standard or PDF Print. 
Select Crop Marks and Bleed.
Next, mark the pages you would like to download.
Finally, hit the Download Button and choose a location to save your file.
💕 Related reading: Canva Websites: The easiest and quickest way to create a website in 2022
As I mentioned before, with Canva, you can create ebooks of max. 100 pages. So, what do you do if your ebook has more pages? The answer is very simple. You download the first 100 pages and then the remaining pages. Then, you visit Smallpdf.com and use a free tool called "merge PDF" to combine your PDF files into one ebook.
Now that you know how to create an ebook in Canva, you can try it with this free Canva ebook template, available in the freebie library.
Download your free Ebook Template
This is how you create an ebook in Canva. I hope you enjoyed this walkthrough. Please consider sharing it on your favorite social networks. Maybe one of your friends will enjoy this guide, too.