Writing SEO Friendly Content; 15 Awesome tips to boost Traffic
Are you also struggling with how to write SEO friendly content?
You have tried everything. But after hours crafting the perfect blog post, it isn't driving traffic to your website.
When you first start a blog, you can expect it to be a bumpy ride. I understand how frustrating this can be.
It can happen to anyone.
Some mistakingly focus on the user without thinking about SEO – or vice versa. But bear in mind your goal is to let the user come first and then the search engines.
So, are you ready to take your SEO skills to the next level? Then, keep on reading.
In this post, I'll explain what SEO-friendly content is and share some tips for writing SEO friendly content to help you rank better in search engines.
1 . Write an outline for your post.
The outline will help you create well-crafted, SEO friendly content.
For example, every post must include:
A brief introduction (discussing your topic);
the body (in which you present your message);
end with a conclusion (a recapitulation of your main points).
Just write down a few sentences for each of the three sections. Your summary is now complete.
How to Start A WordPress Blog From Scratch
2. Be sure to use headings and paragraphs correctly
Organize headings hierarchically: The post's title should be the first heading, the main sections should be an h2, and the subsections should be an h3.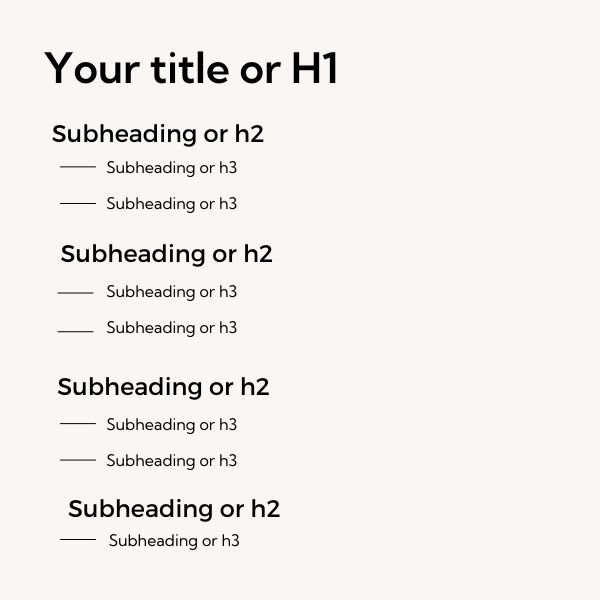 Structuring your content this way is because Search Engine Spiders find it easier to crawl the content. Plus, visitors will find your post easier to read (and scan).
Here's how to do that.
Nothing is more difficult to read than a long block of text. Break it up into small paragraphs of 2-3 sentences each. That way, pages will be easier and more enjoyable to read.
Using headings helps readers understand the purpose of a text and quickly locate the information they need.
To make it more interesting, you can add formatting options to the text, like bold, italic, and underlining.
Including images in your paragraphs will liven them up. Try to align them to the left or right.
3. Carry out a keyword research
By including keywords in blog posts, you can optimize them for search engines. That's a skill that could take your blog to the next level.
You are likelier to appear at the top of the search results and please your audience by choosing the right keywords.
As you choose your target keywords, consider the following:
What is the number of searches for one or more keywords during a set period? If you use the wrong keywords, you'll waste time and money.
Determine their search intent (what the searcher is looking for).
Look for content already ranking high in the search results and aim to create better content.
Concentrate on long-tail keywords. People usually use longer keyword phrases to find out about a specific topic. Long-tail keywords are an effective way to increase traffic and conversions quickly.
Here are some excellent resources (free and paid tools) you can use to help you with your keyword research, enabling you to write more SEO-friendly content.
My favorite keyword research tool is Keyword Everywhere. This Google Chrome extension shows you the present usage statistics, related keywords, volume, trends, etc., for any keyword you search in Google.
👉Get Keywords Everywhere Now!
For only $15 per year, you get 100,000 credits in the Bronze plan
Other popular Chrome extensions: UberSuggest, SEO Minion, Keyword Surfer
You should read Keyword Research: The Definitive Guide if you want more traffic and higher rankings. I think this is by far the most informative article about keyword research I have ever read.
If your content is overloaded with keywords, it won't be easy to read. Therefore, don't confuse your readers by using too many keywords (keyword stuffing) when writing your blog posts.
Naturally, use keywords as you write. Write content that offers solutions to problems or answers your readers' questions.
You may also like:
4. Write a killer blog post title
Creating catchy titles for blog posts plays a significant role in SEO. Users who come across a catchy title in search results are likelier to click on them. In addition to that, when you use your focus keyword in the title of your blog post, it will make your content more SEO-friendly.
Having a good headline is crucial. Here's the point: without a strong headline, most readers may not even see your post. Getting your readers hooked on the title will determine whether they keep reading. Your title needs to arouse the reader's curiosity so they want to read the rest of your excellent blog post.
Sounds difficult? Not at all 🙂
Most copywriters throw out numerous headlines before they come up with the perfect one. You're lucky; enough free tools are available to help you write click-worthy headlines.
Here are a few of my favorite headline analyzers
Truth be told, you should write your own headlines. However, if you're short on time or lacking inspiration, why not try one of these headline generator tools to assist you?
Take your audience into consideration when using these tools. It doesn't matter if these tools aren't perfect; they can give you good ideas for the perfect headline for your article.
Want to become an expert in writing headlines?
Jon Morrow's book "52 Headline Hacks" is one of the best resources for crafting great headlines, available for free download.
5. Add internal and external links
When optimizing content for SEO, don't forget to link to and from your earlier posts (internal links) written on the same topic. Because you are showing knowledge on the subject, search engines think you're an expert in your field. Your new blog post and previous posts will become stronger as a result. Moreover, a proper linking structure of your website also affects its ranking in Google.
Include a link in your blog post (external link) when you mention another blog or article. You might also get lucky and receive a link back as a bonus. Quality links are among the best ways to rank higher in search engine results.
Include one or two outbound links in your blog content when possible. Ensure to link only to respectable blogs, reliable resources, or articles. In other words, linking to poor-quality sites will hurt your SEO instead of helping it.
6. Write a meta description for SEO
A meta description is this snippet of text within your meta tags that gives a short page description.
Often your meta description will appear under your headline in search engine results. However, sometimes search engines pull a piece of text from the main body copy instead.
Some SEO experts claim that meta descriptions do not count as a ranking factor, and others believe that search engines see it as a relevancy signal and may help you rank better.
I'll explain why it's still worth writing a meta description.
The keywords and phrases people seek will be boldly highlighted in search results. So, using your keywords in the meta description will draw the searchers' attention and prompt them to click and visit your web page.

When you share a post on Social Media, the network will often use the meta description. Use this opportunity to your advantage by offering a meaningful message to people looking for it.
Some things to consider when writing a meta description.
It should be one to two sentences with a max length of 160 characters.
Don't forget to include your target keyword.
Target an emotion or mention a pain point with a benefit for the visitor.
This summary should contain a clear call to action to tempt people to click the link.
Avoid using identical meta descriptions for all posts.
Lastly, you can preview the snippet for mobile and web when you use the Yoast SEO plugin.
7. Optimize Images for SEO Friendly content
You shouldn't neglect images when creating content. They not only make your posts more appealing, but they are equally valuable for SEO purposes.
Here are a few ways to optimize your images:
Resize your images. Your pages will load slower if you have high-resolution photos and larger sizes. Use quick online tools or a plugin.
Select the correct file name. Before uploading an image, name it with relevant, descriptive keywords. For instance, if you have a photo of a dolphin, the name img00236.jpg makes no sense to search engines, but dolphin-playing.jpg does.
Alt tags provide clues to search engine spiders and assist visually impaired users.
While image titles are less relevant to SEO, they can provide additional information to the alt text.
Use image captions. The use of captions can dramatically lower the bounce rate of your site. It is estimated that people are 300% more likely to read the captions under images than the text of the article itself.
Whenever possible, use only images that match your text.
8. Properly structure your permalinks
What are permalinks? A permalink is another word for a URL or a link in WordPress. You want your URL to include your target keyword and explain what the page is about. You can improve search engine results if you use SEO-friendly URLs and permalinks.
You can set how WordPress displays your permalinks by going into your dashboard.
Click settings > Permalinks> Choose post name > Save settings.
💕Read also: How to use Canva to create amazing designs for your blog?
9. Post new SEO-friendly content regularly.
The search engine favors websites that provide fresh content regularly and share new articles and posts.
If you want to increase traffic rapidly as a new blogger, post content at least once a week, preferably more often!
Moreover, you can boost rankings and traffic by updating older blog posts with new, helpful, SEO friendly content.
10. Optimize the speed at which your website loads
A slow site will negatively affect your ranking on Google. Nobody wants to wait around 10 seconds for your home page to load today. Google is aware of this, so it displays faster sites first.
You can install a plugin if you want your website to load faster. We strongly recommend WP Rocket because it is one of the top plugins. Use it to increase your WordPress site's SEO scores and page speed.
💕 Related reading: The Best Free WordPress Plugins Essential for Blogs 2022
11. Write longer articles for SEO friendly content
Is the length of your blog posts important for SEO? Search engines still favor long-form content. The HubSpot study from 2021 suggests that SEO's optimal blog post length is 2,100-2,400 words.
When writing longer articles, including a table of contents is good.
Highlight key headings in the table of contents so the reader can jump to the relevant section if they want something specific. Adding a table of contents can increase your chances of getting a featured snippet in Google search results.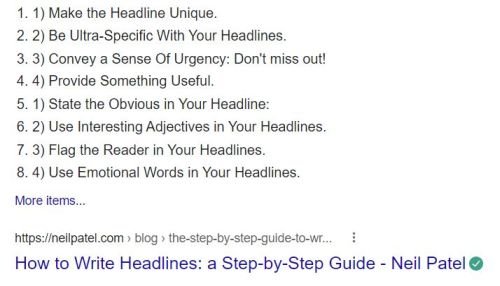 You can download a blog post checklist here.
12. Make your site mobile friendly
How important is mobile-friendliness for SEO?
Mobile-friendliness is a ranking signal for both Google and Bing. Usually, mobile-friendly websites are more likely to rank higher in mobile search results than those that aren't.
Mobile devices have grown massively in recent years, with 76% of consumers using them for shopping. So, you must ensure your website functions well and looks good on mobile devices.
13. Install a plugin to help you write SEO-friendly content
An SEO plugin helps you to place keywords properly throughout your content. Additionally, it has a handy "page analysis" section under or next to each post, which informs you what you are doing right and what you can do to improve.
👍 WordPress Plugin Recommendations For SEO friendly content: Rank Math, Yoast SEO, All In One SEO
14. Add video content
Would you believe including video on your website can greatly boost your SEO efforts and attract more visitors? In fact, it does. Websites with video content are increasingly favored by Google's algorithm. Using video correctly can be incredibly effective in increasing your search engine ranking.
15. Make an XML sitemap.
An XML sitemap makes it easier for search engines like Bing, Google, Yahoo, and others to crawl your website. For this, you can use a sitemap generator. Enter your complete URL, and the generator will produce an optimized sitemap. However, if you use a plugin like Yoast SEO, you can enable sitemaps, and it will generate individual sitemaps for each section of your site. Click here to learn how to submit those sitemaps to the various search engines.
Here Are Some of my favorite tools
Read also: Make Money Blogging: 11 Ideas for Monetizing Your Passion
The bottom line is this.
The first couple of times, it will take a lot of effort to write SEO friendly content for your blog, but eventually, it will pay off.
Make sure you put these strategies on how to write SEO-friendly content to good use. You will inevitably get more shares, links, and followers by doing so.
Can you think of anything else you can do to increase the SEO friendliness of your blog content? I'd love to know your thoughts.