Discover The 9 Best SEO Tools For Finding Winning Keywords
For bloggers, getting noticed online is a big deal. To make that happen, you have to know the terms people use when browsing online. We call these words "keywords," and they're like the secret code to success in the online world. In this guide, you'll learn why keywords matter. If you need help with finding the perfect keywords for your website! I have some of the best free SEO tools for you that will make the whole process a breeze.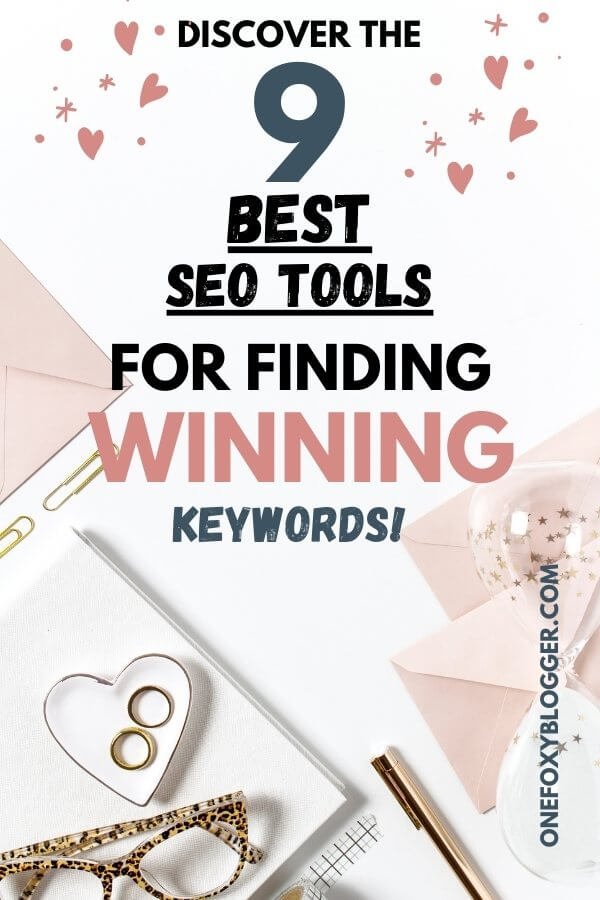 Why Keywords Are Important
Writing a blog without keyword research is like finding a light switch in the dark. You might still create a great blog, but it could be harder for people to discover.
You can discover what words and phrases people search for on the internet by doing keyword research. Using these "key" words in your blog is like putting signposts to your blog. It helps more people find and read your blog because it matches what they're looking for.
Without keyword research, your blog might not reach as many readers, even if it's awesome. So, doing keyword research is like giving clear directions to get your website to appear on the first page of Google.
Also read: How to start a blog with WordPress using this comprehensive tutorial
How to do keyword research?
Keyword research is a process you have to do step by step.
Start by brainstorming potential topics related to your subject.
Add more specific phrases that people might use under each main topic.
Then, using the best SEO tools, you can find other words that match your keywords.
Check how strong and competitive your chosen words are.
See where you stand compared to others in your field for these words.
Make sure your words match what people seek online(or their search intent.)
Best Seo Tools List
The right tools are crucial to optimize your website for search engines. In case you're having trouble finding the best SEO tools – Check out these awesome options that can really boost your website's visibility.
1. Google Keyword Planner
Have you ever wondered what goes on in the mind of someone who uses the internet? Then, you may want to check out Google Keyword Planner. It's an amazing tool that can help you understand what your visitors are searching for. With this tool, you can stop guessing and start creating content your audience wants to see!
Are you looking to supercharge your blog's visibility? If the answer is yes, then the magic wand you've been searching for is Google's Keyword Planner. This invaluable tool is a game-changer, allowing you to take your blog to new heights by harnessing the power of carefully chosen keywords. With this resource, you can uncover the most relevant keywords and gauge their search volumes, giving your blog the potential for enhanced organic traffic.
The Google Keyword Planner will help you along this journey. It offers you access to precise, real-time data sourced directly from Google's mighty search engine. And the best part? It's incredibly user-friendly, ensuring your experience is as smooth as silk. But what truly sets it apart is the wealth of in-depth insights it provides. Unsurprisingly, Google's Keyword Planner has become an indispensable tool for bloggers.
If you ask me what are the best SEO tools for beginners? I believe that the Google Keyword Planner is an easy tool, especially for novices.
The tool is free to use if you have a Google Ads account, which is also free to open. So, you don't have to spend any money to use the Google Keyword Planner to find those special words for your keyword research.
Related reading: Writing SEO Friendly Content; 15 Awesome tips to boost Traffic.
The first thing that comes to mind when searching for the best SEO keyword research tools is Semrush. Semrush is a powerful keyword research tool used by bloggers, entrepreneurs, and marketers alike. It helps you find keywords to optimize your website's visibility in search engines.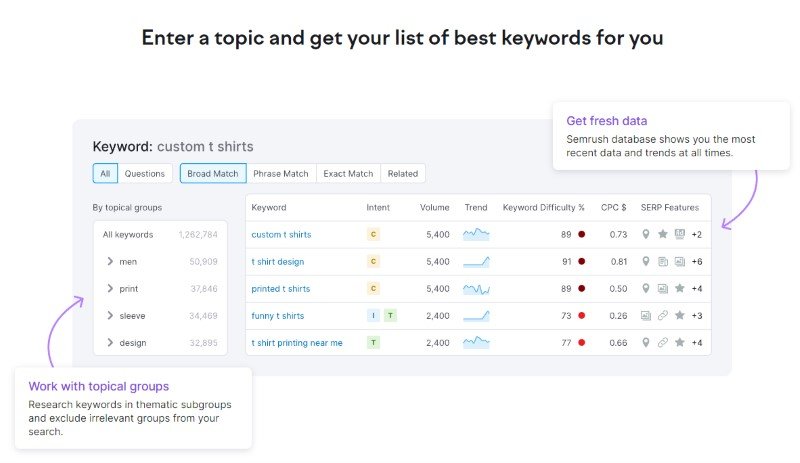 Unlike other tools, Semrush offers a comprehensive range of features beyond basic keyword research. It provides competitor analysis, site auditing, backlink analysis, and more. By monitoring your competitors with Semrush, you can ensure you remain ahead of your competitors.
These are just a few of the incredible things you can accomplish with Semrush!
Semrush is a premium tool, but a free version with basic features allows you to get a taste of its power. Whether it is worth it to upgrade to the paid version is entirely up to you.
Ahrefs is a comprehensive SEO tool offering many features like keyword research and analysis. It stands out from other keyword research tools because its extensive database provides access to billions of keywords and their search volume data. According to many digital marketers, Arefs is the best SEO tool available. It's for a good reason, too.
It tells you which keywords are easy to rank and the ones that are the most difficult, so you know where to focus your efforts. This tool offers additional features like site audits, rank tracking, and content explorer, making it a powerful all-in-one solution for bloggers and marketers.
Check out their free SEO tools to assist you with various SEO activities.
Keyword exploration
On-page optimization
Link building
While Ahrefs itself is not free, it offers many free tools. Although not as extensive as a paid Ahrefs account, they're incredibly valuable for SEO beginners. Arefs offers different plans that start at $89 per month, with various access levels and features based on your needs.
Surfer SEO is a powerful keyword tool designed to help entrepreneurs optimize their website's content for better search engine rankings. It stands out from other keyword research tools with its unique approach of analyzing top-ranking pages and providing actionable recommendations for improving your own content.
With an eye on relevance, structure, and user intent, Surfer SEO helps you create high-quality, SEO-friendly blog posts.
Using Surfer SEO will allow you to align your content with SEO best practices. Even though it may seem a bit confusing to beginners, it can be invaluable when used correctly.
In terms of pricing, the tool may be too expensive for some, but it's worth the cost, given the value it offers. Unfortunately, there is no free version of the tool available. However, there's a free keyword search extension available for Chrome users. That's right! Surfer provides this amazing tool to help you find the perfect keywords for free.
Are you tired of struggling to find the right keywords to boost your online presence? Ubersuggest offers comprehensive keyword research and analysis, helping you find high-performing keywords and identify content ideas.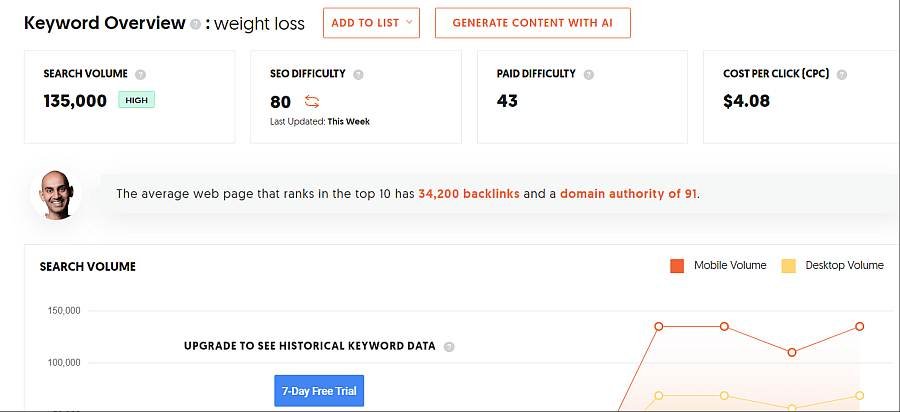 What sets Ubersuggest apart is its user-friendly interface and range of features, including;
For beginners, Ubersuggest is the best SEO tool out there. It's like having a coach by your side. It suggests keywords, gives you ideas for content, and tells you what your competition is doing.
While Ubersuggest offers a paid subscription with many features, it also provides a free version with a solid foundation for keyword research and optimization.
7. AnswerThePublic
AnswerThePublic is a fun and partially free tool that helps you discover what questions people ask about your keywords. It's a great way to find long-tail keywords and content ideas. Just type in your keyword, and it will give you a visual map of related questions.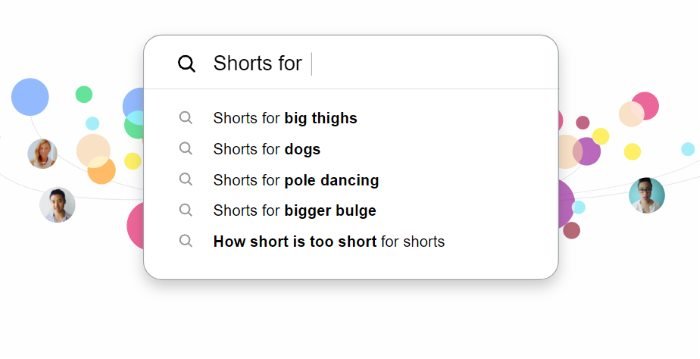 The magic of AnswerThePublic lies in its use of autosuggest, also commonly known as autocomplete, data to fuel its searches. So what exactly is autosuggest, and how does it work? Here's a quick explanation.
Have you ever initiated a search on Google by typing in a keyword, only to have Google provide you with a list of suggestions based on what other users have been searching for? That's how autosuggest works.
Let's say you're searching for the best "weight loss" on Google. As you begin typing this phrase into the search bar, Google springs into action, suggesting many ideas to complement and enrich your search.
'Best weight loss supplements'
'Best weight loss program'
'Best weight loss products'
Gathering these autocomplete suggestions provides users with a wealth of information, allowing them to create content that aligns precisely with what their target audience is seeking.
In the world of SEO and digital marketing, being ahead is key, and AnswerThePublic is one of the best SEO tools to help you on this exciting journey. With your newfound insights, you can craft high-quality, engaging content.
With a free account, you get 3 daily searches and one project. The individual plan starts at $9 per month, where you can perform 100 daily searches.
One tool that's making a splash is AlsoAsked – and it's a game-changer in the world of SEO. AlsoAsked is one of the best SEO tools that gathers and sorts "People Also Ask" questions you see when you search Google.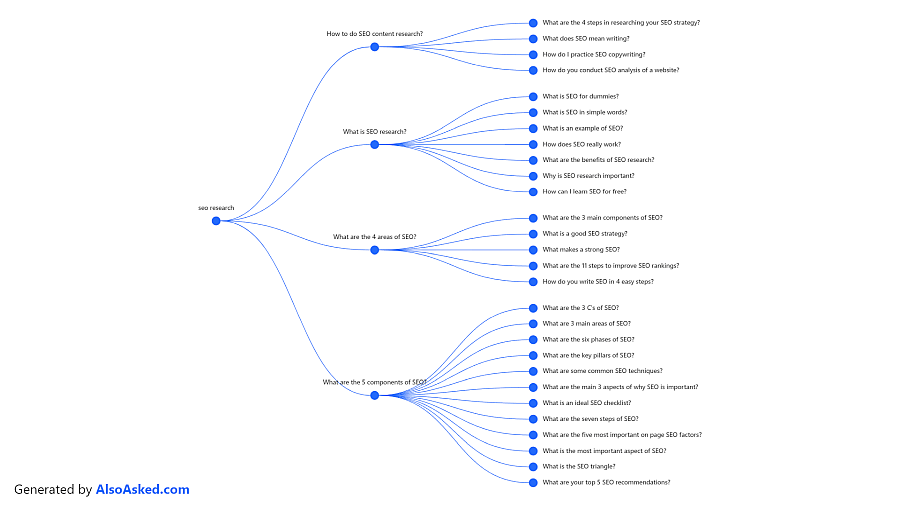 What sets AlsoAsked apart is that it shows you how different topics are connected. It's like a map that helps you understand what people and search engines want to know. How does AlsoAsked compare to AnswerThePublic? AnswerThePublic is like a puzzle piece showing what people type in Google. But AlsoAsked goes beyond that. It shows you not only what they ask but how different questions are related.
You can now use AlsoAsked for a limited number of searches without signing in. This helps keep things fair because some folks try to use it too much for free. But if you're serious about SEO, the paid version is where you can really up your game.
AlsoAsked isn't just a tool; it's an effective SEO weapon. It shows the questions people want answers to and how they are connected. Whether you stick with the free version or go for the paid one, AlsoAsked helps you make smart decisions, save time, and increase reader engagement. Their price plans start at $15 per month.
8. Google Trends
Among the free tools you can use is Google Trends, which shows how a keyword's popularity changes over time. It's one of the best SEO tools for identifying trending topics and seasonal keywords that can boost your content strategy.
Google Trends is an invaluable resource for keeping your blog fresh and relevant. Yet another invention from Google that lets you explore what's trending on the internet.
One more reason to explore Google Trends is that it doesn't just stop at giving you a list of hot topics and keywords. It goes deeper, revealing how the interest in those topics has changed over time. It is possible to see if a topic is gaining or losing popularity; data like this is priceless for bloggers.
Now, Google Trends is unique among keyword research tools because of its real-time aspect. In other words, it doesn't rely on static data – it's constantly changing. A game-changing feature is that you can filter trends by location and time. As well as it helps you understand what's trending in a specific region at the moment. That's powerful for content creation.
How can bloggers and marketers make the most of this tool?
Use Google Trends to spot rising topics related to your niche. It's perfect for planning seasonal content. You can predict when people will start searching for holiday-related topics.
As I already mentioned, Google Trends is free. There's no cost involved; click here to explore Google Trends.
Keywords Everywhere is a versatile SEO tool designed to help you discover tailored keywords for your business. With it, you can identify high-performing and relevant keywords for your articles and blog posts.
What makes Keywords Everywhere different from other keyword tools is its simplicity. You don't need to visit a special website or use complicated software. It's right there in your browser, making keyword info easy to access.
Keywords Everywhere isn't limited to just a handful of websites; additionally, it works on several platforms, including YouTube, Bing, Amazon, eBay, Etsy, and more. Having this kind of versatility is huge for bloggers looking to dominate online.
I am sure you are interested in knowing the cost. In the past, Keywords Everywhere was a free tool. Their current payment system is based on credits. You buy credits; every time you look up keyword data, it uses some of your credits.
Keywords Everywhere is a very affordable tool. You can start with 100,000 credits, which you can buy for $1.25 monthly ($15 a year).
When to Consider Paying for a Tool?
1. More Information: Paid tools usually give you lots of information about keywords, like how often people search for them and how hard it is to rank for them. This can be very useful.
2. Extra Features: Paid tools often come with extra cool things, like showing you what your competitors are doing with keywords. This can help you be smarter in your own website strategy.
3. Saves Time: These tools can also save you time because they're easier to use and they can do some of the work for you.
4. Help When You Need It: If you ever get stuck or have questions, paid tools usually provide support.
5. Keeps Up with Changes: The internet changes constantly, and paid tools tend to keep up with these changes, ensuring you're using the most current information.
When Free Tools Can Work:
1. Simple Needs: Free tools can do the job if you're just starting out and need basic keywords. Free keyword tools are still helpful if you don't have much money to spare.
2. Test It First: Some paid tools let you try them out for free to see if they're worth paying for before you commit.
3. Learn the Basics: If you're new to all this, free tools can help you learn the basics of keyword research.
Things to Think About:
1. Your Goals: Think about what you want to achieve with your website. A paid tool might be worth it if it's a big part of your business.
2. How Often You Do Research: If you're doing keyword research regularly, a paid tool can save you time and effort.
3. How Competitive Your Field Is: In some fields, there's a lot of competition. Paid tools can give you an advantage.
4. Is It Worth the Cost?: Think about whether the tool will help you make more money or attract more visitors to your website. If it does, it's probably worth the cost.
FAQs
1. How do I pick the right keywords for my website?
Search engine optimization (SEO) begins with choosing the right keywords. It involves understanding your target audience, conducting thorough research, and choosing keywords that align with your content and goals. To pick the right keywords, you can begin by utilizing the list with the best SEO tool recommended in this post.
2. How do I get SEO analytics?
The best SEO analytics tools are Semrush and Hrefs. In addition, you can get SEO analytics by setting up tools like Google Analytics and Google Search Console and by installing an SEO plugin like Rankmath.
3. How often should I change my keyword strategy?
Keyword strategies need to be flexible. Keep an eye on how your keywords are doing and adjust your plan as needed. Your SEO efforts require ongoing care.
4. Can I use just one SEO tool, or should I use a few?
While one tool can be helpful. I recommend using a mix of tools to give you a better overall picture of what keywords to target and what your competition is up to.
5. What are long-tail keywords, and why are they important?
Long-tail keywords are specific phrases that people use to search for something. Google's top priority is giving its users the best possible search experience. If you use long-tail keywords that meet users' specific needs and queries, your SEO will improve and increase user satisfaction, which Google values highly.
Wrapping It Up
The 9 best SEO tools we've discussed can be your secret weapons for finding the best keywords. To win in the blogging world, you've got to beat your competition. Here's the fun part – these fantastic 9 best SEO tools we've discussed. They're like turbo-boosters for your blogging journey! Whether a blogging newbie or a seasoned pro, these tools are your secret formula, helping you zoom ahead of the competition.
Let us know in the comments if this post on the best SEO tools to find winning keywords was informative and helpful. What SEO tools do you find to be the most effective and why?