A List of The Best Canva Fonts You can't afford to miss
Can't find the right font for your project in Canva? Do you even know where to start? Have you spent endless time comparing and searching for the best Canva fonts or font combinations? That's completely understandable.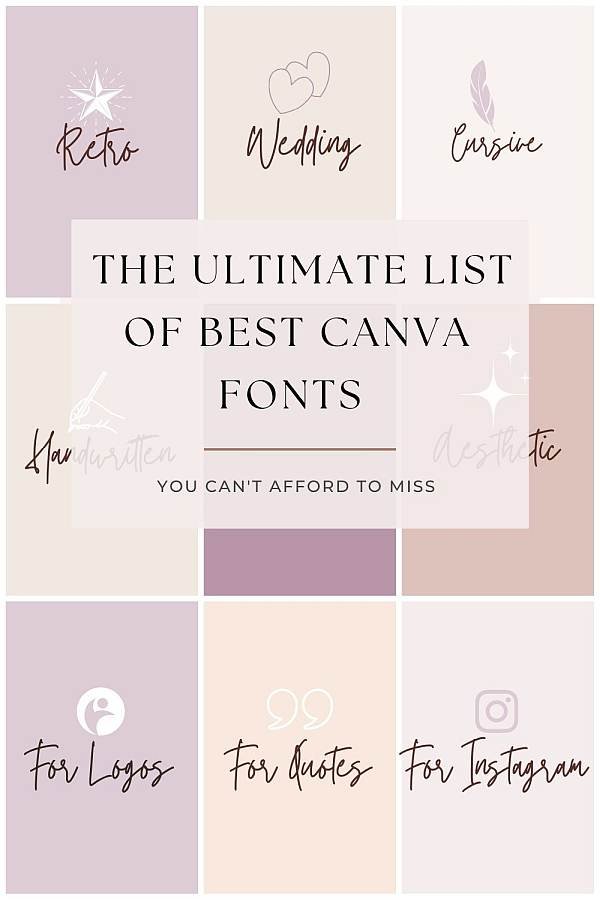 Whether you are looking for the best handwriting fonts or the best cursive fonts in Canva, I am sure this Canva fonts list will save you time and help speed up your workflow on your next graphic design project.
💕Related post:
Discover the best canva font pairings -100 winning combinations
How to use Canva to create amazing designs for your blog
Easy guide: How to create a logo with Canva in 15 minutes or less
Brand fonts: what you need to know
Limiting the number of fonts you use in a given project is important. It is natural for the eye to have trouble processing more than one font, and your readers will lose interest if it seems unattractive & overly busy. To avoid this, the key to success is simplicity. Make sure your website and designs use a maximum of two to three fonts.
Font use in design is essential for creating a polished, professional look. It can determine the tone of a project, from bold and authoritative to whimsical and playful. Whether your project calls for a classic serif or a modern sans serif font, the possibilities for combining these elements are truly limitless.
Choose one serif font and one sans serif font, and combine them with several variations of every typeface. Use capital, italic, and bold fonts or improve the look by increasing letter and line spacing.
Sans Serif Font
As the name implies, sans-serif fonts lack serifs. An extension or stroke at the end of a letter is a serif. The sans serif typeface has no decorative details or additional strokes at the ends of the letters. They are great for titles because they have a more modern and minimalist look.
Serif Font
Serif typefaces feature small accentuation at the ends of their letters, which may help a reader read more quickly and avoid fatigue. Their appearance is more sophisticated and traditional. Generally, serif typefaces are best for long copies since they are easy to read.
What are the best free fonts on Canva?
When choosing a font on Canva, consider the type of project, the audience, and the tone you want to convey. For example, if you're designing a logo for a business, you may want a modern and professional font. Various great options are available, like Open Sans, Montserrat, and Roboto.
If you're designing a website for a creative project, you may prefer a more playful font like Pacifico or Amatic. You can search Canva's font library, which offers a wide selection of free fonts to choose from. The only problem is it can be time-consuming.
What are aesthetic fonts on Canva?
An aesthetic or elegant font is easily readable and pleasing to the eye. These fonts have a unique design that is not overly ornate, contains subtle but effective decorative elements, and has a classic, timeless look. An elegant font has good spacing and proportions, so its characters are legible and flow easily.
There are so many great aesthetic fonts to choose from on Canva! I have listed some of the best aesthetic fonts on Canva I've seen people use below. Each has its unique look and feel, so it's worth exploring them all to determine which works best for you.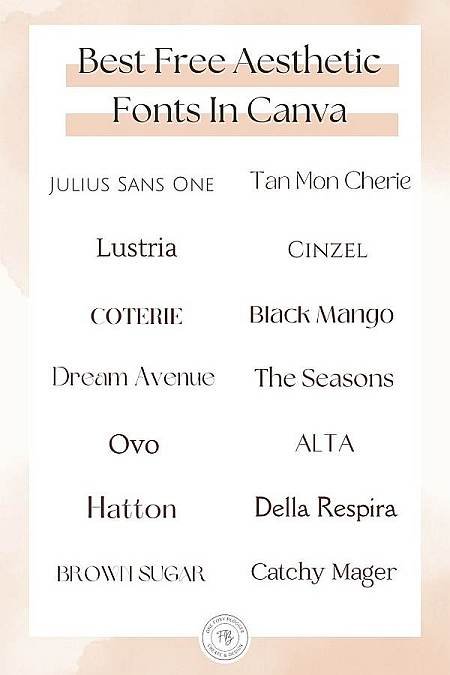 Best Cursive fonts on Canva
Inside Canva, you can choose from a wide array of cursive fonts. A script font, also known as a cursive font, gives your Canva designs a unique style. You can use script fonts in various design projects, from wedding invitations to logos. Using these fonts for headlines rather than body text is best since they are harder to read at smaller sizes.
Many people need help finding a suitable cursive or calligraphy style font in Canva's lengthy list of fonts. So I'll share with you the best free script fonts you can use in Canva.
More Canva Tutorials:
What are the best Canva fonts for Logos?
Choosing a font for a logo can be difficult, as so many great options are available. It's important to pick a font that reflects the tone and feel of your company. A good logo should also be easy to read and not too complex, as it must be recognizable in various sizes.
Before deciding on a font, it is equally important to consider what you will use it for. Will you use it for web, print, or both? Different fonts can look great in different situations. Some fonts convey positivity and cheer, while others may express sentiments and feelings. Your logo should reflect the emotions of your audience.
For example, a playful font would be appropriate for a kids' toy brand, while a formal font would be more suitable for a business offering financial advice.
Below are our picks for the best Canva fonts for logos that will help you design an amazing logo for your brand: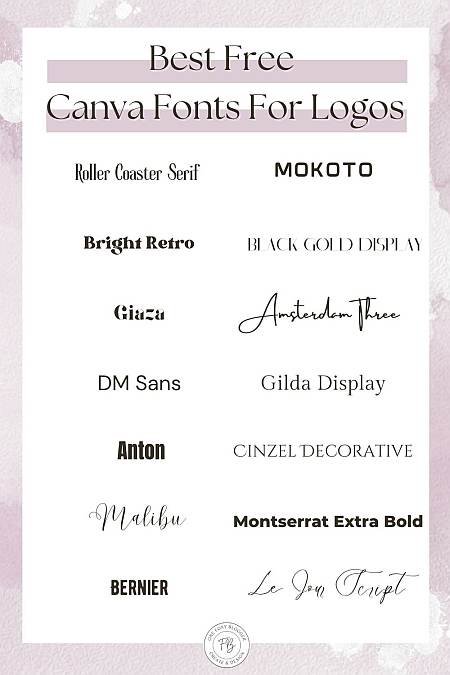 Best handwritten fonts on Canva
Handwritten fonts are suitable for logos, product packaging, and various promotional applications such as flyers, posters, and other advertising materials.
Additionally, you can use handwritten fonts to add a personalized touch to invitations, greeting cards, and other personal correspondence because they symbolize a personal touch, as if the words come from a person rather than a machine.
Check out the best handwriting fonts on Canva that you should include in your next design.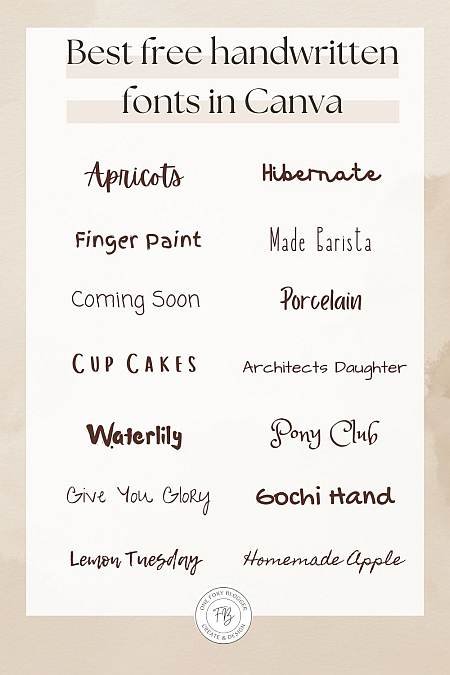 Retro Fonts on Canva
Vintage fonts can bring your work to life and add a nostalgic touch you can't get with any other style.
Retro fonts bring sophistication, elegance, and vintage charm into any design project. You can use them for branding, logos, labels, badges, wedding invitations, vintage book covers, posters, and more!
I've gathered 14 of the best retro Canva fonts on Canva to add a groovy vibe to your next design project.
💕Read also: The A-Z guide to selling Canva templates like the pros in just 3 days
What are the best Canva fonts for Instagram Posts?
Instagram is a great tool to promote your online business, but you must choose the right fonts for your Instagram posts to achieve success.
In the library, you will find many Canva fonts for creative design that will make your Instagram posts pop, so choosing the right ones can be tricky.
Go and check out a few of the most popular fonts Canva designers use when creating social media templates, including Instagram Stories and reels. You can use all of these fonts for free in Canva.
best Canva fonts for Headings?
Consider the following factors when choosing the best font for website headers or titles.
A good headline font should be bold and easy to read.
It should stand out from the body of the text but not be too loud or distracting.
It should be clear, with good contrast and subtly eye-catching elements.
The font should be appropriate to the text's tone, whether this is fun and playful, professional and serious, or somewhere in between.
Finally, it should be appropriate to the size of the headline and be easily visible when scanned.
In my opinion, the best Canva fonts for headings and titles are the following:
Bebas Neue
Montserrat
Roboto
Raleway
Open Sans
Poppins
Muli
Merriweather
Oswald
Lato
Playfair Display
Source Sans Pro
Raleway
Fira Sans
Best Canva Fonts FAQ
Are Canva fonts free for commercial use?
Commercial use of fonts on Canva is permitted! Canva's fonts (free or premium) can be used for commercial purposes regardless of whether they are free or premium fonts. They can be used for social media templates and ads, for your webpage, to create digital materials like workbooks, or for any other promotional activity.
Can you upload a font to Canva?
Are you looking to make your designs stand out by using unique fonts? If Canva doesn't have the font you want, that's no problem. You can upload any font you desire and create custom Brand Kits for your designs with Canva Pro. How to upload a font to Canva? Navigate to Brand Kit on the Canva Dashboard and add your custom brand fonts.
What are the best Canva fonts for Quotes?
The more readable fonts like sans serif or serif fonts can be better for most quotes. When choosing a font for quotes, select one with a character that will draw attention to the quote and make it memorable to the reader.
Best canva fonts for wedding
From whimsical and elegant to classic and romantic, choosing the right font to represent your special day can be difficult. For weddings, font combinations and font pairings are best. Generally speaking, there are three main font types for wedding stationery serif, sans serif, and calligraphy or script fonts. You can use a calligraphy font for the couple's names and easy-to-read fonts for important information like dates, wedding signs, and seating plans.
Final thoughts
The proper use of fonts in design can create a powerful visual impact. Knowing how to work with the different font families, weights, and styles available is essential for any designer. Understanding how to use features like capitalization, bold, italic, letter spacing, sans serif, and serif fonts can make a design stand out from the rest. Whether you want your design to be classic or modern, knowing the fundamentals of font use in design will be the crucial first step.
Are you looking to make your designs stand out by using unique fonts? I recommend you get Canva Pro, as it gives you access to Pro Fonts and allows you to upload fonts to your designs. With Canva Pro, you can ensure your designs match your brand kit so they look professional and consistent with your brand.