50 Great Call To Action Phrases That Are Sure To Convert
One of the things most bloggers struggle with the most is creating strong call to action phrases that actually convert. As a blogger, you always look for ways to improve your blog.
You are constantly guessing about the right words and approach to take. It rarely works, even when you think you've figured it out. Not being able to crack the code of creating an effective call to action is incredibly frustrating.
Yeah, I totally get it.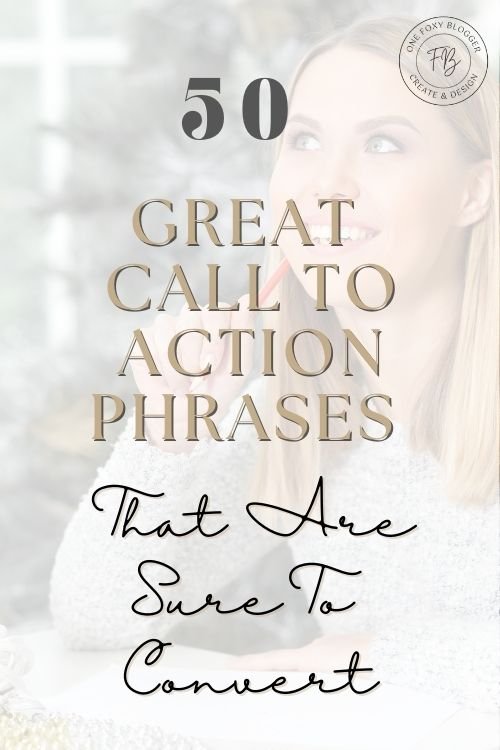 Even the best content is only helpful if you can convert readers into customers. Finding the best CTA phrases can help you with that.
There's a lot of talk about calls to action (CTAs) among digital marketers. But if you need a little explanation of what they are or their importance, you've come to the right place.
This article will dive into everything you need to know about call-to-action phrases and buttons, from what they are to why they work so well on your website or blog. You'll also find 50 powerful call-to-action phrases to use on your blog or social media further down this page.
I developed a simple process for finding the best call to action phrases that generated a 340% increase in click-through rate! I'm going to share it with you.
💕 Related: How to start a blog with WordPress using this comprehensive tutorial
What is a call to action?
A call to action encourages 'your reader' or 'your visitor' to engage in an activity that will benefit them, such as signing up for your email list or purchasing a product. The most commonly used call to action phrase is, 'Click Here.'🥱
Ideally, a call to action should be a short phrase, not an entire sentence, preferably at most, five to seven words.
Finding the right call-to-action (CTA) phrases that increase click-through rates takes time and effort. However, finding the right words to persuade a reader to click on a certain link can be easy if you follow specific guidelines.
What are good examples of calls to action? Below are some tips on how to write a call to action that will get you more conversions.
Read also: Make Money Blogging: 11 Ideas for Monetizing Your Passion
1. Consider what your visitor cares most about.
Emphasize the benefits of the product or service you are offering. Instead of saying, "Sign up for our certified training to become a life coach," you might say, "Learn how you can make 60K a month with our certified life coach training program!"
So, instead of telling your visitors precisely what they'll sign up for, it's better to let them know what they'll gain when they sign up.
Determine your reader's needs. By identifying their hopes, dreams, and fears, you can address each of these in your CTA. Why would they want to follow through on your ad or check out your content? Connect your call to action (CTA) to meet those expectations. Think about how you can tailor your message to their needs. For instance like this;
This could be your view; find a house (see example)
Lead A Yoga Retreat
Buy your dream home
Show Me My Heatmap
Start your journey to greater wealth
2. Create a sense of urgency.
"Get this special one-time offer while it lasts!" Or "Offer expires soon." The best CTAs make you feel like you've got to act fast. The driving force behind human behavior is emotion. Promoting with a ticking clock generates a fear of missing out, a powerful marketing technique. Hootsuite does this very well. They use a ticking clock to let visitors know that their amazing free 60-day trial ends in 5 minutes.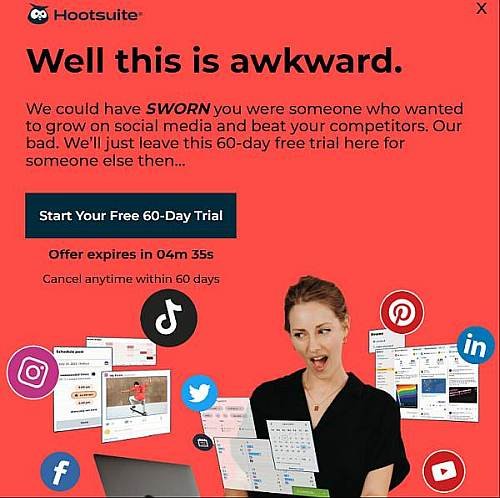 Words like now, quickly, hurry, offer ends, and one-time create a sense of urgency. Terms like "limited edition," "one-off," and "exclusive" create the feeling of scarcity by suggesting that your product is limited.
Check out these marketing call to action phrases that will work exceptionally well if you use them moderately.
Quick, before it runs out.
Hurry! Offer valid until midnight.
Act now before it's gone!
Claim your exclusive offer.
Only a few left in stock!
Limited quantities available!
One-time offer!
Guarantee your spot!
3. Make them feel like they are missing out
"Join 50,000 other entrepreneurs and subscribe to my emails". When your readers see numbers like these, it's only natural for them to ask, "Is there something I am missing?" They wonder why so many people find your content so interesting.
Look at these great call to action phrases and how they draw in new email subscribers.
Become one of our 400k subscribers.
Join 500.000 subscribers…Get access.
Sign up to be one of the 10.000 bloggers on my mailing list.
Unlock dozens of freebies by signing up now.
Get early access as one of my exclusive subscribers.
Read also:
4. Use action verbs.
To ensure that your call to action phrases are effective and motivating, you need to use actionable language that is specific and clear. You want your readers to know precisely what they will get if they click on your CTA.
You can do this using words such as now, today, tomorrow, or any other time frame that makes sense for your business. Other examples of call to action button phrases you can use are:
Get
Go
Like
Comment
Share
Start
Access
Download
Visit
Donate
4. The best calls to action are simple but attract attention.
Personalized Calls to Action perform considerably better than a generic CTA. Avoid common terms like "click here" because they don't give any information about what you want your visitor to do next.
Using the first person also makes the process seem more personal. You can simply substitute 'your' or 'you' with 'my' and 'me' to see what happens. For example, 'Tell me more!' gives your visitor a sense of exclusivity compared to when you write 'learn more.' Check out how TheSheApproach uses this method in her newsletter sign-up form.

Here are some similar phrases you can use:
Get my free guide
Sign me up
I'm in
Give me access
Start my free trial
Count me in
5. Make each call to action unique and specific to that page and product
Where you place your CTA button on the page significantly impacts clicks. It's important to ensure that your CTA is visible and easy for users to find.
High-quality images and bold colors increase click-through rates by up to 300 percent.
It is not just the button text that drives your call to action. You can use the paragraph before the button to encourage your visitors to click it.
Finally, be sure that whatever design element(s) surround your CTA button complements its purpose. If you want them to sign up for an email list, then make sure there aren't any other links close by guiding users away from this goal. Likewise, if someone visits an eCommerce site to get information about purchasing products, don't tempt them with special offers elsewhere!
💕 Related post: 11 effective lead magnet examples that will delight new subscribers
50 Examples of call to action phrases
You're stuck for ideas when it comes to your call to action. I've gathered a list of call to action phrases that I found online for you, divided into the following categories:
A list of calls to action that use a question
Ready to supercharge your business? Learn how
Ready to reach new heights of success? See if you qualify.
Want to take control of your financial future? Get our free guide
Ready to make a bigger impact? Subscribe now
Ready to take the first step to success? Claim your ebook
Ready to start creating your dream life? OK, let's do this
Are you ready to maximize your potential? Let us show you how
Ready to embrace more opportunities? Check it out here
Want to unlock the secrets of success? Get access
Are you ready to experience a breakthrough transformation? Join the webinar
Social media calls to action(short & sweet)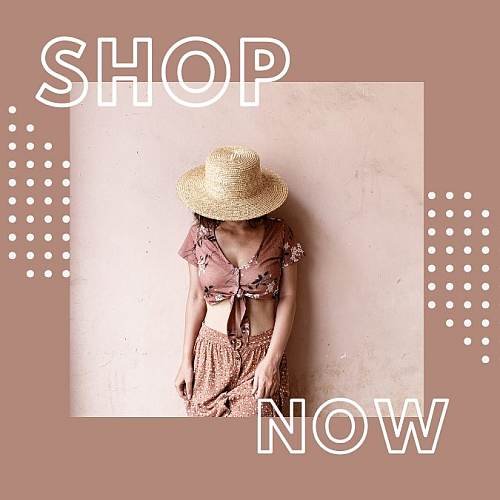 Follow Us!
Shop Now!
Get Yours Today!
Join Now!
Sign Up Today!
Get Your Discount Now!
Don't Miss Out!
Claim Your Offer!
Get Started Now!
Try It Now!
Calls to action for newsletter sign-ups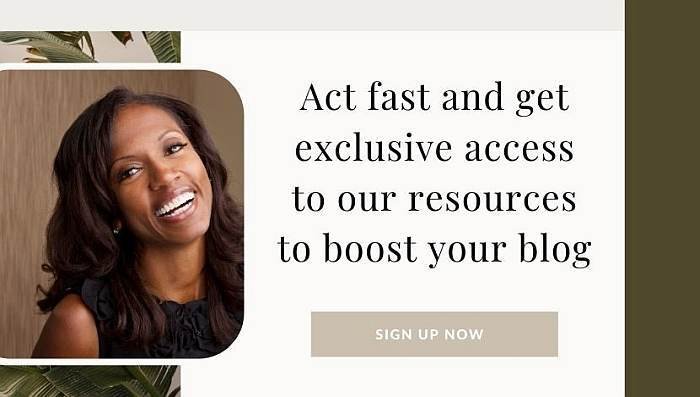 Creative call to action phrases to get more subscribers
Act now and get access to our exclusive membership benefits.
Become part of our thriving community and take your blog to the next level.
Discover the secrets of successful blogging by downloading our free guide.
Get your hands on our helpful tools to skyrocket your blog's growth.
Sign up now and get our top tips and tricks to make your blog stand out.
Act fast and get exclusive access to our resources to boost your blog.
Get in-the-know and be the first to know about our new arrivals. Sign up for our newsletter now!
Get access to exclusive content and updates only available to newsletter subscribers. Sign up now!
Stay up-to-date and get the scoop on what we're up to. Sign up for our newsletter!
Get exclusive offers and be the first to know about upcoming events. Sign up for our newsletter now!
Real estate call to action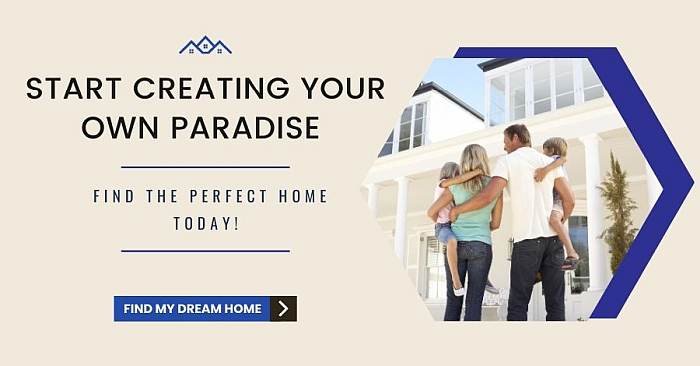 Call to action phrases for realtors
Live in the lap of luxury – explore real estate listings today!
Turn your dreams into reality – check out the latest real estate options!
Start creating your own paradise – find the perfect home today!
Secure your future – explore real estate today!
Live life on your own terms – find your perfect property today!
Discover a better home – invest in real estate now!
Live in your ideal location – browse real estate today!
Find the home of your dreams with "XYZ Real Estate" – Take the First Step Today!
Create your own oasis – explore real estate today!
Discover the perfect place for you with "XYZ Real Estate" – Schedule a Tour Now!"
Calls to action for Instagram
In the example above, you can see how Bohotribe asks followers; What do you think about this one?
Calls to action are either for engagement or to take the next step by clicking on the link in your bio. We should always motivate someone to take action through our social media marketing. Whether this is to click a link to read a blog post, download files, enroll in something, tag a friend, or leave a comment. You can use the following calls to action to engage your followers on Instagram.
Call to action phrases for social media [Instagram]
Tag someone who inspires you.
Can you relate? Let me know in the comments
Save this for later
Click the link in bio to check it out.
Like if you agree!
Send this to someone who would love it.
What tips and tricks do you have…?
Comment with your favorite emoji.
DM me for the link
Have you tried this?
Those who work in marketing know that CTAs are your best weapon. Whatever your goal is, to get more traffic, sales, leads, or conversions – CTAs play a vital role in getting your visitors to take action. Check out some interesting call to action statistics and optimization hacks on Protocol80 Inbound Marketing blog.
💕 Read also: Best Tips for Choosing a Niche – Unlock 150 Profitable Niche Ideas
Conclusion
Call to action phrases are a great way to increase your click rates, but it's important not to overdo it. Your CTAs should be short and brief so they do not overwhelm readers with too much information at once. Use strong verbs and specific language to motivate people on the fence about clicking through on your CTA button!