Make Money Blogging: 11 Ideas for Monetizing Your Passion
Once upon a time, blogging was just a hobby for people who wanted to share their thoughts and opinions. However, with the rise of the internet, blogging has become a lucrative way to make money online for many bloggers.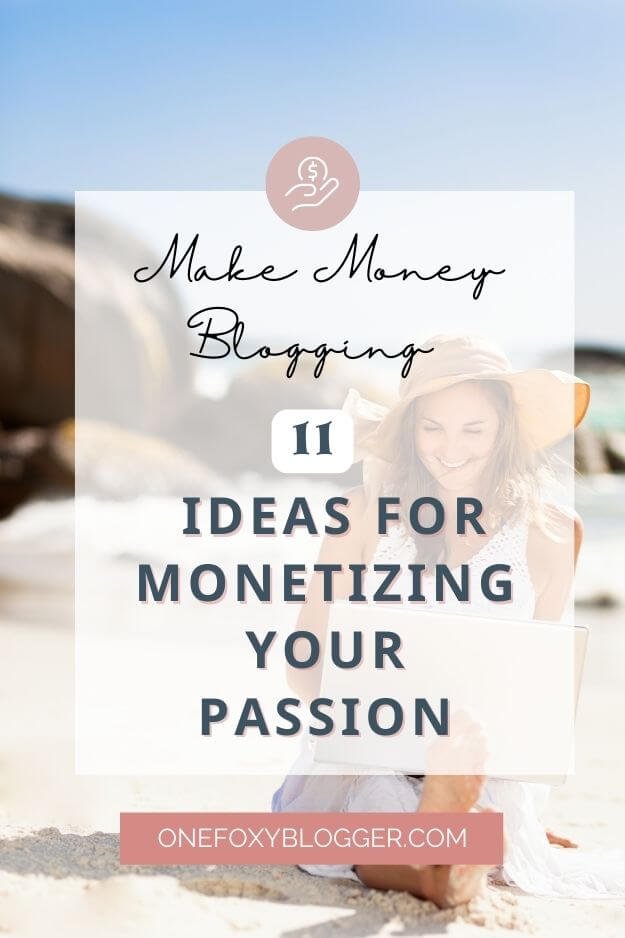 Have you ever dreamed of ditching your 9-5 job and earning a living from your passion? If you're a blogger, that dream might be within reach!
How awesome would it be if you could turn your passion or hobby into a profitable side hustle? Yes, you heard that right – you can make money blogging about something you enjoy!
Imagine waking up every morning, pouring yourself a cup of coffee, and settling into your favorite chair to do what you love most – write engaging content and connect with your audience.
Making a living from your blog is not only possible, but it's becoming increasingly common in today's digital age. With the right strategy, dedication, and luck, you could turn your hobby blog into a thriving business that supports you and your family.
But don't be fooled; it's not all rainbows and unicorns. Quitting your full-time job to become a full-time blogger takes hard work, determination, and a willingness to take risks. However, the rewards can be enormous if you're willing to put in the effort.
So, what does it take to turn your blog into a profitable business? Grab your favorite brew, get comfortable, and let's explore how blogging can turn your passion into a full-time career.
11 ways to make money from blogging.
Surely you have been wondering: How do bloggers get paid?
1. Affiliate marketing:
From day one, you can start with affiliate marketing on your blog. When I first started a blog, was concentrate on this. Affiliate marketing can be a great opportunity to monetize a blog. It is the fastest way to make money blogging, and it's easy to set up if you want to start making money right away.
What is affiliate marketing?
With affiliate marketing, you promote products or services on your blog and earn a commission when someone buys something using your unique link.
Here's how it works: sign up for an affiliate program and receive a special link. You then include this link in your blog posts or on your website. The moment someone clicks on the link and makes a purchase, you, as a blogger, get a percentage of the sale.
For example, let's say you write a post about your favorite makeup products and include links to those products using your unique affiliate link. If a reader clicks on the link and buys the makeup, you earn a commission on the sale. One of the coolest things about affiliate marketing is that you aren't creating the products yourself.
Affiliate marketing lets you earn money while sharing products or services you love with your audience. However, it's important that you disclose your affiliate relationships and only promote products you truly believe in. Doing this will build trust with your readers and produce a sustainable income stream from your blog.
Affiliate links are easiest to set up through a program like Amazon Associates or Clickbank.
Another way to tap into this revenue stream and earn extra income from your organic traffic is by joining affiliate networks such as CJ Affiliate, Impact.com, or ShareASale.
Read also: Amazon affiliate blog posts: 12 proven ways to boost your income
2. Display advertising
You can make money using display advertising on your blog. But it's important to understand that this is different from affiliate marketing.
Affiliate marketing is to recommend a product or service to others and get a commission when someone buys it. Display advertising is different. It's when you show an ad on your blog and get paid every time someone clicks on it.
Among display ads, Adsense is one of the most popular. To use AdSense to monetize your blog posts with banner ads, you just need to add some code into the <head> section of each post, which tells Google what type of ad it should be showing in your blog post.
Read more: Easy ways to earn with AdSense from a WordPress blog.
Display ads are best for blogs that are already popular. It may not be profitable if you're just starting out, as you will need a reasonable amount of traffic. However, if your blog becomes large enough, it can generate extra income for you.
For bloggers with a certain level of traffic to their websites, Mediavine is a better option. Based on Google Analytics data, a daily average of 50,000 sessions is Mediavine's requirements necessary to be accepted (an average of 60,000 pageviews).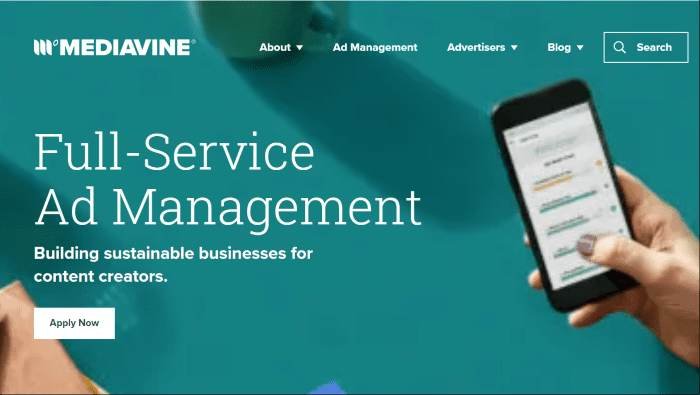 Mediavine is a company that helps bloggers make money from their websites by placing ads on their pages. They're known for providing high-quality ads designed to load quickly and not slow down the blogger's website.
They ensure enough people will see the ads to make it worth it for the blogger. Once accepted into the program, Mediavine places the ads on the blogger's website and manages them for optimal performance.
Mediavine is popular with bloggers because they offer high customer service and support. They also provide detailed analytics and reporting so bloggers can see how their ads perform and adjust as needed.
3. Start selling sponsorship spots on your blog
According to the bloggers I talk to, one of the best ways to make money blogging is through sponsored content.
A sponsored post is an advertisement or article written by a blogger and published on their blog. Sponsored posts are paid for by advertisers, who often have a product or service they want to promote.
Some bloggers love this type of revenue stream because it allows them to build relationships with brands that align with their goals and values. This is a good option if you enjoy working with companies aligned with your values.
The reach of your blog also affects how much you make. You'll make much less money if you're a newbie with few visitors than an established blog with more than a hundred thousand visitors. However, that's fine. As your business grows, your income will grow as well.
Writing sponsored posts earns Michelle from "Making Sense of Cents" five figures monthly
Her course, Making Sense of Sponsored Posts, is a step-by-step guide to designing and implementing a successful sponsored partnership campaign. This course will teach you everything you need to know about sponsored posts.
4. Make money selling digital products
Selling digital products is an inexpensive, low-effort way to start a new source of income. It is up to you whether that income is slow or fast; it all depends on how much time you devote to it, how good your products are, and your marketing skills.
You can put many digital items together with just a little effort, time, and energy. So where do you start?
1) First, you'll need a blog platform allowing you to sell products. There are many options out there, but some of the most popular include WordPress, Shopify, and Squarespace. Platforms for selling online and online shop tools cost relatively little compared with renting a physical store and buying physical goods.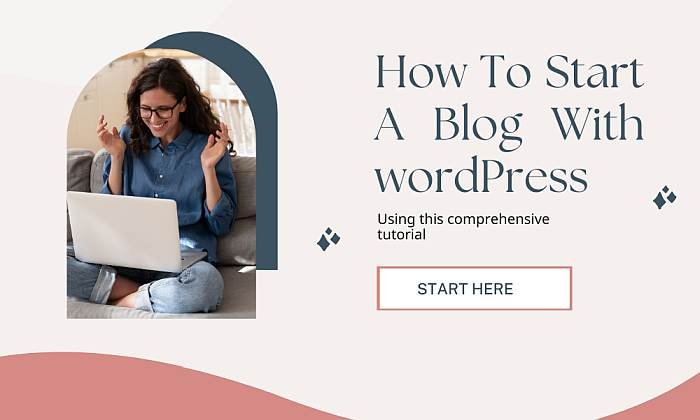 2) Once you've chosen a platform, you must set up a payment gateway to accept customer payments. There are a lot of payment gateways out there, like PayPal, Stripe, and Square.
3) Next, you'll need to create your digital product. This might be an ebook, a bundle of Instagram templates, or printables. Whatever it is, ensure it's high-quality and provides value to your customers. You can use a platform like Canva to create your printables or a course platform like Teachable or Thinkific to create a course.
4) Once your product is created, it's time to promote it on your blog. You can create blog posts that relate to your product and link to them within the post. For example, if you're selling an ebook about healthy eating, you might write a blog post about the benefits of eating a healthy diet and link to your ebook at the end of the post.
You can also create dedicated sales pages for your products. Blog sales pages are designed to sell your product. It should include information about the product, its benefits, and a clear call to action to purchase it.
Finally, remember to market your products on social media and email marketing. Tell your followers about your new product and encourage them to check it out.
Selling digital products on your blog can be an excellent way to monetize your blog and provide value to your audience. With some effort, you can create and sell high-quality digital products that your customers will love.
Make sure to check out our page, An A-Z guide to selling Canva templates like the pros.
5. Create a profitable membership site
Here's how to make money with a membership site.
Membership sites offer exclusive content or services to your members in exchange for a fee. This can include online courses, webinars, coaching sessions, access to a community, and more.
So, how do you make money from a membership site? Here are two examples to give you an idea of what you could do.
1) Membership site about yoga
The core of a yoga membership site should be access to yoga classes. Consider filming different styles and levels of classes to cater to the needs of your members. You can offer both live and pre-recorded classes. You can also offer workshops and webinars on specific topics such as alignment, breathing techniques, meditation, and the philosophy of yoga. You can invite guest instructors to lead these sessions.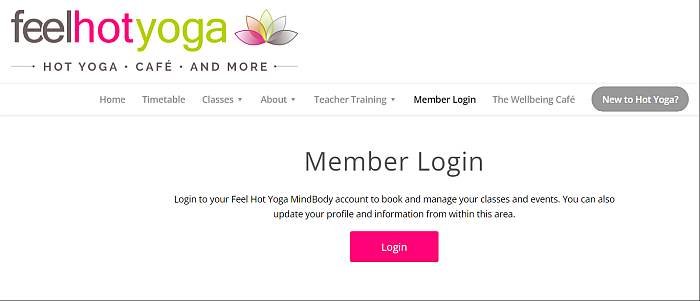 You can create challenges to keep members engaged and motivated. For example, you could create a 30-day yoga challenge or a challenge focused on mastering a specific pose. And lastly, build a community where members can connect with each other and ask questions.
2) Membership sites with templates and stock images.
Template membership sites are a popular and high-performing approach. Template sites rely on user-generated content to gain sign-ups and long-term memberships. They offer various prices, from free accounts to monthly plans to access their template and stock photography library. Examples of what you can include in a template site are
Website templates, plugins, add-ons.
Stock photos, videos, or illustrations.
Spreadsheet templates for budget, inventory, or expenses.
Here is how to create a membership site:
1) First, you'll want to create a blog on WordPress. You can find a detailed tutorial here. WordPress also has many plugins that can help you add membership functionality to your site, such as MemberPress or Restrict Content Pro.
2) You'll also need a payment gateway, such as PayPal or Stripe, which will allow you to securely accept payments from your members. These payment gateways can be incorporated with your membership plugin to automatically manage recurring payments and subscriptions.
3) Finally, you'll want to use email marketing software like Mailchimp or Convert Kit to communicate with your members and send them updates or special offers.
Overall, a membership site is a great way to keep your revenue going and build a community of loyal members. Remember, the key is to provide value and create a unique experience that your members can't find anywhere else.
6. Start a coaching business on your blog
So, setting up a coaching service on your blog means that you'll be offering your expertise or knowledge to people who want to learn something from you. For example, let's say you're good at creating Canva templates and want to teach others how to improve their skills. As a coach, you can sell your knowledge and time if you've already accomplished those results or assisted others.
Whether you plan to coach; health, relationship, career, mindset, blogging, social media marketing, or anything else – your job is to help people achieve their goals.
To get started, you'll need to have a blog or a website that you can use to promote your coaching service. You can create a separate page on your blog that explains what you're offering and how much it costs. You'll also want to include some information about yourself, such as your qualifications or experience.
Next, you'll need to decide on a way to communicate with your clients. You can use video conferencing software like Zoom or Skype to talk to them and show them how to improve their skills. You can also use messaging or email to answer any questions they may have.
Coaching on your blog can be a fun and rewarding way to share your skills and knowledge. Creating a coaching business with a little planning and effort is possible.
If you're considering offering to consult or coaching services on your blog, here's how you can do it:
Would you like to share your wisdom
through online courses?
Systeme.io makes it a walk in the park. You can easily build and manage your online courses within this platform. It's all within your control, from course creation and student management to tracking progress and issuing certifications.
7. Offer freelance writing services through your blog
Are you interested in writing for a living? How about freelance writing? You can use your blog to attract clients for freelance writing gigs.
Working as a freelancer has several benefits.
You can work when convenient, allowing you to manage your time efficiently and fit your workload around other commitments. You can choose which projects you take on, meaning that you don't have to be stuck in the same job for long and can benefit from the variety of experiences from working with different clients.
You control your work, allowing you to work as you please, setting your own goals, and dictating how you want to work. Moreover, you are responsible for setting your own rates, and you can increase your income potential significantly by working more efficiently.
Sounds good?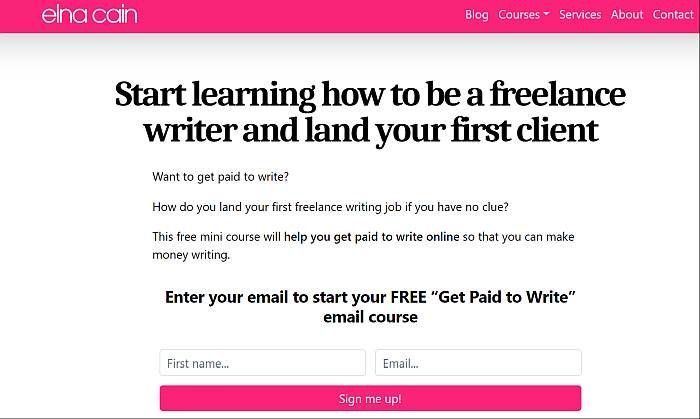 Let me tell you how you can get started!
Build a portfolio: Create a portfolio of your writing samples showcasing your skills and expertise. You can create a website or use a platform like Contently or Fiverr to host your portfolio.
Identify your niche: Determine what topics you are most interested in and passionate about. This way, you can establish yourself as an expert in a particular niche and attract clients looking for writers in that field.
Find clients: There are many ways to find clients, such as job boards like Upwork, Fiverr, or PeoplePerHour, where you can showcase your skill. But also pitching to companies or publications directly or connecting with other professionals in your niche.
Negotiate your rate: Once you find a potential client, negotiate your rate based on the value you provide and the scope of work required. Before accepting the project, ensure you get clear on deadlines, goals, and payment terms.
Deliver high-quality work: Once you start writing, ensure your client's expectations are met or exceeded. This will help you build a reputation and generate positive word-of-mouth, which can lead to more work in the future.
Build relationships with clients: Make sure to communicate with your clients regularly, be responsive to their feedback, and build a positive working relationship. This can help you generate repeat business and referrals.
By following these steps, you can make money blogging and from freelance writing. Remember, establishing yourself and building a clientele may take time, but it'll pay off in the end.
8. Create an online store and sell physical products
Why should you consider setting up an online store? For one, an online store allows you to reach customers worldwide and bring in more potential customers than a traditional brick-and-mortar store.
Second, building an online store requires far less money than opening and running a physical store. In addition, you can save money on rent and utilities since you won't need an actual retail space.
If you're running an online store or planning to set one up, you may have heard of WooCommerce. The following information will help you set up an e-commerce store on your blog.
Choose your products: Decide what you want to sell on your blog. This could be physical products, digital products, or a combination of both.
Choose an e-commerce platform: Select an e-commerce platform that integrates with your blog. Popular options include Shopify, WooCommerce, and BigCommerce.
Set up your store: Follow the platform's instructions to set up your store. This typically involves choosing a theme, adding products, setting prices, and configuring payment and shipping options.
Customize your store: Personalize your store by adding your branding, creating product descriptions, and setting up categories and tags.
Add a shopping cart and checkout: Enable shopping cart and checkout features so customers can buy products directly from your blog.
Test your store: Make sure your store works properly by testing it on multiple devices and browsers. This includes adding products to the cart, completing a purchase, and checking that emails are sent.
Promote your store: Use social media and other marketing strategies to drive traffic to your store. You may attract new customers by offering a discount or promotion.
Setting up an e-commerce store is one of the best ways to make money with a blog, as you can sell products directly to your audience.
Read also: 15 Ingenious Email Marketing Tips for Beginners That Are Super Easy to Learn.
9. Host webinars
Another option to make money blogging is by hosting webinars or other events online or in person and charging an admission fee. Because people can see and hear you, webinars are incredibly powerful sales tools. People we can see and hear are more trustworthy than a stranger online.
You can monetize your blog by hosting webinars in the following ways:
Sell tickets: You can charge a fee for access to your webinar. This can be a one-time fee or a recurring subscription. Make sure to provide valuable content during the webinar to encourage attendees to return for future webinars.
Offer a product or service during the webinar. If you have your own products or services, you can promote these during the webinar. For example, if you're hosting a webinar on social media marketing, you could offer your own social media marketing services or a course on the topic.
Affiliate marketing: You can promote other people's products or services during your webinar and get paid for any sales you generate. Make sure to only promote products or services that you believe in and are relevant to the subject of your webinar.
Sponsorships: You can seek out sponsorships from companies that are relevant to the theme of your webinar. For example, if you're hosting a webinar on home fitness, you could seek sponsorships from companies selling fitness equipment or supplements.
Donations: You can give attendees the option to make a donation during or after the webinar. You can earn some extra cash if your attendees find your content valuable and want to support you.
Systeme.io is the easiest software for creating webinars that I have found. Watch this video to see why.
Overall, hosting webinars is an effective way to make money blogging.
10. Offer promotional posts
You could offer sponsored blog posts if you're good at writing. Through sponsored posts, you can connect with your audience, share great deals, and introduce new products to your followers (which they will be interested in buying). It's also easy to get started. 
Readers are curious about where you get your favorite products and services. Additionally, this content is beneficial to your blog's growth and success. Your domain authority increases, and you are able to share more specific content with sponsored blog posts.
The following steps will help you make money by writing sponsored posts.
Creating a media kit is essential for bloggers who want to stand out and attract brands for collaborations. A media kit is like a resume or advertising page for digital marketing on your blog. It showcases your expertise, audience, and traffic in an easily digestible format, making it easier for brands to determine if you're the right fit for their campaign.
Build your audience: First, you must build an engaged audience that trusts your content. Share high-quality content on social media and engage with your followers to attract more readers to your blog.
Find sponsors: Look for companies relevant to your niche and target audience. Reach out to them directly and offer to write a sponsored post promoting their products or services.
Write high-quality content: Once you've negotiated the terms, write a post that naturally incorporates the sponsor's products or services. Be transparent and disclose that it's a sponsored post. Always provide value to your readers, and never compromise your blog's integrity.
With these steps, you can monetize your blog with sponsored posts and earn some extra income while providing value to your audience.
11. Sell WordPress themes
You could start making WordPress themes to sell if you like web design and development.
You need both design and technical skills to do this. In addition to knowing how to create an attractive design, you must know how to code it. However, if you have a web design or development background, this is certainly an option to make money from your blog.
There are different ways to sell WordPress templates from your blog. One way is to use the Easy Digital Downloads (EDD) plugin, which turns your WordPress website into a full-featured eCommerce store. You can sell unlimited downloads while controlling every aspect of the customer experience.
Another way is to sell your WordPress templates on online marketplaces such as Creative Market, Template Sell, and more.
But even if you are not a theme developer, you can make money blogging and selling WordPress templates as an affiliate. Many WordPress developers and theme marketplaces have affiliate programs that allow you to sell their WordPress theme templates on your own website in exchange for a commission. WordPress theme commissions can be generous, offering up to 40% commissions on every theme sold through your affiliate link.
The following sites sell WordPress templates and have affiliate programs you can sign up for:
See how I sell WordPress food blog themes on this blog as an affiliate.
How fast can you make money blogging?
According to survey data from Productiveblogging.com, income is strongly related to time spent blogging. Blogging is definitely a game of persistence that pays off!
One thing to note about bloggers who have been blogging for less than one year: they earn very little and have very few page views. Blogging during the first year is very much like living in a ghost town!
Nevertheless, if that's the case right now, you might find encouragement in the numbers for blogs of 1-3 years. The average monthly income for blogs of 1-3 years is around $1300. This is one of the reasons too many bloggers give up too soon. In spite of this, the figures in this survey show that it is likely worth the effort if you persist long enough.
Can you make $1,000 a month with a blog?
Yes, making $1,000 a month with a blog is definitely doable. However, it depends on your blog's niche, the size of your audience, how you monetize it, and the amount of time and effort you put into it.
If you want to make $1,000 from a blog, you will need to drive significant traffic to your website, something that can be accomplished by writing high-quality, engaging content. Using social media can also drive traffic to a blog if used effectively. Remember, creating a blog that generates $1,000 monthly requires patience, dedication, and consistent effort.
how much money can you make from blogging
To give you an idea, bloggers with 10,000 to 100,000 monthly page views can earn between 2 and 10 cents per view from ads, in other words, earnings of $200 to $10,000 a month. Depending on the niche and the size of the audience, sponsored posts typically cost $25 to $750 per post. The income of bloggers who sell products and online courses can be even higher, up to $10,000 monthly.
Bloggers can make varying levels of income, and those who make the most money have certain things in common. Such as:
A solid business plan
A profitable niche
Effective monetization strategies
Great content
Understanding of search engine optimization
They actively promote their blogs
Simply creating a blog and posting articles is not enough to make significant money.
How long does it take to make money blogging?
There's no single answer to the question; How long does it take to start making money from blogging? The length of time it takes to start making money from blogging varies depending on the individual's circumstances.
Those who blog as a hobby or side job may take longer to earn income since they don't dedicate as much time to their blog. Even if blogging is done full-time, earning substantial money may take several months.
However, bloggers who use smart content and business strategies can usually earn around $30,000 to $60,000 – in their first year of blogging. Experienced bloggers say that it gets easier to make money over time. With effort, it's possible to earn a great income from blogging without working full-time hours after several years.
Final thoughts.
I hope you enjoyed this post about how to make money blogging. Honestly, blogging can be profitable in lots of ways. The key is experimenting with different monetization strategies and finding the ones that work best for your niche and audience.
Whether it's affiliate marketing, sponsored content, or selling your own products, you can turn your passion into profits with your blog. Focus on creating high-quality, valuable content for your readers while staying honest and true to yourself. With patience, determination, and the desire to learn and adapt, you can turn your blog into a successful business and achieve financial freedom by doing what you love.