5 Effortless Steps to Crafting an Engaging Blog Newsletter [ a beginner's guide]
So you want to create a blog newsletter and get people to subscribe to your email list? Wondering why you need an email list in the first place and why gaining subscribers is so important?
In this post, you will learn:
How and why to create a mailing list
To find a newsletter service for your blog
How to build your first newsletter
How and why to create a mailing list
An email list is a straightforward way of contacting your readers and building a loyal following. If they love reading your newsletter, they will be interested in what you have to say.
Personalize your emails and make them engaging and creative so people will look forward to receiving your news.
You have heard this probably a million times. Social media is the best way to get traffic. Well, not exactly! Surely, social media can be a great way to obtain that. But on Pinterest and Facebook, your content is accessible to your readers for a limited time.
On the other hand, when you send people an email, you'll end up in their inbox together with other important mail from their friends, work, and family. Thus, your chance of reaching them is much greater.
An email with your most important blog posts or special offers you are trying to promote will go straight to potential customers. From there, you send them to your website, where they can then buy your product.
I know some of you will probably say that you are not selling any products, at least for now. But still, I recommend you collect readers' emails, so they may revisit your site whenever you publish a new blog post.
Decide which blog newsletter service to use
Let me guess, the number of newsletter services for bloggers overwhelms you. You're dead, right, so I'm only going to show you two free ones which I believe you will like.
It took me quite some time trying to find the perfect newsletter tool. I even downloaded several to see how it all works. Luckily, each newsletter service has sufficient information online to help you get started. I started with Mailpoet, which I highly recommend for new bloggers because it lets me create newsletters directly from my WordPress dashboard.
Mailpoet newsletter plugin
Mailpoet is exceptionally user-friendly. You can manage everything you need to send your email newsletter within your WordPress dashboard.
There is no need to mess with other form-building plugins or SMTP mailing services; Mailpoet covers it all.😍
MailPoet Email Service
Boost your email campaigns with our MailPoet Newsletter service! With up to 1000 subscribers for free, you'll be able to create and send high-quality, targeted email newsletters quickly and easily.
Overview of top features:
You can build different subscription forms for your blog newsletter.
Create newsletters with responsive templates.
Send new post notifications and welcome emails.
Provides basic information on readers' engagement.
Free mailing service for up to 1000 subscribers.
Quick Mailpoet Tutorial to build your first newsletter
Set up basic settings like sender, sign-up confirmation, sending service (Send with)
Create a list (or segment)
Build a signup form
Choose a template or use a blank document
Create your blog newsletter with the drag-and-drop builder.
Preview in the browser and send a test mail.
Choose a list to send your mail to and schedule it.
Set up basic settings
Want to see how Mailpoet works right now?
First, I recommend you go to the settings page to set up certain pages and how you will send your blog newsletter.
You will need to create and customize three pages:
Confirmation page
Manage subscriptions page
Unsubscribe page
You can use the default Maipoet pages for this. Go to Mailpoet > Settings > Basic > choose option Mailpoet page > Save settings.
Or you can create these 3 pages by yourself. Go to Mailpoet > Pages > Add new >Create your own customized pages.
Go back to Mailpoet settings, and these pages will now be visible in the dropdown menu. You can now choose to send people to those pages.
Instead of the indifferent Mailpoet message: Thank you, you are now subscribed to our newsletter; you can now write a warm welcome page for your new subscribers.
Before closing the settings tab, select a sending method.
The first method, you can send through your WebHost, which is free.
Second, you can use the Mailpoet sending service, which is free for up to 1000 subscribers.
Third, go with a third-party SMTP provider and pay whatever they charge.
Create an email list
Give your lists descriptive names. Be specific so you can recognize where your readers are signing up from. It helps when you categorize your subscribers based on unique qualities. This allows you to send them personalized content.
Build a signup form
To create a signup form, click the "add new" button on the Mailpoet forms page. You can choose one of the templates from there or use a blank document. First, you have to choose which list you like to add the subscribers to from the dropdown menu. You can also let your readers choose a list based on their interests.
The Mailpoet form builder uses Gutenberg blocks to edit the form template. If you want the form to match the font and colors of your theme, tick the box: inherit settings from your theme.
Next, you have to edit the submit button. Choose whether you want subscribers to see a welcome message or go to a Mailpoet confirmation page.
Make sure to preview the form before you add it to your site. When everything looks good, you can add your MailPoet subscription form as a widget or insert a shortcode anywhere in your theme.
💕 You may also like: 15 Ingenious Email Marketing Tips for Beginners That Are Super Easy to Learn.
Sending your first newsletter
You can send emails for different purposes in Mailpoet. For example, you can start with a blog newsletter or a simple text mail. Or you can set it up to automatically send an email whenever you publish new content on your blog. You can also email subscribers who have not opened your emails for a long time to regain their interest.
I always have a template ready to send a monthly newsletter with a similar layout. This can be a big time-saver.
To find a template you'd like to use, go to MailPoet > Emails > the "Add New" button. This sends you to the page where you can select your template.

You can also choose a blank template to design the newsletter from scratch and save it as a template.
MailPoet Email Service
Boost your email campaigns with our MailPoet Newsletter service! With up to 1000 subscribers for free, you'll be able to create and send high-quality, targeted email newsletters quickly and easily.
GDPR consent
When you send a blog newsletter, you must comply with GDPR. You must get your subscribers' consent before you send them emails. Ensure your blog has a Privacy Policy page that tells your readers exactly how your email provider handles their personal data.
You can add the following GDPR consent messages to your opt-in form with a link to the Privacy Policy.
You agree that "Blog name" may send you promotional emails by submitting your email. You understand and agree that "Blog name" may use your information according to its Privacy Policy.
or
I consent to receive "Blog name" newsletters. For more information, please read our Privacy Policy.
For my blog newsletter, I use MailPoet and am satisfied with it. It's free for the first 1000 subscribers, so it's great for first-time bloggers! Similarly, I have heard only great things about ConvertKit if you are considering an alternative!
Mailchimp
Another excellent option for beginning bloggers looking for a free email service. MailChimp is a top-rated email newsletter platform with roughly 20 million users across 178 countries, according to an annual data report from 2020.
Mailchimps' free plan has all the tools you need to create beautiful and engaging newsletters for small businesses and new bloggers. You're able to send 10,000 emails a month to up to 2,000 subscribers.
Top Features
Create sign-up forms, social posts, and social ads in minutes
Drag-and-drop newsletter builder
You can segment contacts into groups
Provides simple tracking for analytics.
You can schedule delivery times based on your users' timezone and locations.
Build beautiful landing pages for free
Cons of Mailchimp
If you make money with affiliate marketing from your blog, you must be careful, as Mailchimp does not allow you to add affiliate links to your emails.
Support is only available for up to 30 days if you use the free plan. This is definitely something to consider.
Ask subscribers to join your mailing list
This is the part where you can start to send beautiful blog newsletters to your readers. The next thing to do is grow your subscriber list.
Don't just sit and wait for people to sign up because you write such amazing content. But try to tempt people to sign up for your list by offering them something special. With people's inboxes filling up daily with loads of emails, it can be challenging to persuade someone to sign up for yet another newsletter.
However, if you offer a high-value lead magnet to your readers, you have a big chance they will sign up for your mailing list. This can be, for instance, a cheat sheet, a checklist, a short ebook, or a planner.
All of these terms are basically synonymous with what is known as Freebies, Opt-Ins, and LeadMagnets – provide a free resource for your readers to download, but to receive it, they must provide their email addresses, and that's how they get on your list! That's all it takes! The most efficient way to increase followers on your list!
With Canva, you can quickly create lead magnets for your newsletter for free. You can see some examples below.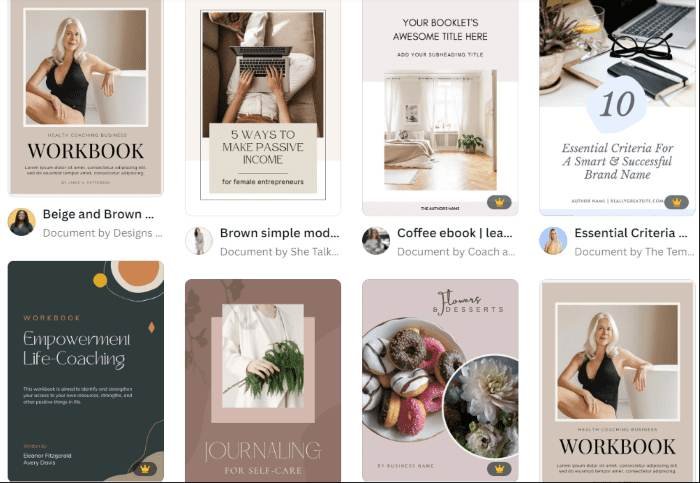 You may also want to check this post with great lead magnet examples and ideas.
What I prefer to do is create an image in Canva that showcases my opt-in freebie, and when people click on it, they are directed to a sign-up page.
How often to send out a newsletter?
My advice is to send newsletters at a regular frequency. And with regular, I don't mean to flood your reader's inbox with emails. You will risk increasing your unsubscribe rates and people just deleting your emails.
Rather, send a newsletter once a week or month and the occasional promotion of a new product or service.
Recommended reading:
Let's recap
Launching a blog newsletter lets you connect to your readers; it helps to get more traffic to your blog and social media channels and increase sales of affiliate blog posts. In this post, you have seen how easy it is to create an email list and design a beautiful newsletter. Mail poet and Mailchimp are two beginner-friendly newsletter services that can help you do that.
So what are you waiting for? Let's start crafting that free email newsletter for your blog.