An Easy Guide: How to Create A Logo With Canva In 15 Minutes Or Less
Is it possible to create a logo with Canva?
Yes, if you want a fast and affordable way to create a professional logo for your business or project, you can do this with Canva. With Canva's intuitive interface, powerful editing tools, and thousands of templates, anyone can create a top-notch logo design in minutes.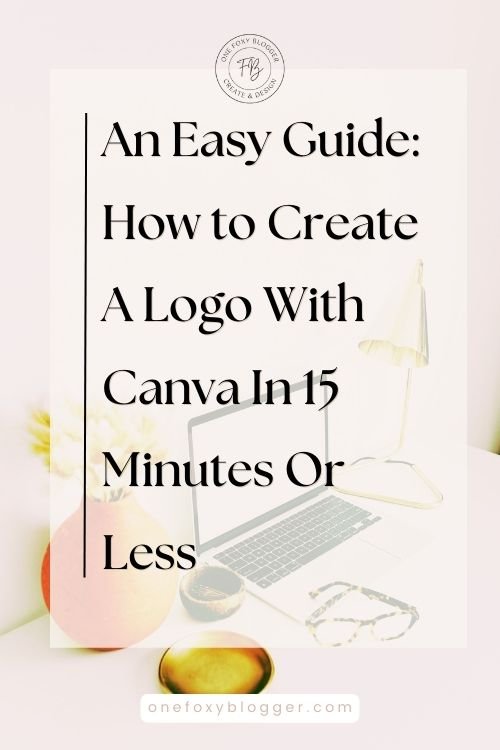 I think Canva is the best free logo maker for someone without any design skills.
With Canva, you can choose from various colors, fonts, and images to make your logo unique and memorable.
You can include text, shapes, and various elements to further customize the design. What's more, Canva has a free library of photos and illustrations that you can use to create a logo that stands out.
In today's post, we'll discuss all the features and benefits of designing a logo with Canva and show you the steps you'll need to follow to create your own custom logo. The best part is that Canva has everything you need to create a beautiful brand logo, regardless of whether you're a novice designer or a business pro.
How to create a logo with canva for free?
Follow the 5 simple steps outlined in this short guide on how to use the Canva logo maker.
1. Search for a template and customize it to your needs
Before you create a logo with Canva, you must clearly understand your business's identity and mission. Think about how you want your customers to perceive you and what message you want to convey.
Choose one of the Canva logo templates that is simple and easy to remember, as this will allow potential customers to recognize your logo quickly.
Choose a template that is suitable for all digital platforms. Ensure it looks good on web pages, social media, and business cards. You may also want to consider the colors you want to use in the template. Pick vibrant colors that will stand out and ensure they are consistent with your branding.
2. Add polish with branding elements
Using brand colors in a logo is a great way to create a professional and recognizable look for your business. When choosing colors for your logo, be sure to consider the psychological impact of each color. The colors you choose can arouse different emotions, behaviors, and decisions, so choosing colors that best represent your brand is important.
For example:
Red – Red is often used to create a sense of urgency and excitement, such as in sale signs or advertisements.
Blue – Blue is often seen as calming, trustworthy, and dependable. It is commonly used in corporate logos because of its association with stability.
Orange – Orange is often associated with creativity, energy, and friendliness. It is frequently used in branding for companies that want to convey a sense of fun and optimism.
Green – Green is often associated with health, growth, and nature. Many use it in branding for companies that want to convey a message of sustainability and environmental consciousness.
Purple – Purple is often associated with royalty, luxury, and wealth. You'll see it in branding for companies that want to convey a message of luxury and elegance.
Additionally, make sure you're using colors that are easy to identify and distinguish from one another. This will help customers quickly identify your business and logo when they see it. Colors can create a lasting impression and help your business stand out from the competition.
3. Customize the font and the text of your logo
Customizing the font and text of a logo template in Canva is an easy process that can help you create a logo unique to your business.
Here are the steps to follow:
Open the logo template you'd like to use in Canva.
Click on the text box containing the default font you want to change.
Click the 'Text' tab in the top menu bar, then select 'Font.'
Here you can choose from various font styles, sizes, and colors.
Once you've chosen a font, click 'Apply' to preview the changes.
If you'd like to customize the text, click inside the text box and type out your desired text.
Once satisfied with the font and text, click 'Save' to save your logo template.
4. Change the icon and text to suit your needs.
To use Canva elements in a logo, select the "Elements" tab in the left side menu. You can then browse through the selection of shapes, lines, icons, illustrations, and photos to create a logo with Canva.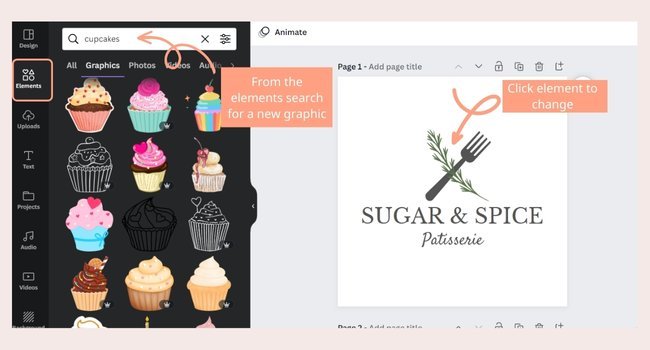 Choose an icon that corresponds to your brand. Once you find the elements you want to use, drag and drop them onto the Canva page. From there, you can adjust each element's size, color, and orientation to create the perfect logo.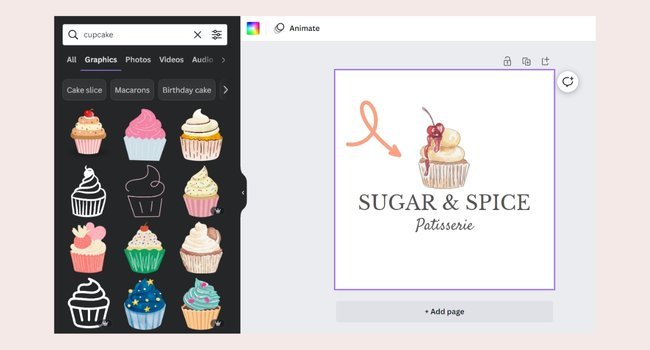 If you're a newbie with no graphic design experience, avoid making too many changes to the logo. You'll end up with an amateurish result.
5. Finetuning and downloading your logo
What formats does Canva let you download a logo?
You can download your logo from Canva in JPG, PNG, or SVG format. If you want a high-resolution image of a logo you created with Canva, the best way is to resize it first to a dimension of 4000x4000px and then download it as a png with a transparent background.

You can also download it in an SVG format which is nice because it maintains image quality regardless of size. Keep in mind that downloading PNGs with transparent backgrounds and SVG format is a Canva Pro feature.
Not ready to purchase a Canva pro account? Don't worry; you can still remove the background of your logo image with the free background remover from PhotoRoom.
Here's why you might want to make multiple versions of a logo:
It lets you be creative and explore different designs representing your brand, products, or services.
Multiple versions of the same logo allow you to use the logo in different contexts, for example, a square logo for social media and a longer logo for a website banner.
Multiple logo versions can help make your brand more recognizable, as people can easily identify it from different places.
What versions of a logo should you have?
Horizontal logos – these are often used for desktop website headers.
A vertical or stacked logo (a secondary logo) is mostly used for mobile website headers, clothing tags, and business cards.
Icon logo -If your primary logo has an icon, you can use it to promote your brand for favicon, website footer, and social media profile images.
Wordmark logos contain only your company's name and are most suitable for advertising materials and merchandise.
Reversed-out logo – A reversed-out logo is the same logo on a transparent background designed to remain recognizable when laid on different colored backgrounds.
How to create a logo with transparent background in canva?
As mentioned, you can create a logo with Canva Pro and select PNG. This will then give you the option to choose a transparent background.
You can now use your design in a variety of ways. An example of this would be in your email signature, a Favicon, a social media profile picture, or to brand your social media posts. You will probably have to use your logo on multiple platforms, so having a transparent logo is essential.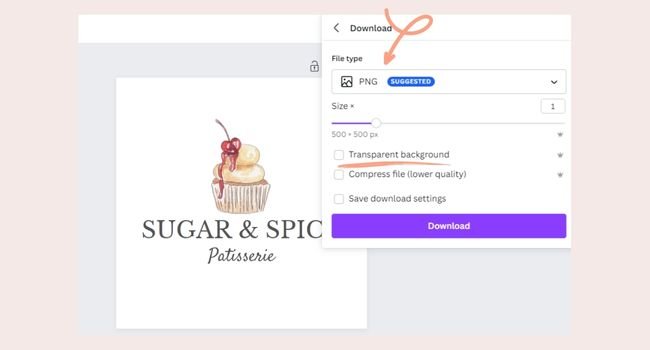 Here are the steps to create a logo with Canva with transparent background.
Change the background color to white, and remove any background you have by clicking it and using the trash icon.
At the top menu bar, click " Share"> "Download."
Select PNG as the file type from the dropdown list.
If your design has more than one page, choose the ones you want to download from the dropdown, followed by "Done."
Check the Transparent background box.
Finish by clicking "Download."
Can I use a logo made with Canva for my business?
Canva's pre-made logos are available to all users. This means when you create a logo with Canva, it may appear similar to other users' logos. Therefore, the logo does not have exclusive rights to you, and registering it as a trademark is impossible. Neither can you use Canva's free or paid image library elements in your logos for this purpose, according to Canva's licensing agreement.
Isn't it pointless to use a logo template if it can't be trademarked?
When you're just starting out, a logo template is a great option when possessing exclusive rights to the design does not matter to you. To create a logo with Canva is a quick and easy option for branding when you lack the time or budget. However, if you want your brand to take off or make it big in your field, there are better choices than Canva logos.
There are two ways to create a Logo with Canva and register it as a trademark.
Create a logo from scratch in Canva, using only the basic lines and shapes from the library. You can also use all of the fonts for your logo design.
It is possible to upload your own logo design to Canva and use it for your social media content, business cards, or flyers. This can be a logo made by you in another program or one that an outside graphic designer created.
Related content you may like:
With Canva, there are no limits to what you can create. Canva is the perfect tool for designing logos, social media graphics, websites, ebooks, images for your blog or website, YouTube thumbnails, and anything else you need. Now that you know how to create a logo with Canva, give it a try! Share your thoughts with us in the comments below.