The A-Z guide to selling Canva templates like the pros in just 3 days
Ever thought about exploring your creative side and earning money online? How about selling Canva templates? Creating your own unique Canva templates and selling them online is a tremendous opportunity you can't afford to miss.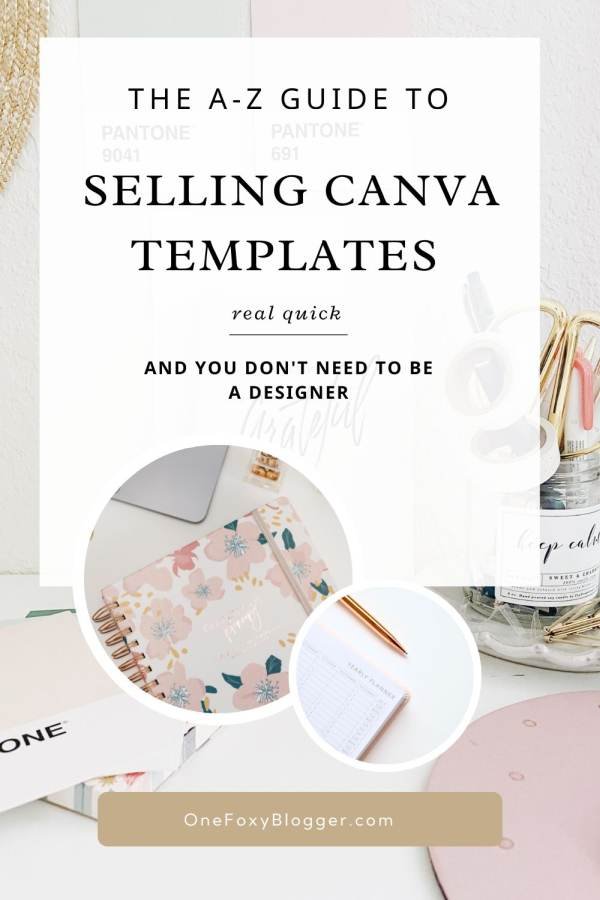 If that idea appeals to you, keep on reading. Throughout this post, I'll explain how to make money selling canva templates from your blog or online shops like Etsy or Creative Market.
I'll give you 4 reasons why selling Canva templates is an excellent method of generating passive income:
The entire process is accomplished online, allowing you to do it anywhere.
With digital products, you do not have to worry about shipping.
The product can be created once and sold to unlimited buyers.
It's FREE to design a Canva template yourself once you create an account on Canva!
But what is Canva, exactly?
Canva is a superb online graphic design tool that offers countless templates, illustrations, and fonts. There are many design options, such as social media graphics, workbooks, planners, etc.
Don't worry if you're not a designer; you can still use Canva!
They have pre-made templates that can be easily customized, or you can use the drag-and-drop design tool to create a personalized design from scratch. Learning Photoshop or Illustrator is much more complex; you'd have to pay for it monthly. Millions of non-designers use Canva each day to create stunning design work.
What are the most popular Canva templates to sell?
Need help determining what kind of templates to create and sell online? Listed below are several examples of templates that you can create and sell in your Canva shop:
Workbook templates
Checklists or worksheets
Lead magnet templates
Media Kits and Brand Kits
Instagram and Pinterest template packages
Instagram puzzles
Presentation slides
Blog planners
Who buys Canva templates?
Will people purchase my templates if Canva gives them away for free? That's a logical question to ask.
Not all people enjoy designing, which is why some are willing to pay to skip the design process. All it takes is to invest a few dollars to get a beautifully designed template bundle that can be used instantly.
Further reading:
While the Canva template library is full of beautiful designs, it only caters to a select audience or niche. Thousands of people use these free templates daily, so it takes a lot of work to stand out among the crowd.
Canva templates from, for example, an Etsy seller often include 20 or more templates. Buying a template bundle is a great way to remain unique and consistent, even if this means you are using a template.
If you want to sell Canva templates, you have to target the right audience. Knowing what information and resources they require, you can make their job easier.
For instance, you could design a package of Instagram posts for busy real estate agents that help them engage with prospective clients.
Why would they waste their precious time making designs when they can quickly customize one of the many professional Canva templates they can purchase online?
By doing so, not only do they get things done faster, but they can create something unique that matches their brand.
Here are a few potential clients who would appreciate editable and inexpensive Canva templates:
bloggers and content creators
teachers and students
People providing coaching service
freelancers
writers
small business owners
restaurant owners
small shops
property agents
individual services (wedding planners, child care, personal chef, personal trainers, and many more!)
How to sell Canva templates?
There are many places available to sell your designs.
First, a WordPress blog is great for selling Canva templates because you fully control the design and earn 100% of the revenue. Most sellers use Etsy and Creative Market to sell their Canva templates, but you can do this in other ways.
Suppose you decide to start selling Canva templates on your website. So, where do you start?
Here are 4 key steps you need to take.
First, design your template in Canva.
Canva will provide you with a shareable template link.
Create your online store and publish the template.
Share the link with your customers after they buy the template.
Where can I sell my templates?
Earlier, I told you about some places where you can sell Canva templates. Yet there are other options as well. Important to know is that selling your Canva templates on multiple sites will enable you to generate more revenue as you reach a higher volume of potential customers. The following sites are all good options for selling Canva templates.
Creative Market
Etsy
Design Bundles
Ladyboss Biz Boutique
Design Cuts
Creative Fabrica
Fiverr
Filter grade
Your own Shopify store
Koji
Koji is a new kind of e-commerce platform specially designed for social media. Koji profiles are free to set up. I believe Koji is a powerful tool worth noting for selling Canva templates, as it lets you sell your products directly from your social media account.
How to design canva templates to sell?
If your goal is selling Canva templates online, this is basically what it comes down to.
Step1: Start by creating a template in Canva
How to create a canva template to sell?
In case you're interested in designing your own Canva template but are unsure of where to start, here are some useful tips to help you:
Check out what's hot. It is critical to know what actually sells on the platforms where you sell your templates if you want to succeed. You can check out what's trending at each marketplace to do this. (Creative Market, Design bundles, Fiverr, for example). Since each caters to a different audience, the results may vary. The Keywords Everywhere Chrome extension (my favorite keyword tool) lets you see what sells and how much competition there is.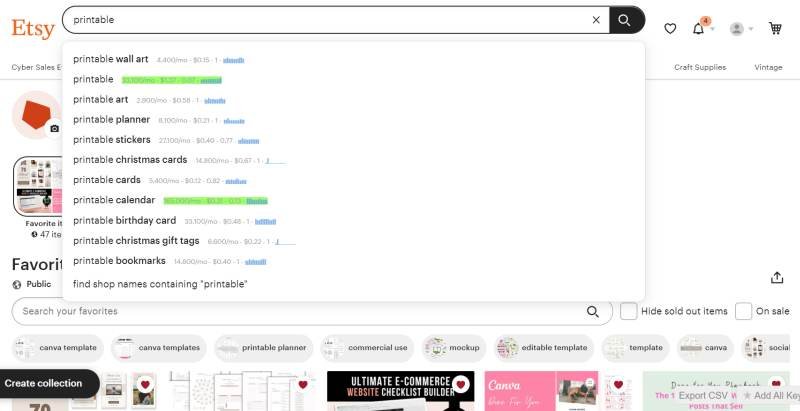 Create a folder with your favorite fonts. I usually have a folder filled with attractive fonts ready for use. A good font can transform a boring design into something unique. Using at most three fonts is also recommended to avoid making your design seem amateurish. You can also search Pinterest for Canva fonts.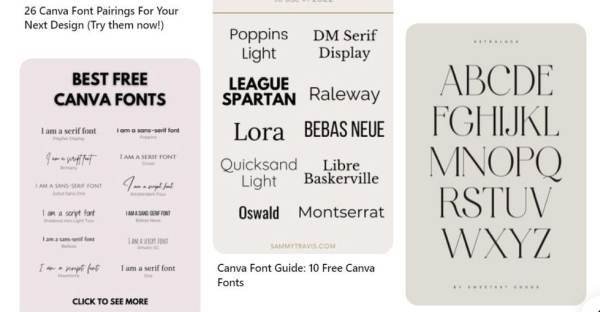 Simplicity is key. When designing your Canva template, avoid using too many elements. The result will be a cluttered template. Your template shouldn't distract people from the focus of your template. A professional and modern design will convey trustworthiness to your audience. In addition, make sure the images you use in your designs relate to what you're selling.
Pick a color scheme and stick with it. Use 3 to 5 colors across your template bundle to keep it cohesive. There is no need to use each color on each template, but two should be the same on all of them and use the other colors as accents. Read this post if you need help finding an attractive color scheme.
You can get started with quality PLR products. You can use private-label products if you feel overwhelmed by the time and creativity of designing new products. PLR products come with licenses that allow you to resell to your customers. They can help you get your template creations done quickly so you can open an Etsy shop quickly.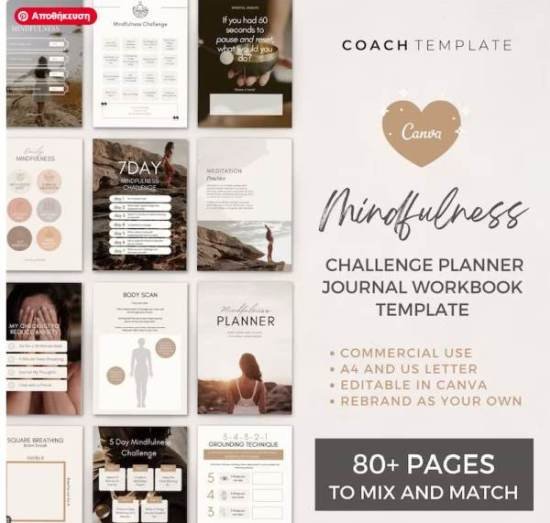 Step2: Create mockups and provide information about the product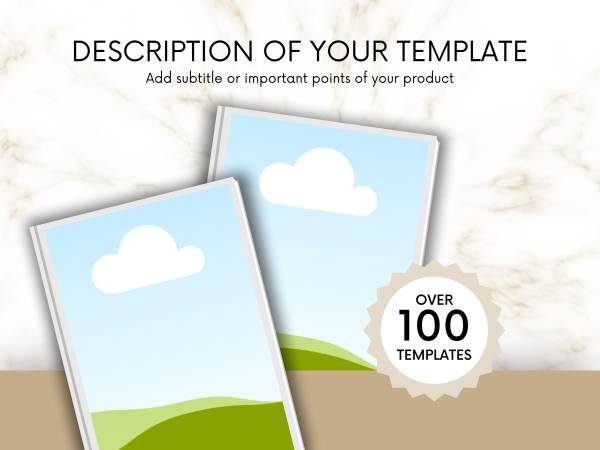 Creating mockups is crucial when selling Canva templates on Etsy. Mockups, also referred to as product mockups, showcase your final product. Your shop can gain more sales by creating mockups of your digital products.
Websites where you can find mockups for your listings are PlaceIt, Creative Market, Etsy, and Envato Elements. Making realistic mockups is also possible with the free Canva Smartmockup tool.
Step3: Upload the template and pdf documents With Info
After people purchase the templates, they will want to know how to download them. With Canva, you can create a PDF document that includes your purchase link. To begin with, make a new letter-size blank template. Describe your product in more detail and include the following:
Thanking the customer for purchasing your template
What customers can do with the template?
A guide to editing elements.
Copyright and legal terms.
An attractive description of your "unique" product.
And, of course, the Canva link to access the template.
This template can be customized as you wish by adding elements as you see fit. Alternatively, you can create a plain, black-and-white PDF with your Google Account. Go to My Drive, then open a new Google Doc. Include all the information you want, then add your shareable Canva link. When finished, click File > Download As > PDF document .pdf.
Step 4: Share and promote your template through different channels
Listed below are some promotional strategies you can use for selling Canva templates.
Use social media (Instagram and Pinterest) to showcase your Canva templates.
Utilize existing traffic on third-party marketplaces such as Etsy and Creative Market to gain attention for your templates.
Once you've set up your Etsy shop, you can use various tools for advertising and growing your Canva template business.
Promote your templates using email marketing if you have a WordPress blog with enough traffic.
Is it worth selling Canva designs?
With so many active sellers already on Etsy, some of you may wonder whether it is worth designing templates in Canva and trying to sell them. The truth is a variety of factors influence how much money you can make selling Canva templates:
What kind of templates do you sell
Your design abilities
How do you price your templates
Where do you choose to sell the templates
The quality of the designs and the services provided
Being able to create sales-generating offers
The promotional materials for your products
Basically, all these elements can influence the amount of money one can earn.
Roughly how much money can you make selling Canva templates?
Go over to Etsy and check out, for example, Jadore Templates shop, which is focused on Instagram templates; you can see she has 230 sales with an average of $7 per product. So, this seller made roughly $1.610 selling Canva templates.
But in the next example, the shop SoraCollective sells real estate marketing Canva templates for realtors. These templates are all in a very specific niche. The average cost for a template bundle is $20. So, with 3115 sales, this seller has made about $62.300.
You can discover what kind of templates sell well and find the most profitable niches by conducting market research on Etsy.
How to Sell Canva Templates on Fiverr
So, you've managed to design some sweet Canva templates. Now, you're wondering how to monetize those skills and make some extra cash. Selling your templates on Fiverr is a great low-effort way to do that!
Sign Up for Fiverr
First things first, you'll need to create a seller account on Fiverr. It's free to sign up.
– Head to fiverr.com and click "Sign Up."
– Enter your name, email, and password.
– Verify your email address.
Boom, you're in! Now it's time to start listing some gigs.
Create Your Gigs
A "gig" on Fiverr is essentially a service you offer to provide. We're going to create gigs selling our Canva templates.
– Click "Add a Gig"
– Enter a catchy title like "Design a Professional Canva Social Media Template."
– Write a brief description highlighting the template's features
– Set a fair price. I'd recommend not overpricing your templates but not underpricing them either. Set a price that is fair for both you and your customers.
– You can list Canva templates under the "Graphic Design" category on Fiverr. This category includes subcategories such as social media design, presentation design, and more, which would be a suitable fit for selling Canva templates.
– And then, Publish!
Repeat to create several gigs for different types of templates. Social media posts, blog graphics, presentations, etc. The more options, the better.
Get Orders and Deliver Templates
Now, you play the waiting game as orders start rolling in. When someone purchases a gig, you'll get a notification to deliver the files.
– Thank the buyer
– Create the template customizing any text/images as requested
– Compress the Canva file and any image assets into a zip folder
– Upload the zip to Fiverr to mark the order as complete
Sit back and watch that money start coming in! Easy passive income from your Canva skills.
Can I sell templates with a free account?
Anyone with a free account or Canva Pro account can sell Canva templates.
You can make beautiful and professional templates using free graphics and free fonts. Actually, it is recommended to use only free Canva elements and fonts. You can still offer your templates to buyers without requiring them to purchase pro elements or a Canva pro account.
Is it legal to use canva templates for commercial use?
What are the rules?
It is free to use Canvas' photos, music, and videos for noncommercial and commercial purposes. For photos, music, or video files containing identifiable people, places, logos, or trademarks, I recommend you check the image source or contact Canva for clarification.
Copying and reselling templates found on Canva is not allowed. You need to create the design yourself from free content and graphics provided by Canva (fonts, elements, photos, etc.), after which you can sell the template for commercial or non-commercial purposes. You can read more about using Canva for commercial purposes here.
Read also: Make Money Blogging: 11 Ideas for Monetizing Your Passion
Final thoughts
Now that you know what it takes to sell Canva templates, how about starting your own business? For those of you looking for a creative and enjoyable way to earn money online, selling Canva templates might be the way to go!