Hands Down The Best Free WordPress Plugins Essential For Blogs In 2023
Among the things I love about WordPress are the many free plugins one can choose from. To help you, here are my picks of the best WordPress plugins for bloggers.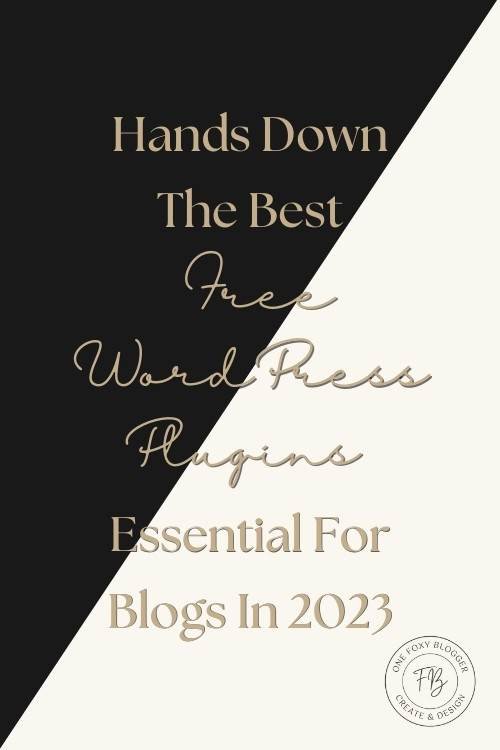 Because I have used WordPress as my blogging platform for the past 8 years, I got to know it very well and fully appreciate its capabilities.
Aside from WordPress' incredible ease of use and features, you can further enhance your website by installing plugins.
Who doesn't like having an assistant help them 24/7 for free? For busy bloggers, free WordPress plugins are lifesavers, or rather time savers. In case you are looking for the best free WordPress plugins for blogs, then take a seat because you are at the right place.
When we think of high-quality blogs, we know the worth of WordPress plugins. These plugins will take your blog to the next level by creating SEO-optimized quality content, enhancing the website's performance, and expanding inbound traffic to your blog. Plugins allow you to accomplish any task you need for your website.
With a wealth of plugins to choose from, it is hard to decide which plugin is beneficial for your website. Choosing the right plugins yourself can take a great deal of time and experimentation. Based on my experience building 4 different WordPress websites, I have tried and tested many plugins through the years, and in my opinion, the ones in this blog post are the most useful.
Those plugins are exclusive to self-hosted WordPress sites. So before I start, you may wish to read our post: How to start a blog with WordPress from scratch, to get a better idea of what that is.
How to Start A WordPress Blog From Scratch
1- Top free WordPress plugins for SEO
Yoast SEO
With more than five million downloads and a 5-star rating, you can be sure that Yoast SEO is the best, if not one of the best, WordPress plugins for blogs. It helps your website rank higher on search engines and expands inbound traffic.
This SEO plugin works by optimizing your keywords and Meta descriptions of the blog for better rankings. Additionally, Yoast will provide you with information about SEO problems on your website so that you can correct them to meet the highest SEO standards.
Another excellent feature of Yoast SEO is Readability and Findability. It makes sure that our content is correct and easy to understand. It provides tools to build a better WordPress website structure.
This plugin does offer a premium version that offers smart internal linking recommendations and suggestions for related keywords to enrich your content.
As I have tried both, I can say that regarding the best free WordPress plugins for SEO, RankMath and All in One SEO Pack are two worthy competitors.
Related reading:
2- The best free Backup plugin
UpdraftPlus
UpdraftPlus is an advanced free backup plugin having two million users. The primary role of updraft is that it restores and backups your data.
If you experience errors on your website or your website gets hacked somehow, there are greater chances that your data will vanish.
So, the most suitable option is to use a backup plugin. This plugin will help you restore your data automatically with just one click or store them in any cloud service. This plugin has been invaluable for me on many occasions.
This plugin also features a premium version. You may want UpdraftPlus premium if you want step-by-step backups, database encoding, and access to multiple storage destinations.
What I love is that it is so effortless to use. Install this plugin and get stress-free backup management.
3- The best security plugins for WordPress
a) Wordfence

Wordfence is the most popular security plugin. Wordfence firewall protects your website from virulent traffic by blocking them. The best thing is that it will not let your data leak by implementing strong passwords and security precautions.
Wordfence security also includes two-factor authentication for logging into the sites, which is a great feature of the security plugin. It recognizes alterations to your website. A Premium version of Wordfence is also available. This feature restricts all requests from malicious sites.
A plus of this plugin is that it will not reduce your website's speed.
b) All in one WP security:

Another great plugin is All in One WP Security. All in one WP Security puts into use a unique security system immediately when you turn on the website.
Opposed to Wordfence, most of WP Security's options are straightforward, making it easier for a beginner to set up the plugin. Do not leave any security loopholes. Install a reliable security plugin to keep your blog safe and sound.
4- Best free WordPress plugin for building pages
a) Elementor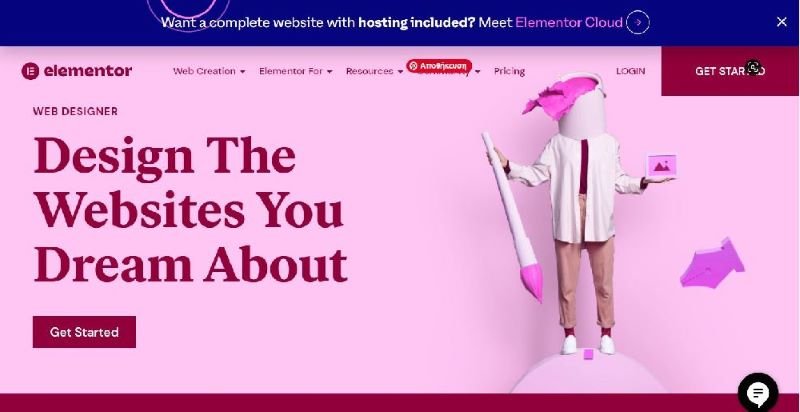 Elementor is one of the best WordPress plugins for design. This plugin is not necessary, but it will enrich your page designs. Almost 1 million people are using it so far, the reason being they can create miraculous websites within a short time.
Also, it provides users with starter templates to simplify the process. With Elementor's visual editor, you can easily customize every part of your blog. No coding is needed.
You can create websites, landing pages, and even fully-functional e-commerce stores with Elementor.
You can now create an Elementor cloud website that offers hosting service, a secure CDN, preinstalled WordPress, and Elementor Pro web-creation tools all in one place. You can get this amazing deal for only $99 a year here.
b) Gutenberg blocks -Ultimate Addons for Gutenberg
Ultimate Addons for Gutenberg is a plugin that inserts particularly advanced blocks into your pages. This plugin lets you build web pages that look both attractive and professional. Moreover, this plugin offers you unique blocks without any hassle of traditional codes.
Some blocks that we can use, for example, include:
Blocks for images (Embed pictures and text side by side)
Cover pages blocks ( Insert cover templates in blogs)
Related posts blocks (Choose to add related posts in traditional, masonry, or slider style)
Layout blocks ( Insert complex columns layout for posts)
Another essential feature is that you can add a Table of Contents Block. This is particularly useful for long content pages so people can quickly find a specific topic on the page.
5 – Plugins to optimize your blog for speed
a) Litespeed Cache

When looking for the best free WordPress plugins for speed optimization, then Litespeed Cache is an excellent choice. LSCWP reduces the website's load by lessening the burden of processes on the server. LSCWP performs two functions:
Optimization
Caching function
Caching makes your websites work quicker and provide high-quality SEO results. Through this, your page will rank higher in the Google search engine.
b) W3 Total Cache
W3 Total Cache is another fastest caching plugin that increases SEO performance by ten folds. With 1+ million active installs and more than 3000 positive reviews, one can say that it is one of the best free WordPress plugins to increase website performance. The key element of this plugin is minimizing the extra load on the website, and it also saves Bandwidth. This plugin eliminates all additional spaces in the file and compresses them. It works by removing:
Page Cache (responsible for decreasing the cache by minimizing the load on blog pages)
Browser Cache (accountable for reducing the time to load the website. This will save all the files on that browser)
And Database Cache
Best premium WordPress plugin for speed – WP rocket

WP Rocket is a premium caching plugin that will allow you to get a faster website in a few clicks. The main goal of this plugin is to streamline site performance, speed, and search engine ranking. It is necessary for a website to have a caching plugin; if pages take too long to load, users will leave.
The longer the page takes to load, the fewer website users you will have. Websites like these won't rank on Google. So a caching plugin is crucial to optimizing the speed of a WordPress site. 
What I love most is that once the plugin is installed and activated, it will begin to improve the performance of your site. You'll have a faster website in just a few clicks: the setup takes no longer than 3 minutes.
WP Rocket is one of the top plugins for a reason. WP Rocket provides advanced options to boost your site's performance, such as delayed JavaScript execution, removing unnecessary CSS, minification, and lazy loading of images.
6- WordPress plugin for sharing on social media
Social Warfare
Are you looking for an awesome sharing plugin? Social Warfare is, from my experience, by far one of the best free WordPress plugins for sharing content without slowing down your website.
Slow processing is the worst thing that can happen to a website. It is like a parasite that slowly eats away your site's engagement. Social warfare adds ravishing and thunder strokes fast social share buttons to your blog. It offers a lot of features to boost social sharing features.
You can choose what and where you want to share your blogs. This plugin creates HTML of social sharing buttons and makes sharing convenient. It enables you to decide the title and description of content when shared on different sites like Pinterest, Facebook, Instagram, Twitter, and LinkedIn. More social shares mean more website traffic to your site.
Moreover, social sharing enhances sales and conversion rates. It indirectly increases traffic to your website and grabs the user's attention.
7- WordPress plugins for web analytics
a) Monster Insights
The top Google Analytic WordPress plugin is Monster Insights. This plugin helps users to add and manage website tracking services. You can easily track your website using this plugin. You will also know how your blog is running and what content users find most compelling on your blog.
Here are the top features of the essential analytic plugin:
Website Tracking features which may include ads, links, posts, and form tracking with a single click
Show you stats about blogs pages and posts so that your business can flourish
Optimize website speed and pages
Dashboard reports
Track URLs of other sites
b) Google Analytics (G.A.)

On this list of best free WordPress plugins for bloggers, GA Google Analytics is the tool to keep track of how your blog performs. It is a lightweight and fast plugin. It connects Google Analytics to your website and tracks codes on all website pages.
In addition to that, it supports advertising, anonymization, and Google optimizing features. The main features of the G.A. Google Analytics plugin are listed below:
Speedy performance
Easier, faster to use
Permit tracking codes
Support header and footer codes
Inhibit post I.D.s, search results tracking.
How do I know if a WordPress plugin is free?
You can find all the best free WordPress plugins (almost 60.000) in the official WordPress director where you can download them for free. Keep in mind that free Plugins are limited in what they can do. Many are "freemium plugins," meaning a plugin that, in addition to their free version, offers an upgraded or premium version. Before downloading any plugin, I recommend comparing the features and capabilities of both the free and the paid versions.
How to get premium WordPress plugins for free?
This question comes up quite often. Occasionally, a person will want to download the premium version of a popular plugin but is not willing or able to pay for it. It is still possible to download free WordPress plugins and themes from several sites online. However, I would advise you to avoid doing so. It is common for people who offer these plugins for free or for a small fee to add small pieces of code.
By downloading and activating such a plugin, you will give them remote access to your website. What can hackers do? One thing that can happen is that your website may be bombarded with so much fake traffic that the server might crash. What's more, a hacker can access passwords and other personal information stored on a website.
In short:
Those were all the best free WordPress plugins that you should consider using for your blog in 2022. What are the most important plugins for WordPress? The most essential a blogger needs are a plugin that speeds up a website, one that backs up the website data, and a security plugin that protects it from being hacked.
By combining all of these best free WordPress plugins, a website's performance will improve tenfold. Better Google search rankings, higher-quality content, and grasping users' attention will all fulfill your goals.
P.S. You may find that installing a lot of plugins can slow down your website, so choose only plugins that are absolutely necessary and do not interfere with your website's performance.