How To Set Up Affiliate Marketing For Amazon Quick And Easy in 2023
Are you trying to figure out how you can start as an Amazon associate?
If so, Amazon Affiliate Marketing might be the perfect way to start monetizing your blog. It's a quick, flexible, and lucrative way to join the affiliate marketing world, and there's no better time than now to get involved.
With this article, we'll explore the ins and outs of Amazon Affiliate Marketing, like the Amazon affiliate program sign up process, how to add an Amazon affiliate link to WordPress, and how you can benefit from it. By the end, you'll have the knowledge and resources needed to take on Amazon Affiliate Marketing, start making money, and become a successful affiliate marketer.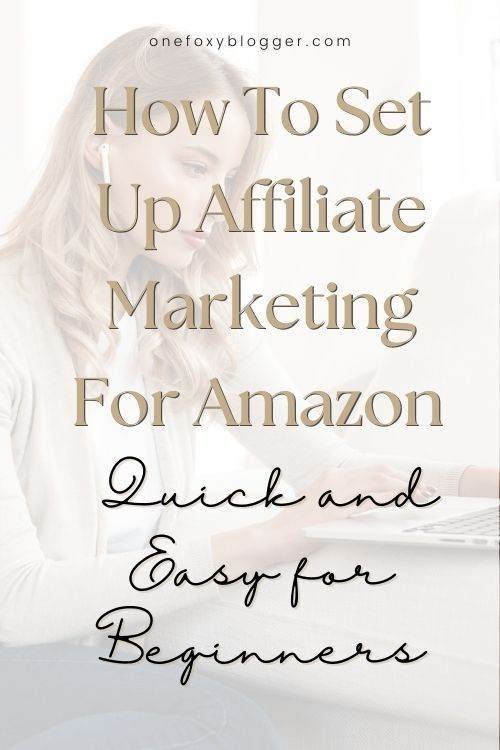 What is affiliate marketing for Amazon?
Amazon Associates (affiliates) is one of the world's most well-known affiliate programs because it gives marketers a wide selection of products to promote with infinite possibilities to sell in about any niche.
Through affiliate marketing for Amazon, you, as a blogger, can earn commissions by promoting the company's products through special links and codes. This program pays you for each sale through its website.
Amazon has a cookie period of 24 hours, meaning that you will get paid whatever the customer buys after clicking a link on your blog. For example, your visitor clicks on your text link to a storage unit and decides to buy baby clothes once he/she is there. So here is the good thing, you get paid for all the products your reader purchases within 24 hours after using one of the affiliate links you have.
Related articles:
Is it easy to become an Amazon affiliate?
How do I become an Amazon affiliate marketer? You can complete this process in no time. To become an Amazon associate, go to the Associate's home page and request to join the Amazon Associates program.
To sign-up process for affiliate marketing for Amazon is straightforward, go to their website and create a new account. Make your affiliate ID. Use the series of letters and numbers as your affiliate code. Then complete the series of questions regarding your service.
Besides adding links to your website or blog, Amazon allows you to share your affiliate links with your favorite Social media platform.
What are the Amazon affiliate program requirements to join?
It is advisable to read the guidelines Amazon requires its affiliates to adhere to before starting. First, you must create an easily accessible website with enough fresh content. The Associate's team also evaluates social media profiles, smartphone apps, and websites. They seek regularly updated, unique content that benefits Amazon customers.
Bear in mind; that there is a deadline to keep your account. You must have at least 3 product sales within the first 180 days; otherwise, your account will get terminated. I suggest you make sure to have some daily visitors to your blog before signing up for the program to ensure you are not running the risk of deactivation.
How much do Amazon affiliates make?
How much do Amazon affiliates earn? That is probably a question you may have. The amount you can earn as an Amazon affiliate marketer depends on the commission rates for the products you choose to promote and the number of sales you generate. Commission rates vary between product categories and can range from 1% to 10%.
There is no boundary for how much you earn with affiliate marketing for Amazon. Your earnings from Amazon affiliate links can range from $100-25,000 monthly. If you choose the right niche, provide the best content, and choose the best product, you could make a lot of money.
Affiliate marketing for Amazon – How do you get paid?
There are three payment methods that Amazon offers for its associates:
Depositing commissions to the bank: If you earn at least 10$ then, they can direct deposit the commission to your bank account. Amounts less than $10 will go to the next month's total.
Receiving amount via Cheque: You can receive a cheque through the mailing address you provided in your associates' account. But you should have a 50$ minimum for this method of payment.
Through gift cards: Amazon can also provide you with a gift card to your address. Tough, you should have at least a 25$ commission to receive this.
How much does Amazon's affiliate program pay?
Here is what you need to know about the program's commission structure. I have been an Amazon associate since 2009, and much has changed over the years. The Amazon affiliate commission rates change occasionally but sadly, never for the better.
Currently, your commission depends upon the product category you try to sell. For luxury beauty items, you can earn a 10% commission. But the commission rate for all other items ranges between 1 to 5%, with Amazon Fresh, grocery, and health and personal care at the lowest rank as they provide you with only 1% affiliate commission.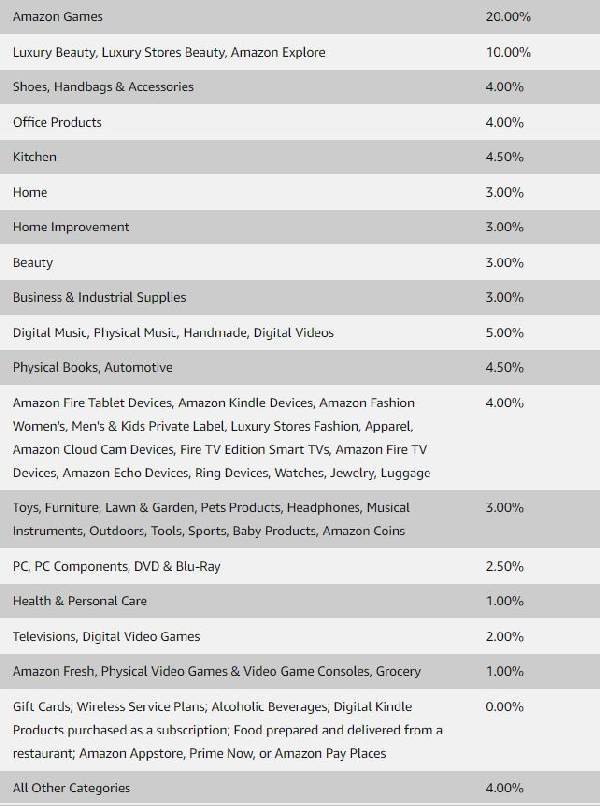 Another way you can earn is through their bounty program. Bounties are the commission that Amazon offers you if any visitor subscribes to one of their services using your link.
The bounty commissions range from 3% for subscriptions to Amazon services up to 15$ if someone joins Amazon for business.
That said, most affiliate programs will give you far better commissions than Amazon. For instance, on Clickbank, you can earn a whopping 80% per sale on some digital products that cost hundreds of dollars.
How do you insert your associate's links to WordPress?
In the associate's dashboard, you can find several tools to add product recommendations to your website or blog.
Product links
Banners
Native shopping adds
Mobile pop over
Link to any page
To start, you search for products you'd like to add to your blog, either under the product link tab in the navigation or on the homepage.
However, the easiest way is using the Amazon affiliate link generator or, as they prefer to call it, SiteStripe. The Associates SiteStripe lets you build your Associate's links right from the Amazon page itself.

The SiteStripe will appear at the top of every Amazon page you visit and provides quick and easy access for building links and sharing links on your social media platforms.
To link to a product, you'll need the affiliate link's html code. If you click on "get link", you'll find this code. You can modify how your link should be displayed. Text form, image, or text and image together.
However, you do not have to link to a specific product. You can get a text link to a page with all search results for the product or a page with bestsellers.
Once you have done these options, the next step you have to do is copy the HTML code they give you.
Come to your WordPress site and open the post, page, or widget where you want to add your link.
Add a custom html block and enter the code.
Save the changes and publish.
You may want to have a quick look at this video of Lori Ballen showing you the different ways you can add Amazon affiliate links to your blog.
Now that your affiliate link is live on your blog, it's up to your readers to buy the product so you can earn a commission. Also, ensure you don't miss the following posts to take your affiliate sales to the next level.
You may also like:
Helpful tips for affiliates
I must point out that Amazon is strict with its Terms of Service. Please read this carefully, as not abiding by its rules puts you at risk of being kicked out of its affiliate program.
Choose not to state prices, numbers of reviews, or ratings, as they are changing continuously. If you wish to do this, you may need to get a Product Advertising API key and use a plugin to ensure that the price, ratings, etc., will update in real-time.
Moreover, do not cloak the affiliate links. Cloaking is when you try to hide the link by using a link shortener like Bitly or TinyURL. A common practice affiliate marketers use to disguise and protect their links. Amazon does not allow you to redirect links in any way, so be sure to use only the links provided on their site. However, Amazon has a link-shortening option that will hide your tracking id and protect your affiliate commissions.
Also very important is placing an Amazon Affiliate Disclosure Statement on your blog. You must be 100% transparent about being an associate and get compensation when people buy through your site's links. Properly identifying yourself as an Associate helps prevent your account gets shut down.
Amazon affiliate plugins for WordPress
From my experience, I can tell that it is worth buying an Amazon affiliate plugin. Most are premium plugins, meaning they cost some money. But because they use advertising API, they can show real-time data from Amazon.
Such plugins help you retrieve affiliate links quickly and attractively present them using real Amazon data. EasyAzon, AAWP, AzonPress, and AmaLinks Pro are a few examples of such plugins you want to have a look at when you are serious about starting affiliate marketing for Amazon. They come with plenty of great features like product boxes and comparison tables while guaranteeing that you comply with Amazon's affiliate terms.
Frequently asked questions
Is It Worth Being An Amazon Affiliate?
Because people trust Amazon, Amazon's affiliate program is great.
Amazon is a favorite shopping site for many people. You can use this credibility to sell on their behalf as an affiliate and earn commissions. The win is yours. Also, the commissions are pretty high if you select the right categories.
What are the best practices for Amazon affiliate marketing?
Some best practices for Amazon affiliate marketing include choosing relevant and high-converting products to promote, disclosing your affiliate relationship to your audience, creating high-quality and informative content, and tracking your performance to optimize your strategy
How do I track my Amazon affiliate earnings?
You can track your Amazon affiliate earnings by logging in to your Amazon Associates account and accessing the reports section. There, you can see your clicks, orders, earnings, and conversion rate.
How do I optimize my Amazon affiliate marketing strategy for SEO? 
To optimize your Amazon affiliate marketing strategy for SEO, you must focus on creating high-quality and relevant content, optimizing your website or blog for search engines, using descriptive and keyword-rich anchor text for your affiliate links, and building high-quality backlinks to your content
final note
Now you know the basics of affiliate marketing for Amazon, as well as a few technical details and tips for success. Getting accepted into the Amazone associate program is easy. Being a gigantic store and a worldwide trusted brand selling products from Amazon is not rocket science.
With my 15 years of experience as an affiliate marketer for Amazon, I strongly recommend not putting all your eggs in one basket. Do not solely rely on affiliate marketing for Amazon, but explore and use multiple affiliate programs on your blog. If Amazon decides to alter its commission structure again, you will still have other income streams at hand.