Crafting Effective Landing Page Designs: 6 Tips for Success
Why keep putting off that great opt-in idea or new digital product you want to market? Is it because you are overwhelmed by the technical side of creating a landing page design?
The good news is that creating high-converting landing pages isn't as hard as some people think. In this post, I will show what it takes to easily create landing pages with the help of some free tools or premade template bundles.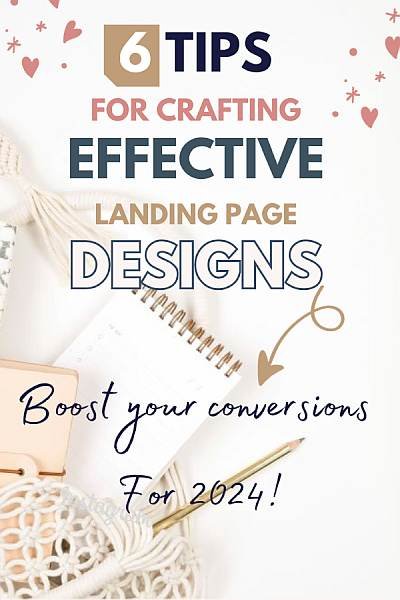 So, what is a landing page?
Essentially, it's the page where a user lands when they click on a link on your website, in an email, or an online ad on a social media platform. Landing pages are single web pages designed for one specific reason: to capture visitors' attention and convert them into potential customers or leads.
It's like a virtual doorstep that welcomes people to your website and encourages them to take action, such as filling out a form, making a purchase, or joining your list. In other words, it's all about creating a compelling first impression and guiding visitors toward the desired goal.
The various types of landing pages
A squeeze page.
It is just for collecting a user's email address on a short page in exchange for a free offer, like an ebook or newsletter, or to book an appointment. These are very effective for quickly building an email list.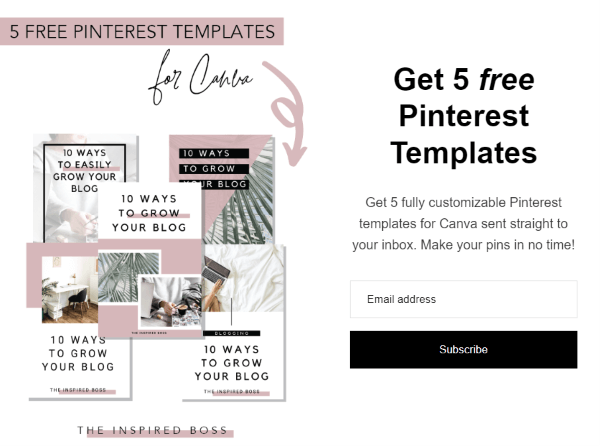 A lead generation landing page
The landing page is usually the first step in a funnel. This means it's like the squeeze page I mentioned, a webpage designed to collect information from visitors. However, this page collects even more data than a typical squeeze page. It contains multiple form fields to help gather reader's information such as names, business names, email addresses, social media, etc. Check out this example of a lead generation or long opt-in page.
A Click-through landing page
A page that aims to persuade consumers to make an instant purchase. Typically, they are linked to a specific product, such as a special promotion or a regular product page.
As you can see, this landing page is without a form, just one clickable element, a call to action button.
Long-form sales page
This type of landing page is used at the lowest part of the funnel. This is where, instead of an email, you request a payment. By using testimonials, quotes, videos, and call-to-action buttons, you can persuade your visitors to buy your product. Sometimes, you need to add bonuses or a discount code to get them to make the final commitment, but urgency and good copywriting can also do the trick. Check out this demo of a sales page I found at BluChic.com.
How to Start A WordPress Blog From Scratch
Landing page design best practices
My biggest obstacle, and probably yours too, was that I didn't know how to design a landing page. If you never created a landing page before, don't worry! Anyone can create a professional and captivating landing page with the right tools and guidance.
To create a successful landing page, you must consider several factors, such as the page layout, color scheme, content, and call-to-action (CTA) buttons. The following tips will help to create a landing page that converts visitors into customers.
1. Catchy Title & Hook
Readers should be intrigued by the title and what follows. You've got to motivate them to keep scrolling or reading until they get to your CTA. Visitors will not abandon your landing page if you have a compelling title. If you need a landing page for your online course, make it the star of your story, and your landing page should make that abundantly clear.
2. Attractive Images & Clean Design Images
Images can enhance your affiliate landing page significantly. Our brains process 90 percent of information visually, approximately 60,000 times faster than we can process text. That's something you can use to boost engagement.
Depending on the landing page or campaign, you may need different images. Check out some of the design templates on this page so you can quickly get started. Keep your design simple and appealing without distracting elements. But don't forget to direct your viewers' attention to your CTA.
3. Use Clear, Brief Copy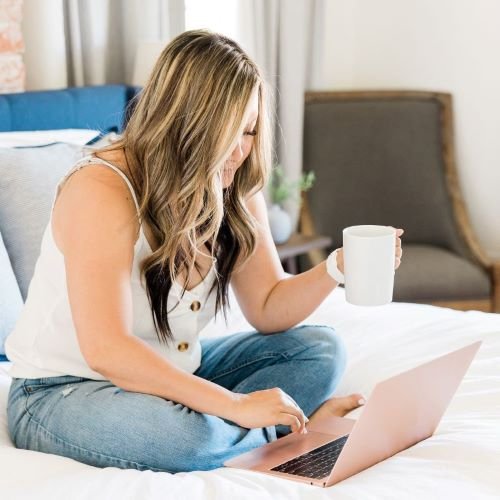 You don't want to lose your visitor on the copy after you've made your title and images. Simply put, your copy should do two things: attract your audience and motivate them to take action.
You have the perfect solution to your audience's problem and can't wait to show it to them!
Ensure that your copy is long enough to effectively convey your benefits and offer, inspiring your audience to take action.
If your copy is too long (or dull), you will lose the reader's attention before they get to the CTA.
Now, to achieve the best results, you may have to experiment with the content and length of each offer until you find the optimal balance.
4. Add Credible Social Proof
One of the elements of a landing page is to add social proof from sources they trust highly. Trustworthy sources carry a lot of weight in a customer's eyes. This can include testimonials or reviews. These tactics are highly valuable in affiliate markets where audiences seek recommendations from reputable sources.
Give people an abundant amount of social proof. It can help convince customers to buy from you since customers rarely rely on one opinion. Give your audience all the social information they'll need to make their buying decision.
5. A Direct Call-to-Action (CTA)
It's time for your reader to take action. It's where you hope your visitor clicks, sign up, or shares your link. Be crystal clear with your CTA, regardless of the offer or the goal. Make it clear what readers need to do to move forward, and leave no doubt about the process.
You can do A/B testing to tweak your CTA and get more conversions by fine-tuning the details. By analyzing micro-conversion data, you can gain insight into your users' behavior and identify any obstacles they may face during their journey. This information is invaluable and can help you improve their experience.
6. Clearly communicate the benefits of your offer.
You need to know this information in depth to create a successful sales landing page. It's essential to know your audience — their interests, demographics, what they like — so you can explain what your product offers them.
Make sure to highlight your offer's benefits and demonstrate how it can solve the customer's problem.
Knowing your market will help you improve your landing page, even if you focus on a specific affiliate traffic group.
You may also like:
Can I build a landing page for free?
Building a free landing page is totally doable! For beginner bloggers with a limited budget, there are plenty of platforms out there that offer free tools and templates to help you create a killer landing page without breaking the bank.
I'll walk you through some of the best free tools and platforms to help you bring your landing page design to life. So, let's dive right in and get you on your way with some free tools you can use to design a landing page.
Free landing page builder tools
When it comes to free landing page design tools, there are a few popular ones that can help teach you the ropes of building landing pages.
Here are some landing page design tools for beginners:
1. Systeme.io: In under 10 minutes, you can have a professionally designed website or landing page up and running with Systeme.io. The intuitive interface and ready-made templates make the setup a breeze, even for those with minimal technical expertise.
2. Mailchimp: Although primarily known as an email marketing platform, Mailchimp offers a free landing page builder with customizable examples to help you create eye-catching pages.
3. Elementor: This WordPress plugin allows you to design and build professional-looking landing pages using its easy-to-use visual editor without needing any coding skills.
4. 123 Sites: With 123 Sites' free landing page builder, creating stunning and professional designs has never been easier. Their drag-and-drop interface allows you to effortlessly customize every element of your landing page, and a library of stock photos is at your disposal.
5. Carrd: If you're after simplicity, Carrd is worth checking out. It's a straightforward tool for building single-page websites, including landing pages. 
6. Canva: A fantastic platform that allows you to create stunning landing pages for absolutely free. Canva has a user-friendly interface and hosts a wide selection of templates, so you can quickly build a professional landing page. Plus, Canva provides all the tools and features to customize your page and make it unique to your brand.
Related reading: Canva websites – A quick and easy way to create a website in 2023
Ready-made landing page template bundle
Apart from free landing page builders, you can also purchase pre-made funnel kits or templates. Do you really need to reinvent the wheel when you can use fill-in-the-blank templates that will reduce the amount of time you need to spend designing these pages from scratch?
It's like getting a head start and bypassing the tedious design process. Additionally, it enables you to concentrate more on customizing and refining the content to make it truly distinctive for your brand. So, go ahead and explore these alternatives.
Let me share my favorite 3 sites that sell creative landing page templates you can edit and upload to your blog.
1. Funnel Bundle from Restored316
Restored316 's Funnel and Landing Page Templates were designed to convert visitors into buyers! Your offer, your qualifications, your testimonials, your bonuses, etc., are all in an appealing manner to your potential buyer.
All Funnel Bundles include 9 ready-to-use pages you can use to get you started as quickly as possible! It doesn't matter if your goal is to grow your newsletter list or get more clients; these are the templates you need!
2. Blossom's Ultimate Landing Templates Kit
You get all the templates for launching your products or courses, selling your services, building an email list, and so much more. Setting up a sales page with one of these templates is a breeze.

The only thing you need to do is upload it, customize it, and publish it. The templates are optimized for better quality customers, satisfied leads, and higher conversion rates. For this Sales Funnel Templates Kit of 9 templates, you will need WordPress and Elementor.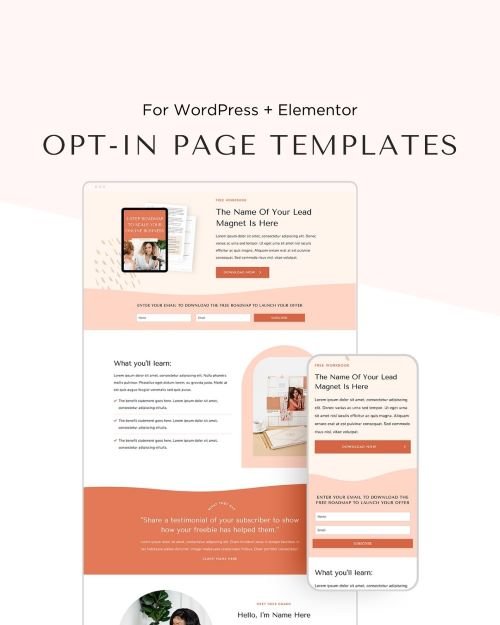 3. Sales Funnel Templates Kit from Bluchic
Creating a effective landing page design already requires a lot from you. You have to create the offer and set everything up. Why add more work to your plate? And why risk creating sales pages, tripwires, or webinars that don't get people excited to buy your offer? With BluChic's Sales Funnel Templates Kit, you'll be able to create a sales funnel without stress with nine awesome different landing page templates:
Frequently asked questions
What is the difference between a landing page and a home page?
In simple terms, a landing page is to impress the visitors. It's specifically designed to capture attention and encourage action. On the other hand, a home page serves as the central hub of a website, providing an overview of what the website offers and guiding visitors to different sections. In short, while a landing page focuses on conversions and getting people to take specific actions, a home page is an inviting gateway to further explore your website.
Do landing pages require SEO optimization? 
Well, the short answer is yes! Landing pages will certainly benefit from SEO optimization. When you optimize your landing page for search engines, it helps increase its visibility and ranking in search engine results. Thus, more people will discover your landing page when searching for related keywords or phrases. You have to be very conscious of the user experience. You'll need a landing page responsive design that loads swiftly and flawlessly on both desktop and mobile devices. Know that even the most captivating landing page loses its charm if the page doesn't load or function as expected.
How can I track and analyze the performance of my landing page design?
Some popular tools to analyze and track the performance of your landing pages are Google Analytics, which is used to set up specific goals to track conversions; Hotjar, used to monitor user behavior; and Optimizely, used for A/B testing and experimentation. When you use all these tools together, you can thoroughly check and monitor how well your landing page is doing.
You may also like:
To wrap it up
You just learned the art of creating a winning landing page design. Like any good story, the elements captivate the audience, engage them emotionally, and guide them toward a satisfying resolution. Crafting an effective landing page is an ongoing journey, one that requires attention to detail, the ability to tell a story effectively, and a deep understanding of your audience. So, as you embark on your own landing page design adventure, remember the lessons learned in this post and create a landing page that leaves a lasting impression on your visitors.
Get access to our Freebie Library
Access our collection of FREE BLOG RESOURCES to save you time and money.