A foolproof guide to affiliate marketing for bloggers [to build a passive income]
You're missing out if you are not generating any income through affiliate marketing from your blog. Would you like to learn how to become successful in affiliate marketing for bloggers?
Or does making money through affiliate programs seem like a waste of time? Well, trust me, it most certainly is not. You can make good money selling other people's products from the comfort of your home.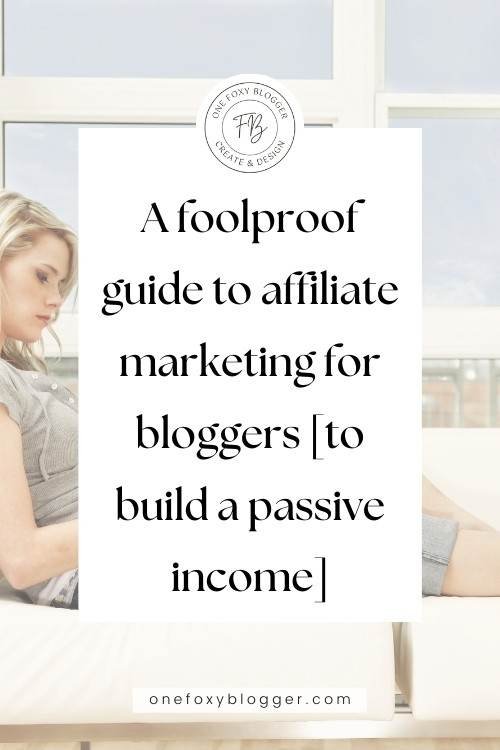 A great thing about affiliate marketing is that you don't need a considerable number of visitors to make money.
Although traffic certainly helps, the secret to affiliate marketing success lies in establishing a loyal audience and linking to products you're passionate about.
This post will describe affiliate marketing for new bloggers in more detail. Additionally, I'll show you exactly how to implement affiliate marketing on your blog.
Is it your dream to start a blog and make money from it? My in-depth tutorial will show you how to create your own blog from scratch. New bloggers have found this guide useful when setting up their blogs.
Ready to discover the basics of affiliate marketing for bloggers?
Let's dive in.:)
What is affiliate marketing?
The goal of affiliate programs is to assist companies in advertising their products. Once you join the program, which is usually free, you can promote their products on your website with their affiliate links. After someone clicks on your links and makes a purchase, you will receive a percentage of the sale.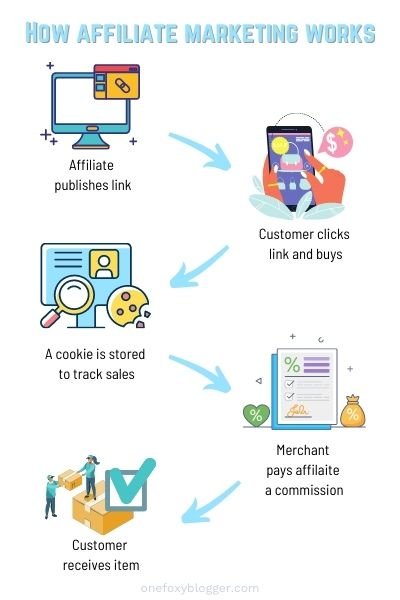 How does it work? Affiliates are assigned unique links that enable the company to track where the sale came from. A cookie (a tiny file) will be stored on their computer when someone clicks this link.
Cookie durations may range from 24 hours to a year. As long as the cookie is active, you can still make money when your readers return to the same website and buy something!
An example of affiliate marketing for bloggers
Consider the following example;
One of your readers is searching for a solution to her belly fat problem. She wants to lose significant weight because it has become a serious health issue and undermines her self-esteem. Her agony is real, and she needs a realistic solution.
Then, she stumbles on your link to a reputable fat loss program designed by a qualified nutritionist who has had great success with her program over the years. We'll assume her fat loss program costs $49.99 per month. Your reader signed up through your affiliate link.
After following the diet plan to the letter, she lost the excess body fat within two months. By referring a customer who purchases the nutritionist's fat loss program, 50% of the sale is yours to keep. In other words, you receive $25 once someone signs up and pays for the program.
Suppose you can manage at least 25 successful sales per month. That's an extra $625 into your account. That's wonderful, isn't it?
Affiliate marketing for bloggers: Pros and cons
Making money does not require creating a product or being an expert in a given field. It's a passive income, which means once you set it up, it produces income yearly with very little work.
As joining affiliate programs is free, earning money immediately from affiliate products or services is possible without investment. You don't have to provide any customer service. Although, you will have to spend some time creating traffic sources and your affiliate links.
You can run an affiliate blog simultaneously with your regular job. Neither does it stop you from making and selling your own products on your blog to increase your income.
You can sign up for as many affiliate programs on as many websites as possible.
What other companies do affects your reputation to a certain extent. Promote a low-quality product with many bad reviews, and it'll backfire on you. While there are many products to promote, focusing on those you would use or recommend yourself is better.
Affiliate links may be hijacked (stealing your affiliate commission) occasionally, but it doesn't happen often.
Affiliate programs require you to adhere to their rules. For example, as an affiliate, you must follow Amazon's policies and procedures if you choose to sell their products.
In rare cases, a merchant may leave and shut down the program without paying affiliates.
How to start affiliate marketing for bloggers?
It seems very easy to get started with affiliate marketing on your blog. But don't be fooled. There are many things you will have to learn. For instance:
Find a profitable niche.
How do you make the most of affiliate marketing for bloggers? You will need to pick a profitable niche. You should take this step very seriously. Niche marketing is a way to establish an income stream from a specific customer group.
Keep in mind that you should only advertise products in your niche. Building your expertise and making money with a narrow niche is easier.
Consider investigating if the niche has the potential to make you money.
Some niches are more profitable than others. The highest-paying and best-performing affiliate niches over the years are:
💕 Read also: Best tips for choosing a niche – Unlock 150 profitable niche ideas
How to locate affiliate programs for bloggers relevant to your niche?
To start with, check out the competition. Check out top blogs in your niche to see what affiliate products they promote. In many cases, you can quickly determine which affiliate products they sell by looking at the sidebar or resources page. Create a list of the top ten products they sell.
Do a Google search – this one is simple but effective. If you want to promote online courses, search for "Online Courses Affiliate Program." When you search for products related to your niche, add your keywords to the search.
Register with popular affiliate networks like Pepperjam, Clickbank, Shareasale, Commission Junction, or Awin. Affiliate networks host a wide range of affiliate programs for new bloggers. As an affiliate newbie, you can usually find plenty of offers to promote through these platforms based on your interest, target audience, and market.
Do a product search of the top online stores. Many top online stores, such as Amazon, Walmart, Target, and BestBuy, offer affiliate programs. The commissions are not very high – somewhere in the 1 to 4% range – but there are many products to choose from. These stores are excellent places to start while building traffic and searching for other programs.
Read also: How to set up Affiliate marketing for Amazon quick and easily.
ClickBank is another excellent place to start, a massive marketplace for digital products. It's pretty easy to sell digital products like ebooks and online courses. They also offer high commissions, sometimes as high as 50 to 70%. Likewise, you may sell memberships on membership websites as they pay you recurring commissions.
Adam Enfroy, an expert on affiliate marketing for bloggers, has made it easy for you and compiled a list of the best paying affiliate programs of 2022 you can join.
Lori Ballen features an affiliate programs directory on her site. My favorite place to go if I quickly need to find an affiliate program to promote.
It depends on the program. Some programs let you join immediately, while others must review your website or blog before accepting you as an affiliate. Some programs may ask you what marketing strategies you will use to promote the products.
💕 Related post: 12 Proven ways to boost your income from your Amazon affiliate blog post.
What Affiliate Products to promote?
These are my top suggestions for finding the best affiliate programs.
Do you have any experience with this product, or simply trust the company? For instance, I won't recommend any product I haven't tried. Your readers matter most for your blog: no readers, no affiliate sales, and no profit.
📢 Read also: 50 Great Call to Action Phrases That Are Sure To Convert
Affiliate marketing for bloggers – Where to promote affiliate links?
Promote on social media
Social media is essential for promoting your affiliate links. In fact, it is one of the simplest and fastest methods of marketing affiliate products. For starters, you should promote it across all social media platforms whenever you post something on your blog, regardless of whether it's a new post, a freebie, or a course.
Website or blog for affiliate marketing
Blogs are a fantastic affiliate marketing tool. What is great about this is that you can promote your product links how and where you want them.
For bloggers interested in monetizing their blogs with affiliate links, here are some options:
Write a product review or a tutorial and add your affiliate links.
Create a resource page with the top tools you use and include affiliate links.
Advertise affiliate products on your website by placing banners.
It's all up to you! What matters most is that you regularly post fresh and unique content.
💕 Related post: How to start a blog with WordPress using this comprehensive tutorial
Use affiliate links in email newsletters
Initially, you may want to include an email sign-up on your website. For your blog subscribers to receive emails from you, they need to subscribe to your email list first.
You can use your newsletter for several purposes. First and most importantly, to connect with your readers. Second, to automatically share new blog content and market your affiliate products.
You may also like: 15 Ingenious Email Marketing Tips for Beginners That Are Super Easy to Learn
Embed links in digital products like ebooks
Digital products like ebooks, workbooks, and online courses are perfect for including affiliate links. For this strategy to be effective, your product must provide value to your audience without sounding too pushy.
A good approach is to add a link where your readers may like to learn more about a topic.
Always check a program's restrictions about where you can and cannot place the affiliate links. Moreover, you must declare your affiliation with affiliate programs as a blogger. This also applies to ebooks.
How to track your affiliate links?
Click tracking can make affiliate marketing for bloggers more effective. This tool lets you see how many clicks your affiliate links receive and from which sources. You can also view conversions on multiple platforms like email and social media.
A handy plugin for this is the ThirstyAffiliates plugin. Which lets you track all your affiliate link data in WordPress to monitor leads and maximize conversions. Moreover, the program enables you to hide long and ugly affiliate links easily, guard your commissions against theft, and effortlessly embed affiliate links into blog posts.
How to motivate people to click your links?
To get those affiliate clicks, you need to put in the effort.
Create engaging content
Your content must be engaging, relevant, and useful when you want to make money online! Posting average content will not cut it if you want people to read your post and click your affiliate links.
There is a higher chance for visitors to buy from you if you show empathy and provide them with solutions to their problems rather than too promotional content. Your job as an affiliate marketer is to solve problems for your visitors. The trick is to convince people that your product will help them achieve this.
💕 Read also: 15 Actionable Tips For SEO-Friendly ContentTo Get Instant Traffic
Use comparison tables
Comparison tables are an excellent way to get more clicks on affiliate links. Comparing different products on your webpage can increase affiliate commissions. It helps your reader make more informed decisions about purchasing products by comparing them. No coding experience is necessary to make professional and persuasive product boxes and comparison tables for your affiliate products. With the Affiliatable plugin, you can easily accomplish this. Here is a video showing you how.
Make your links stand out
Furthermore, it is best to ensure that your links are easily recognized in your entire text to get more clicks. Underline them and make their color distinguishable. It might also be worthwhile to look for a plugin to shorten long affiliate links. What's more, branded links make your links more attractive to visitors.
More importantly, did you know Google can penalize your website if you don't properly "nofollow" affiliate and sponsored links? Click here to learn how to format affiliate links properly.
Use reviews or tutorials
Reviews and tutorials work well as an affiliate marketing technique. It's nothing new, but they're still effective. Mind if you start a review site or publish product reviews on Google, be cautious about Google's recent product review update. Google now favors in-depth, informative product reviews and will rank them before sites with thin review content.
Undoubtedly, tutorials are one of the best ways to get affiliate sales. You can show your readers how to use products and benefit from buying them by creating a tutorial. You may have to put much work into them, but it will be worthwhile.
👍No matter your niche, these 12 top affiliate marketing tools can help you maximize passive income!
What is the benefit of taking an affiliate marketing for bloggers course?
I can highly recommend investing in a course designed specifically for bloggers if you want to succeed in affiliate marketing.
Nataly from LoveAndPaperFlowers.com made a list of courses created by bloggers, which means the information presented is trustworthy, practical, and factual.

See the list here: Best Affiliate Marketing Courses for Bloggers 2022
TALK TO AFFILIATE MANAGERS
I have another affiliate marketing tip for you.
Try to build a good relationship with your affiliate manager. You can contact them directly if you believe the promotional materials are not good enough. They can help you with a lot, for example, how to improve your advertising strategies, marketing techniques, and copywriting skills.
Related reading:
Make Money Blogging: 11 Ideas for Monetizing Your Passion
Crafting Effective Landing Page Designs: 6 Tips for Success
To wrap it up
After reading this post, I hope you have a good understanding of affiliate marketing for bloggers. Keep a few points in mind to be successful in affiliate marketing. How much profit you can make from a product is undoubtedly important, but most bloggers will find that they are most successful with those programs they genuinely care about. That is because your readers can sense when you are enthusiastic about the product you're selling.
Take a moment to consider what your blog or social media audience struggles with and may need, then pick an affiliate product for that audience. As soon as you accomplish this, you're on the right track to earning an incredible affiliate marketing blog income.