Master the art of creating an ebook to sell online [read or miss out]
Did you ever consider making a side hustle by creating an ebook and selling it online?
Let me guess. You have no idea how to create an ebook and where to sell it.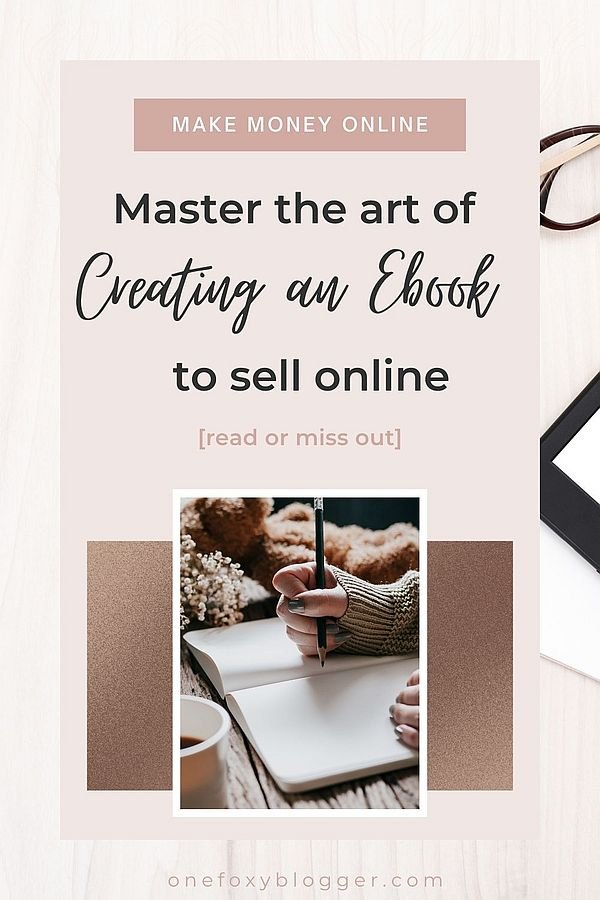 You can start earning passive income with eBooks if you're willing to put some work into it. Surely you cannot expect sales to just come to you without some effort beforehand.
No matter what other commitments or responsibilities you have, you can devote just a few minutes a day to your ebook and still complete it on time.
An ebook can be as short as 30-50 pages, plus the cost of creating them is relatively low because they depend on your own expertise.
So, the first thing you have to do is identify a profitable topic for your ebook. Ultimately, the goal of writing an eBook is to generate income from sales. And, you are more likely to get sales if you write about a popular topic.
In the table of contents, you can see the topics we'll discuss in this post about how to write an ebook and make money:
What's an ebook?
Ebooks or electronic books are digital versions of books.
People can read them on computers, tablets, phones, or ebook readers. They contain everything normally found in print books, like the book's cover image, a table of contents, chapter titles, etc.
Authors can create hyperlinks to websites and social media profiles with an ebook. This is not possible with a print book.
How to pick a niche for your ebook
How to make money creating ebooks?
For starters, you need to pick a topic that interests you and have some background knowledge about it.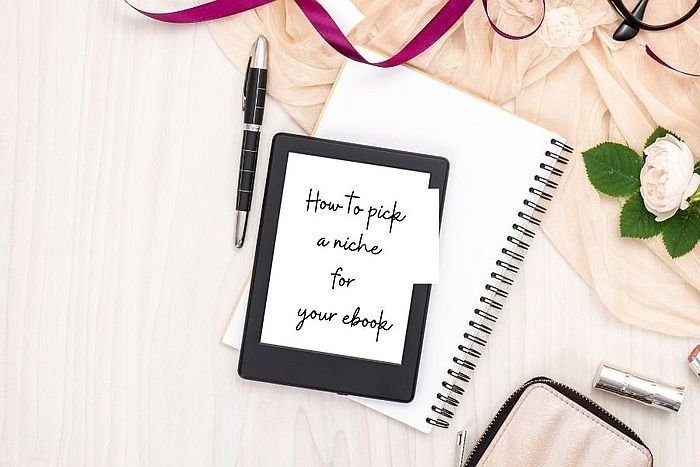 Of course, you can research any topic you want, but if you want to sound like an expert on the subject, it's easier to choose a topic you are familiar with rather than something new to you.
The likelihood of a person buying a book from someone knowledgeable about a topic is higher than buying it from someone who is not.
Choosing a topic can be easier if you select a general topic. You can find inspiration in the Amazon Kindle Best-Selling Book List. From there, you look at the sub-niches available. You'll get a better sense of what people are looking for by doing so.
There may be subcategories within those subcategories as well. Your book is more likely to become a bestseller on Amazon if you narrow down your topic.
Plus, your authority and sales will increase once you manage to include the bestseller logo on your website.
It may be helpful to find out how well specific titles are doing in that niche and read reviews to determine what may interest your readers.
Could I hire someone to write my ebook?
Ghostwriters are writers for hire who write ebooks on the client's behalf.
But, they do not claim credit for the finished ebook. So, it will be your name written on the cover.
Would you like to write an ebook but lack the time? Are you unsure about creating an ebook and your writing ability even though you have some fantastic ideas? If so, you may want to hire a ghostwriter for your ebook.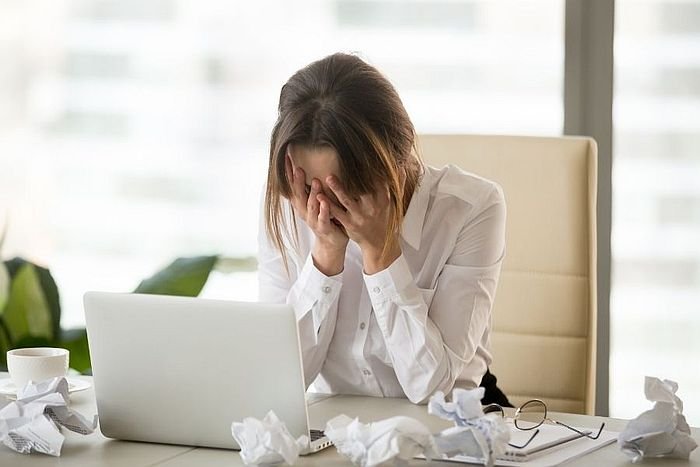 If you decide to hire a ghostwriter, you still need to select a niche and a topic for the ebook. It is also your responsibility to market the book, so you should still conduct research and get all your information on that niche.
It is necessary to provide your ghostwriter with a rough outline and a list of what you want to include in your ebook.
Using a ghostwriter for your ebook has several benefits.
Creating an ebook on your own will take a great deal of time. You may need several months to complete one book. Plus, the extra time it takes to edit and publish the book. Ghostwriters dedicate their entire workday exclusively to writing; this means that they can spend it on your project and finish it in a shorter time.
You get a professional writer who will write your content after completing thorough research. Because they have experience researching and writing eBooks, they take extra care to ensure quality. You also get a book editor who enhances your book's most exciting parts when hiring a ghostwriter.
Ghostwriters can be particularly helpful if you are not a native English speaker and are not very comfortable writing in English.
You pay a set price, and that's it. All future earnings are yours to keep.
The benefits of writing an ebook yourself.
The only cost is your time and some effort.
You can choose exactly what to include in the ebook.
The content of your ebook will reflect your voice and passion.
You can market it more effectively when you write it yourself.
Where to hire a ghostwriter?
You may like to check out the following sites that offer ghostwriters, also known as writing assistants.
Start with your book outline.
Creating an ebook starts with an outline for the book. A detailed summary helps you cover everything you need to in your ebook and gives it a structure that is easy to follow.
Begin with an introduction, explaining what the ebook will cover and why readers will find it useful.
Make a list with bullet points of the main chapters, with the key topics as headings. The chapters should flow naturally into one another.
Use 3 to 5 subheadings. Include all the details and organize them.
You may also include graphics or images and where they will be displayed.
Finally, make sure to finish the ebook with a summary of your main points and a call to action.
Develop your story by answering the following questions;
What facts do you wish to share with your readers?
Who is your target audience?
Why should your reader care about the information you share in your book?
What do you hope your reader will gain from reading your book?
Related posts in:
Make money online
What is the best software to write an ebook?
Writing your first ebook may not be the easiest thing for you to do. For some people, it is helpful to dictate a book to enhance the writing process and let their creativity flow. You can do this, for example, with Google Docs Speech to Text Tool or Voice Typing Tool.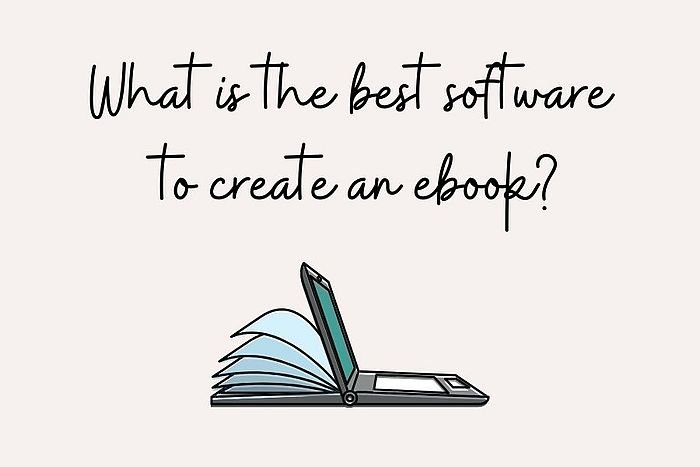 Creating an ebook doesn't have to be expensive. Consider creating an ebook in Word or with one of the software programs you can use for free online. For instance;
Pages (for Mac)
Google Docs (free)
Kindle Create (Amazon's free tool)
Open office
Calibre
However, if you don't mind paying a little extra for software that will allow you to create a professional-looking eBook, you may want to consider a more advanced program.
A premium writing tool is Scrivener, which writers of all kinds rely on. Creating an ebook with Scrivener is not about being told how to write. It simply assists you in getting started and in staying productive. Keeping all of your notes and research on a book in one place allows you to keep track of everything.
You can significantly improve your eBook's quality by using free editing software when creating an ebook. You may want to download Grammarly to ensure your writing is free of errors in spelling and grammar. Grammarly is 100% free, but paid versions have more features. I cannot imagine how to do without Grammarly for writing my blog content.
Yet there are many great free tools available to review your text, for example;
ProWritingAid Grammar Checker combines advanced grammar and style checking with more in-depth reports to help you write better.
SentenceCheckup is an online sentence-checking tool that's completely free. This tool looks at your article's structure to improve its readability.
The Hemingway App helps to enhance your writing by removing unnecessary words. The software simplifies your writing by emphasizing passive voice, adverbs, and complex sentences.
What format are ebooks?
EBooks come in different formats. Neither is 'good' or 'bad' since each is designed for a specific device. There are only a few you should know.
Choosing the format(s) for your eBook will depend on how and where you wish to sell it. It's best to give readers a few options to pick from. My favorite formats are PDF, EPUB, and AZW/AZW3.
When creating an ebook for Amazon, you may be interested in knowing what format Kindle uses for ebooks.
If you use KPF (Kindle Package Format) files, your eBook can easily be formatted and used on all Kindle devices. Using this method, you'll avoid formatting problems. However, you can also submit most DOC/DOCX files, EPUB format, and MOBI files. Before you publish, you may want to use the Kindle Online Previewer to make sure the ebook meets your expectations.
At Online-Convert.com, you can easily convert PDF files or plain text to ePub. Most ebook readers support this format. Simply upload it or provide its URL and click "Convert." It is free for uploading 20 files (conversions) of 100MB per 24 hours.
Design a beautiful ebook cover with Canva
Creating an ebook in Canva is easy, even for novices. Once you register an account with Canva, you can search for free ebook templates under the "Templates" tab, for the template you want. After you select a layout, you have the option to use all pages from that template or just one or two. Then you can start to create your ebook by modifying the template.
It's the cover that sells your eBook and the first thing that people will see. so it's an important tool for promoting it. You spent quite some time writing such a fantastic book so you will want to make sure the cover is stunning so people will want to buy it!
It's very straightforward to create something unique with Canva's free book cover maker – no design skills are required. The process of creating an ebook cover has never been easier, thanks to Canva, which offers a variety of professional book cover templates.
Read also: How To create An Ebook In Canva In 7 Easy Steps [with free template]
How to sell ebooks online?
Creating an eBook may take weeks to months, plus the time for proofreading and editing numerous drafts until it is perfect.
As soon as your eBook is ready for publication, most of the hard work is over. After that, you need to figure out which publishing platform would generate the highest revenue for you.
The most popular publishing option for your ebook is Kindle Direct Publishing (KDP). You can self-publish your ebooks for free with Kindle Direct Publishing, making them available to millions of readers on Amazon.
You can upload the file for free. When a book is sold through KDP, authors receive royalties of 35% to 70% of the sale price.
It's your choice how much to charge for your book – and you can experiment with different prices – but the optimal price will depend on how long the ebook is, what your competition charges, and how many reviews your book has.
Besides Amazon, you might also consider Gumroad, Barnes & Noble Press, or Smashwords as options for selling your ebooks online.
Remember that these sites usually give you a portion of your earnings in exchange for listing your ebook.
In addition, you can sell your ebook on your website or blog – then you're 100% in control, and you keep 100% of the profits!
What are the best ways to market your ebook?
Even if you cannot afford to spend money on advertising, that is ok. As you know, the Internet is enormous, with literally thousands of free ways to reach people.
You can use the following methods to promote your ebook;
On your website or blog
Give away free copies in return for a comment or a review
Advertise on social media (sponsored tweets, Pinterest, or Facebook ads)
Reach out to influencers/bloggers
Create an authors page on Facebook (if you have multiple ebooks)
Use Amazon's paid ads to get to the top of the search page.
Take a moment, and outline all your promotional efforts on a spreadsheet. Make a list of ideas for promoting your ebook and using many different platforms. The right network, the right time, and the right audience are what will help you promote your ebook.
If a book doesn't sell, it is best to remove it. Consider putting it up for free on your blog instead. You can still make money from the ebook by adding affiliate links or links to your product pages.
Related posts in:
Make money online
How can writing an ebook benefit my blogging business?
EBooks are excellent lead magnets – as long as they are valuable. Ebooks offer your customers more value and information than checklists or infographics. A well-written ebook can also give you credibility and position you as an expert in the field you write about.
As a blogger or entrepreneur, you can create and publish ebooks for the following purposes:
I believe that's all there is to it. Simply follow these instructions, and you will have your eBook ready in no time. Share your work with the world and make a profit by selling ebooks online. Even though you will not become rich by creating an ebook, writing a quality ebook will provide you with a passive income for many years.