What is Systeme.io? A bloggers' toolkit with 9 powerful features
Trying to run your online business is often chaotic and confusing, and you may feel lost in the mess of using multiple tools for different tasks. From managing emails to building websites, it's a real challenge that leads to frustration, high costs, and headaches.
But what if you could find the ultimate toolkit to propel your online journey to new heights? A guide to make this whole online experience way simpler and more affordable. Then I have the perfect tool for you: Systeme.io!
So, what is Systeme.io? Systeme.io is a tool that will help you cut through the chaos.
To launch a new or to run an existing online business, Systemes.io is a platform you may want to consider, as it has all the tools and support you need to succeed.
In this Systeme.io review, we'll discuss bloggers' everyday struggles and how Systeme.io can be your personal assistant, making things clear and helping you succeed online without breaking the bank.
We'll explore the ins and outs of Systeme.io, addressing common questions and showcasing its simplicity and smart way to thrive online!
Is Systeme.io free?
With some limitations, the start-up plan of Systeme.io is free to use. You can sign up for free to get started and explore its fantastic features. However, to unlock the full potential of this platform and access all the advanced tools, you'll want to consider one of their affordable pricing plans. The investment is undoubtedly worth it, especially considering all the resources you can access on this platform.
What is Systeme.io?
Most of you are probably wondering: What is Systeme.io, and what can I use it for? Systeme.io is a versatile platform that caters to the diverse needs of bloggers and online entrepreneurs. It is your digital Swiss Army knife, offering many features to streamline your online endeavors. From creating sales funnels to managing affiliates, running webinars, and building online courses, it's your all-in-one tool to supercharge your online journey.
Systeme.io simplifies the intricate web of tools by bringing everything under one roof—no more jumping between platforms or dealing with integration headaches. Systeme.io streamlines your workflow, making it efficient and effective.
Let's dig deeper into what is systeme.io and how it can benefit entrepreneurs.
1. Easily Create Sales Funnels
Systeme.io provides the tools to create sales funnels that have been fine-tuned to perfection. Imagine having a skilled sales strategist by your side, guiding you through successfully converting visitors into paying customers.
Systeme.io provides you with the tools to create sales funnels based on proven templates easily. These funnels pave a seamless path from initial interest to a successful transaction, boosting your conversion rates and increasing your revenue.
2. Email Marketing
As a blogger, you may often feel overwhelmed with managing email marketing campaigns.
If you want your blog to succeed, you must communicate effectively with your audience. The good news is that it is easy to elevate your blog to the next level with Systeme.io's powerful email marketing tools.
Did you know that the platform has powerful marketing software built in? With it, you can send personalized emails, grow your email subscribers, and even automate the process using autoresponders and follow-up emails. It's super easy and can help you reach more people in a friendly way.
Creating awesome squeeze pages with one of the many templates is simple and straightforward! If you're new to email marketing, you'll be pleased to know that squeeze pages can work wonders for your campaigns.
Squeeze pages are website pages that aim to get people to sign up for an email marketing list.
Whether you're sharing your latest blog posts or promoting products, the email marketing feature of Systeme.io helps you connect with your audience effectively. In addition, Systeme.io is an affordable email marketing provider; you can send unlimited emails to up to 2000 subscribers for free.
3. Build websites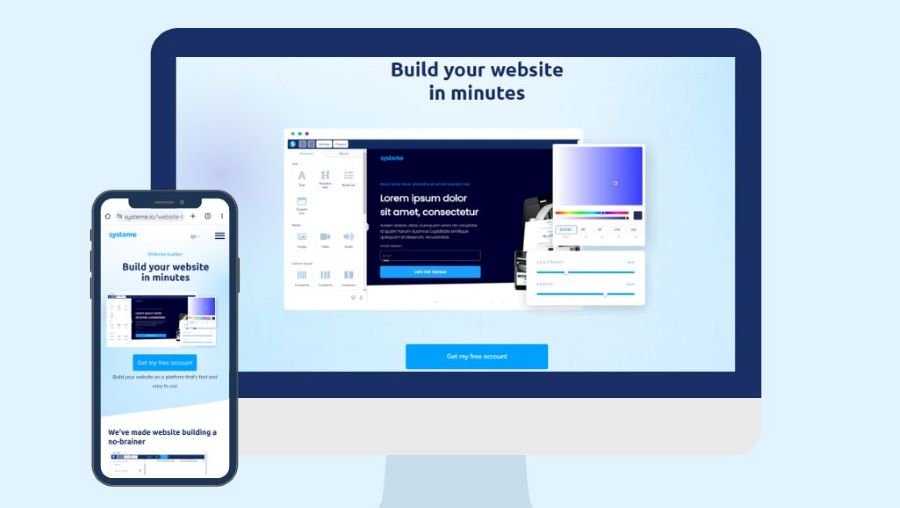 Your blog's online presence starts with your website, and Systeme.io ensures a smooth setup process. In under 10 minutes, you can have a professionally designed website up and running.
The user-friendly website builder and ready-made templates make the setup a breeze, even for those with minimal technical expertise. However, it would be nice if the drag-and-drop editor would offer more in terms of designer elements.
4. Run an Affiliate Program
Expanding your reach and boosting your income is easy to do with Systeme.io's affiliate program management feature. Create and automate your own affiliate program, making it easy for partners and affiliates to join your cause.
When you sign up for Systeme.io, they'll introduce you to a vibrant community of bloggers and entrepreneurs.
With its affiliate program management, you expand your network and motivate others to promote your work by offering commissions for successful referrals. Automated payouts guarantee that each contributor receives a fair share, promoting a supportive atmosphere and motivating mutual growth.
5. Host Evergreen Webinars

If you were to ask me, "What is Systeme.io?" Systeme.io is an incredible tool for launching webinars.
Live webinars are super effective for engaging your audience and driving sales. Still, hosting live webinars can be time-consuming. Evergreen webinars – is a feature that allows you to pre-record your sessions and run them on autopilot.
Systeme.io lets you set up these webinars to run whenever convenient for your audience, ensuring maximum exposure and potential sales, even while you sleep. However, this feature is not included in the Forever Free plan.
6. Manage and Create Online Courses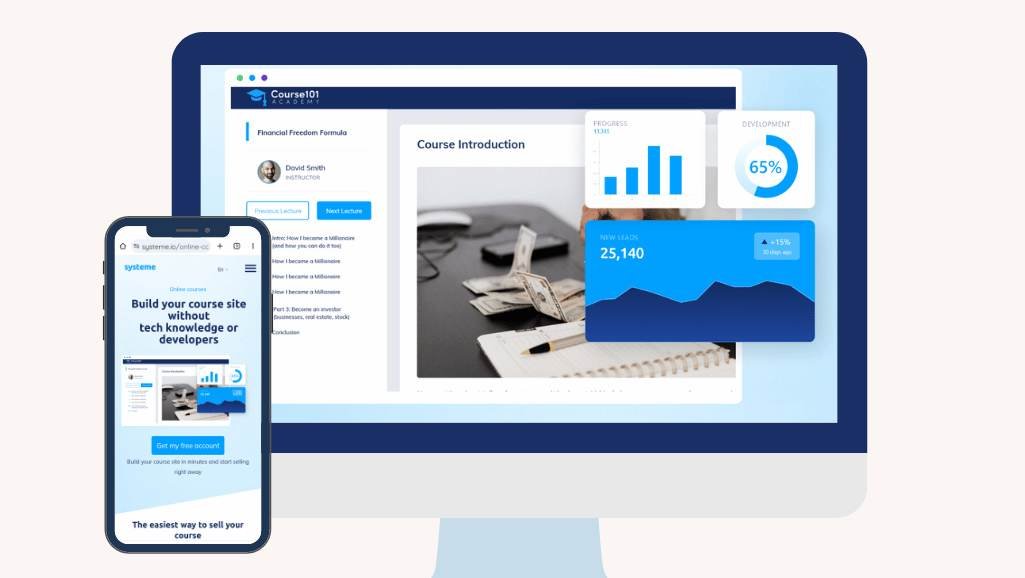 Developing an online course to share your expertise may appear to be a daunting endeavor. You lack the technical knowledge to set up a website and manage students effectively. Your vision of helping others and monetizing your knowledge is forever stuck in the preparation and planning phase.
If that sounds like you and you want to share your knowledge through online courses, Systeme.io can make it a reality.
So, in simple terms, what is systeme.io, and how does it support course creators? Systeme.io's course creation tool is an all-in-one platform that enables course builders to easily create engaging and interactive courses. It also includes unlimited student capacity, making it a perfect fit for large-scale courses.
The platform allows you to enhance your courses by uploading videos, documents, and images and incorporating text to make them more appealing. Whether you're an industry expert or a passionate enthusiast, this feature empowers you to monetize your expertise and offer valuable content to your audience.
7. Automate your Business
Running a blog and online business can be time-consuming, but Systeme.io is here to save the day with its business automation feature. Streamline your operations, save valuable time, and reduce human error by automating things.
With Systeme.io's automation features, you can say goodbye to time-consuming email marketing workflows and sales funnel management. Let Systeme.io take care of the boring stuff so you can unleash your full potential and focus on your blog's fun and creative aspects.
8. Start Selling Products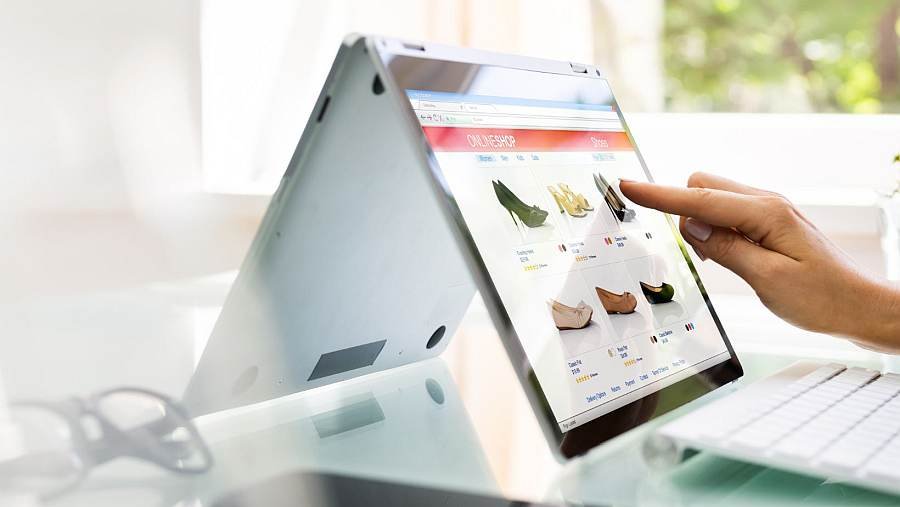 You need to try out its eCommerce feature to clarify what systeme.io is and how it stands out. If you're considering selling your products and services, Systeme.io has everything for you!
Did you know that you can easily set up your own online store on your website without relying on third-party eCommerce platforms? It's a great way to control your online business from one place.
Selling your products couldn't be easier. With the platform's built-in eCommerce functionality, you can quickly sell both digital and physical products, convert leads, and even increase your upsells. You'll love it!
Moreover, you don't have to worry a bit about integrating third-party tools or payment processors. With everything available in one dashboard, you can activate them with just a few clicks.
9. The marketplace
From the dashboard, you can access the marketplace. The marketplace aims to help sellers increase their sales and affiliates earn more commissions. Here, sellers connect with affiliates to work together towards their goals.
All you have to do is choose an offer and use the promote offer button. Once you land on the page you wish to promote, you have to copy your affiliate link, and you're good to go!
Would you like to understand more about "what is systeme.io" and how it works for online businesses?
Exploring Systeme.io Alternatives
Let's compare Systeme.io and some popular alternatives like ConvertKit, Thinkific, and Clickfunnels.
Systeme.io vs ConvertKit:

ConvertKit is a fantastic email marketing platform perfect for professional bloggers, content creators, and online businesses like yours. The platform includes an opt-in form, an email sequence, and a subscriber management tool.
If you're looking to grow and engage your email list, ConvertKit is the perfect tool. While ConvertKit specializes in email marketing, Systeme.io takes it a step further by offering a comprehensive suite of tools.
With Systeme.io, you get robust email marketing features and sales funnels, website building, affiliate program management, webinars, and more – all integrated into a single platform. This will save you money as you no longer need to invest in separate tools for each function.
Nevertheless, if your primary focus is solely on an email marketing platform, Systeme.io is up to the task—and at a significantly lower cost than ConvertKit.
Systeme.io vs. Thinkific:

What is System.io compared to Thinkific? To answer this, you have to consider the unique requirements and goals of your digital product or online course. Both platforms provide tools for creating and selling online content, but their strengths and limitations differ.
Thinkific is known for its user-friendly interface and robust course creation capabilities, while Systeme.io is praised for its all-in-one marketing and sales funnel features. Therefore, you should base your decision on your specific needs and personal preferences."
Clickfunnels vs. Systeme.io:
The main difference between ClickFunnels and Systeme.io is that ClickFunnels is like the king of funnel building and CRM platforms. It's got all the bells and whistles and the most comprehensive and sophisticated option.
If you're an emerging entrepreneur looking to launch your online business, Systeme.io is the perfect solution. It's super friendly, affordable, and easy to use.
Clickfunnels is a powerful sales funnel tool, but Systeme.io outshines it by providing a broader spectrum of features at a more affordable price. Systeme.io is a fantastic all-in-one platform that can help you with everything you need to grow your online business? From sales funnels to email marketing, website building, affiliate program management, webinars, and more, Systeme.io covers it all.
You might want to know that ClickFunnels is more expensive, with their most basic package starting at $127/month (compared to Systeme.io's $27/month).
In summary, Systeme.io is a cost-effective alternative to these specialized tools, offering a one-stop solution for bloggers and online entrepreneurs. By combining various functions into a single platform, it streamlines your workflow and saves you money you would usually pay for multiple subscriptions. So, if you're looking for an efficient and budget-friendly solution, Systeme.io is your answer.
To fully understand what systeme.io is and why it's gaining popularity, I recommend you sign up for a free account. And join their Facebook group, which has a network of like-minded entrepreneurs.
Systeme.io pricing
Budget constraints often pose a challenge, especially for new bloggers. Investing in various tools can strain the wallet, leading to compromises in the quality of the toolkit.
Systeme.io understands the financial constraints bloggers may face. Is Systeme.io really free? Yes, they have a forever-free plan. And if you want to upgrade, they offer very affordable pricing plans. You don't have to break the bank to access top-notch tools.
The pricing for Systeme.io varies depending on the plan you choose. There are three different options: Startup, Webinars, and Enterprise. Each plan has different features and pricing, so you can find a plan that best fits your needs and budget.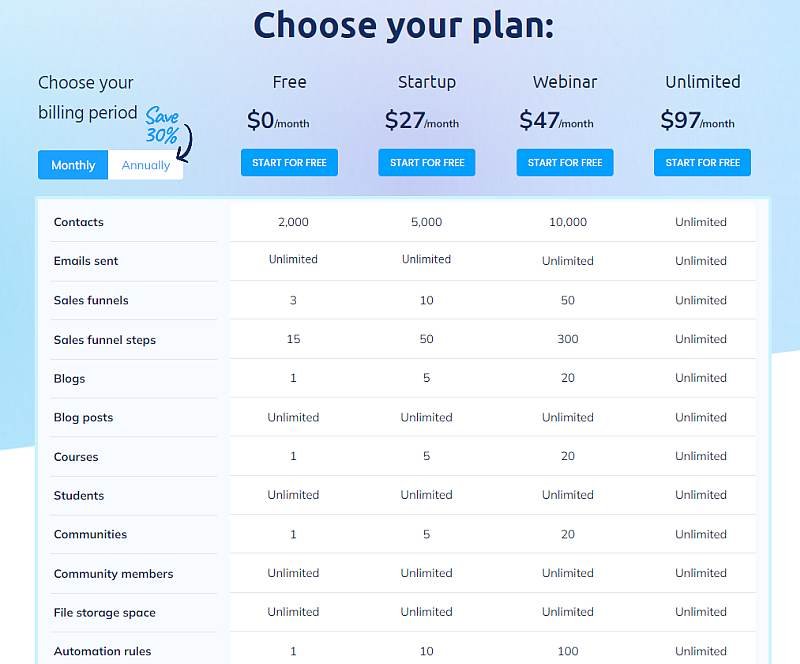 Frequently asked questions
Is Systeme.io a Website Builder?
Yes, Systeme.io also serves as a user-friendly website builder. Thanks to its drag-and-drop interface and templates, in just under 10 minutes, you can have your blog or website up and running.
How do you make money with Systeme.io?
The answer lies in the various features and tools this platform provides. You can create and optimize sales funnels, manage your affiliate programs, sell your products or become a drop shipper, and even run evergreen webinars to engage your audience and increase your sales.
How to Use Systeme.io for Affiliate Marketing?
Affiliate marketing becomes a breeze with Systeme.io. Create your affiliate program and automate affiliate payouts, making it a seamless process for your affiliates to promote your products or services while earning commissions. It's a win-win situation that can significantly boost your revenue. You can also create landing pages to promote your affiliate products and collect email addresses.
Who is Systeme.io For?
Systeme.io is designed for bloggers and online entrepreneurs at every stage of their journey. The platform's easy-to-use features suit beginners, individuals, and small businesses. Keep in mind, that the platform may appear too restrictive for big companies and seasoned marketers.
Further reading:
In Conclusion
I hope I answered all your questions about "What is Systeme.io?". Personally, I think the concept of Systeme.io is the future for bloggers and online entrepreneurs.
If you are new to the world of blogging, remember that the right toolkit can make all the difference. Systeme.io is an example of the power of simplicity and comprehensiveness in one platform. With a user-friendly approach, a vast array of features, and affordability at its core, it's poised to be your ally in the competitive world of online entrepreneurship.
Give Systeme.io a try today and witness how it can elevate your blogging journey beyond your expectations. Get your free training: How to make $11k in 7 days with systeme.io
Have questions or thoughts about Systeme.io? Drop a comment below – I'd love to hear your thoughts!